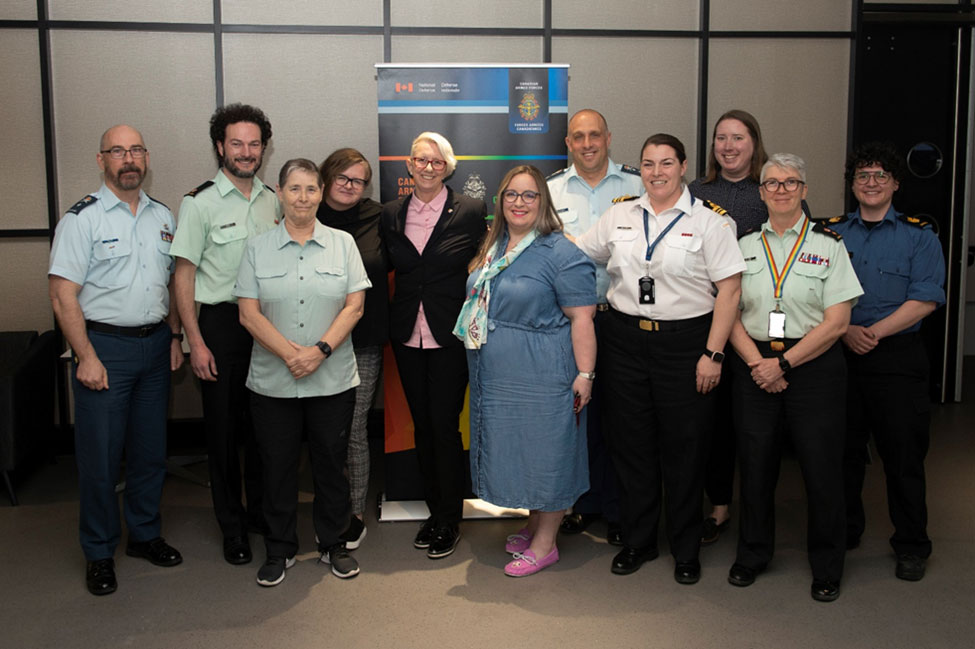 "The Fruit Machine" viewing event sparks awareness and discussion
By DND
"Leadership is everyone's responsibility. When it comes to culture, everyone is a leader." With those words, Director General Culture MGen Jeannot Boucher brought to a close the April 13th Department of National Defence (DND) showing of the film "The Fruit Machine" at Carling Campus in Ottawa, and the panel discussion following it.
Hosted by the Positive Space Program, the viewing kicked off an initiative to encourage other groups within DND and the Canadian Armed Forces (CAF) to arrange their own screenings of the film. It sheds light on a dark chapter in the CAF and the federal public service. Using first-person accounts from survivors of the LGBT Purge, which began in the 1950s and continued into the 1990s, the film documents how the Purge cost CAF members and public servants their jobs and their dignity.
The title of the film refers to a device used by the Canadian government in the 1960s to systematically "screen" existing and potential members of the CAF, RCMP, and federal public service, leading to the firing of anyone determined by the "fruit machine" (as it came to be known) to be engaging in same-sex relationships.
The film and a video recording of the panel discussion are available to view on the Positive Space Program's SharePoint site. Panelists at the event were all past and present CAF members who had experienced discrimination, harassment and/or exclusion for being lesbian or gay. From broken dreams to shattered lives, the effects of these practices were profound. Panelists spoke about being fired after only a few years in their dream job in the Army, Air Force, or Navy because of their sexual orientation. They spoke of manufacturing their identities back then because being their authentic selves meant not being promoted, not being respected, and not being able to build a career.
Panelists also emphasized that while advances in the cultural evolution of the DND and the CAF mean that it's easier for Two-spirit, Lesbian, Gay, Bisexual, Transgender, Queer, Intersex and additional sexually- and gender-diverse (2SLGBTQI+) members to be themselves in the military, it isn't mission accomplished. The hope is that with ongoing discussion and visibility of the issues presented at this event, and future ones like it, positive change continues. In Halifax, screenings of the film were recently hosted by the Atlantic Defence Team Pride Advisory Organization  at Tribute Tower and at the 12 Wing Sea King Club.
By continuing to raise awareness among Defence Team members about the issues the 2SLGBTQI+ community has faced and continues to face, we can rebuild their trust in the institution. By fostering a respectful and inclusive environment, we can move forward from the discriminatory practices of the past, and strengthen the operational effectiveness of our organization.