Cliquez ici pour le français: Bienvenue à la BFC Halifax
Welcome to CFB Halifax
Canadian Forces Base (CFB) Halifax is the home of Canada's East Coast Navy and the country's largest military base by population. CFB Halifax provides administrative, logistics, information technology (IT), executive services and port operations and emergency services to personnel and units within the Maritime Forces Atlantic (MARLANT) formation and over 75 local lodger units in support of Canadian Armed Forces operations at home and abroad.
The Base supports approximately 11,000 Canadian Armed Forces (CAF) members and civilian Department of National Defence (DND) employees – most of whom work and live in the Halifax Regional Municipality – as well over 4,500 reservists and 14,000 youth members of the sea, air and army cadet corps in the area. CFB Halifax contributes directly to the local economic community not only as a major employer, but through our Defence Team members' involvement with various local non-profit and business organizations.
---
Command Team
Base Commander CFB Halifax – Capt(N) Andy MacKenzie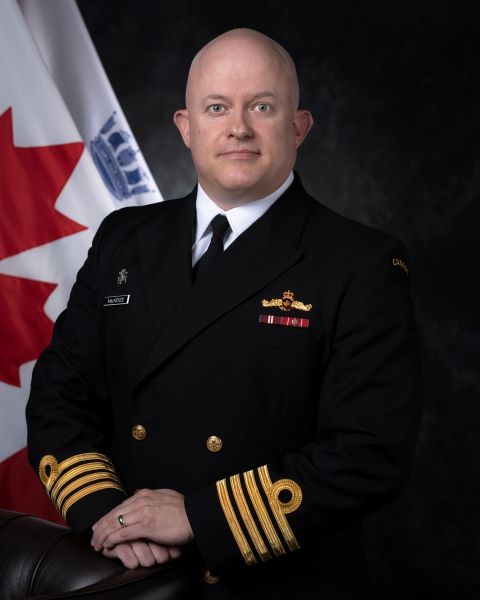 Captain (Navy) Andy MacKenzie was born in Sault Ste. Marie, Ontario and completed his undergraduate studies at the University of Waterloo. Upon graduation he component transferred from the Artillery Reserve to the Regular Force for MARS Officer training.
Captain (Navy) MacKenzie served in the surface fleet as an Anti-Submarine Warfare Officer and quickly realized that life as a submariner would be the best option for him. This coincided with the opening of Victoria Class submarine training when he was finally able to volunteer for the 'Silent Service', a pursuit that was Captain (Navy) MacKenzie's life-long ambition.
After serving underwater in both the Atlantic and Pacific Fleets, Captain (Navy) MacKenzie graduated from the RAN Submarine Warfare Officer's Course and was posted as the Combat Officer of HMCS WINDSOR. Captain (Navy) MacKenzie remained with HMCS WINDSOR as an A/XO until he was posted to the Canadian Forces Naval Operations School as the first instructor of the SMORO Course.
Captain (Navy) MacKenzie graduated from the RAN Submarine Executive Officer's Course and was appointed for a second tour as XO this time in HMCS CORNER BROOK. In 2010 he graduated from the USN Submarine Command Course and finally, he had the pleasure of graduating from the Norwegian Submarine Command Course, Perisher, in 2011 and honoured by being appointed Commanding Officer of HMCS WINDSOR.
In 2014, Captain(Navy) MacKenzie assumed Command of Sea Training (Submarines), in 2015 he spent a year at the United States Naval War College in Newport, Rhode Island, followed by serving as the Deputy Commander of the Canadian Submarine Force and then as Commanding Officer of both HMCS VICTORIA and Sea Training (Submarines).
Captain (Navy) MacKenzie joined the Naval Staff in NDHQ in 2018 working in Naval Requirements and was promoted to his current rank, worked as the Director of Naval Information Warfare and most recently as Director of New Capability Integration. In 2020 he earned a master's degree of Science in Justice and Homeland Security from Salve Regina University in Rhode Island.
On 25 July 2022, Captain (Navy) MacKenzie assumed command of CFB Halifax.
Twitter: @WardenNAtlantic
Base Chief Petty Officer CFB Halifax – CPO1 Troy Beazley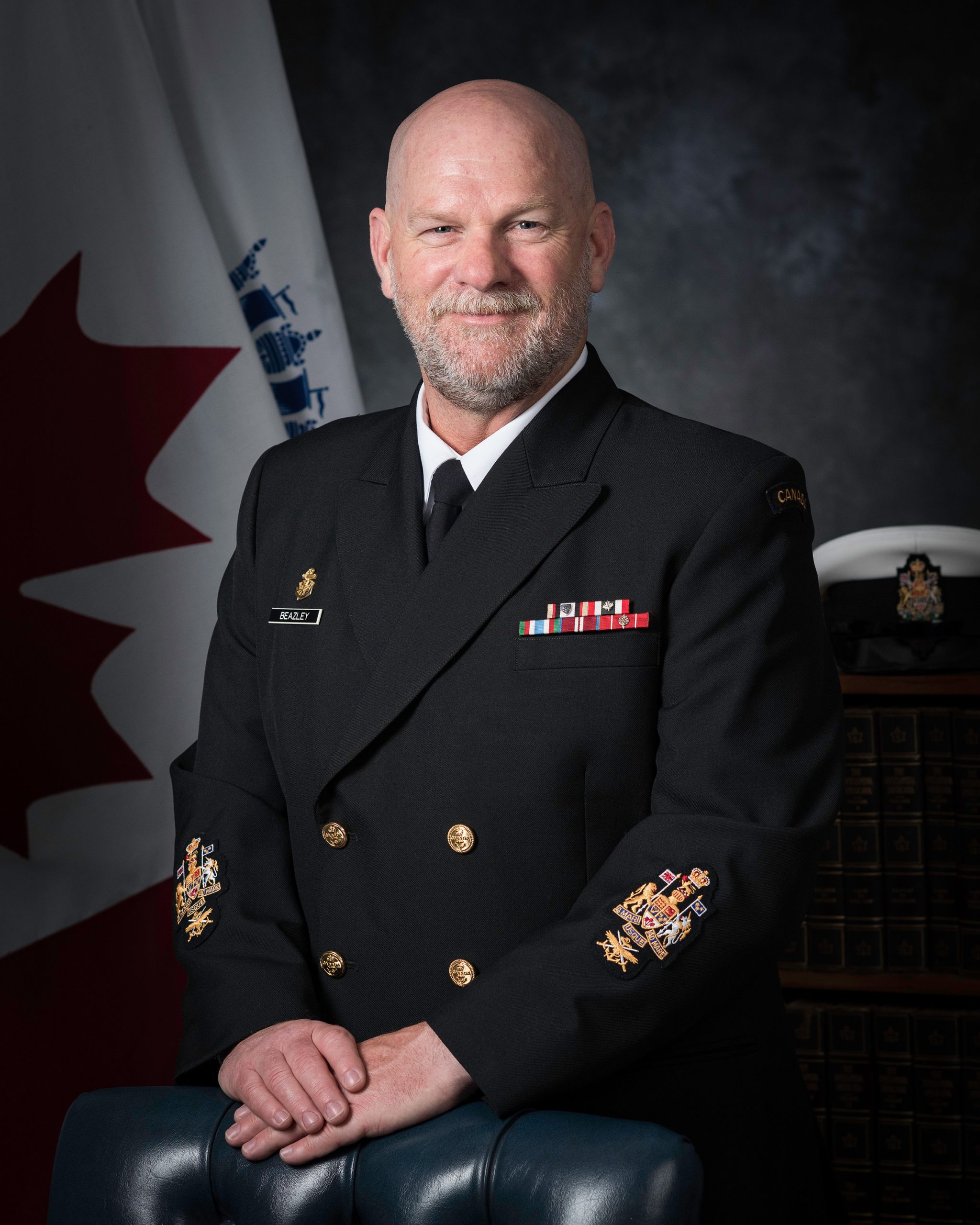 CPO1 Fraser (Troy) Beazley enrolled into the Canadian Armed Forces in Nov 1990. After Basic Training in CFB Cornwallis, he completed his SONAROP training in Esquimalt, BC.
From Oct 1991 to Dec 2005, he was posted to CFB Halifax where he had the distinct pleasure of serving onboard HMCS TERRA NOVA, GATINEAU, SKEENA, VILLE DE QUEBEC, CHARLOTTETOWN, FREDERICTON and ST. JOHN'S. During the same period he enjoyed a posting to the Advanced Data Analysis Centre and was among the first group of NCMs afforded the opportunity to complete the Advanced Acoustic Analysis and Passive Oral Listening course in Nowra, Australia.
After CPO1 Beazley completed their Under Water Warfare Directors course in 2006, he was posted to HMCS CHARLOTTETOWN for the second time and deployed as part of Task Force Artemis in 2007. He was then employed at the Canadian Forces Naval Operations School, Canadian Fleet Atlantic and the Personnel Coordination Centre Atlantic.
Completing a year of Second Official Language Training in 2015, he moved on to a year of academic training at the Royal Military College in Kingston, ON for the NCM Executive Professional Development Programme. A quick move to Ottawa followed with a year in the Joint Projects Cell at Chief Force Development.
Promoted CPO1 in May 2017, he was posted to Director Military Careers as a Career manager followed by the exceptional opportunity to serve as Coxswain of HMCS CHARLOTTETOWN and then a TPULT appointment to Director Senior Appointments as the Naval Environment CPO1 Career Manager. Following the personnel management lines, he was appointed to a PTLT where CPO1 Beazley had the privilege of being the Naval Strategic Readiness CPO1 and RCN Succession Manager – NCM.
Most recently appointed to his current position as Base CPO for CFB Halifax, CPO1 Beazley is excited to serve the base to the best of his ability and humbled that the RCN has entrusted him with this important position.