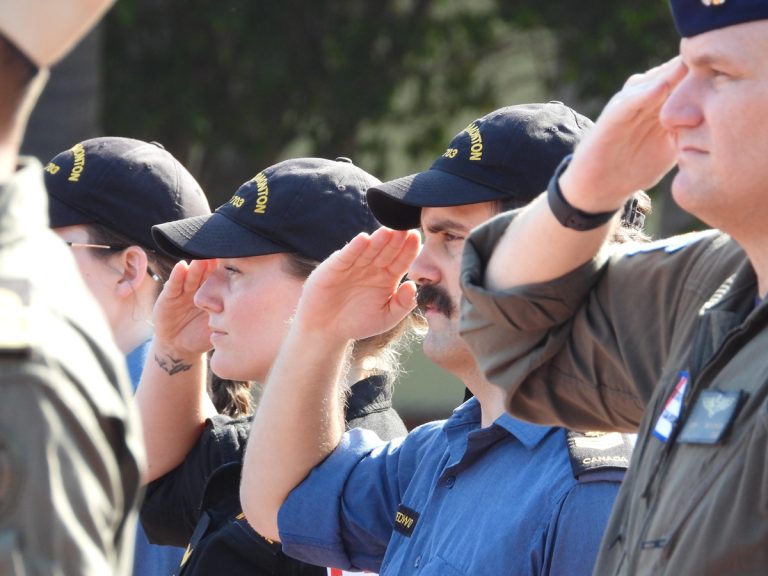 HMCS Edmonton combines business with fun during Operation Caribbe
By Capt Chelsea Dubeau, 
MARPAC PAO
HMCS Edmonton conducted multi-day maritime exercises while deployed on Operation (Op) Carribe in March as part of the North American Maritime Security Initiative (NAMSI).
The exercises included a coordinated interdiction exercise involving ships, aircraft and personnel from the Royal Canadian Navy (RCN), Mexican Navy, United States Navy and United States Coast Guard.
"It's an opportunity to meet with other navies and build trust," said Lieutenant-Commander (LCdr) Tyler Smith, Edmonton's Commanding Officer. "You realize how much we can offer in terms of teamwork, cooperation, and mutual learning."
NAMSI is a multi-national effort between Canada, the United States and México to strengthen their security relationship.
The initiative kicked off with Edmonton participating in México at an opening ceremony on the Manzanillo Naval Base's parade square on Mar. 28. Following a coordination meeting between stakeholders, HMCS Edmonton conducted tactical manoeuvres off the coast of Manzanillo with embarked U.S. Coast Guard Law Enforcement Detachment, U.S. Coast Guard Cutter Active, and Armada de México (ARM) Hidalgo with its embarked Eurocopter AS565 Panther. The ships were joined by USS Savannah for overnight patrols in the area, successfully proving interoperability amongst four separate services.
But it wasn't all business.
Under a blazing afternoon sun following the exercises, Edmonton sailors extended a challenge to sailors from the Mexican Navy for a friendly game of soccer, which members of ARM Juarez agreed to.
"We lost terribly," laughed LCdr Smith. "The Mexican Navy decided to mix up the teams halfway through to keep it a friendly game. It was a great opportunity for the sailors to meet. Certainly a highlight."
At the closing ceremonies on Mar. 30 at La Fregata Naval Club, captains exchanged commemorative challenge coins while sailors furiously traded mission/morale patches.
"It's funny, you go anywhere in the world and sailors are sailors," said LCdr Smith. "You have a common language, common interests."
OPERATION CARIBBE
HMCS Edmonton left its home port of Esquimalt, B.C., on Feb. 13 to deploy on Operation Caribbe, Canada's contribution to U.S.-led Enhanced Counternarcotics Operations. While deployed, the ship patrolled the eastern Pacific Ocean in support of Joint Interagency Task Force South, which is responsible for detecting and monitoring illicit narcotics trafficking in the eastern Pacific and Caribbean regions.
On Apr. 8, HMCS Edmonton contributed to the successful interdiction of 755 kilograms of cocaine – worth an estimated street value of CAD 49.5 million – while patrolling as part of a Surface Action Group that included two U.S. Coast Guard vessels and supporting aircraft. The SAG was conceived during NAMSI, and its success is a testament to the importance of relationship-building between maritime partners.
The Canadian Armed Forces (CAF) has conducted Operation Caribbe since 2006, with successive deployments of RCN ships and Royal Canadian Air Force aircraft. During this time, the CAF has contributed to the disruption or seizure of more than 112 tonnes of cocaine.