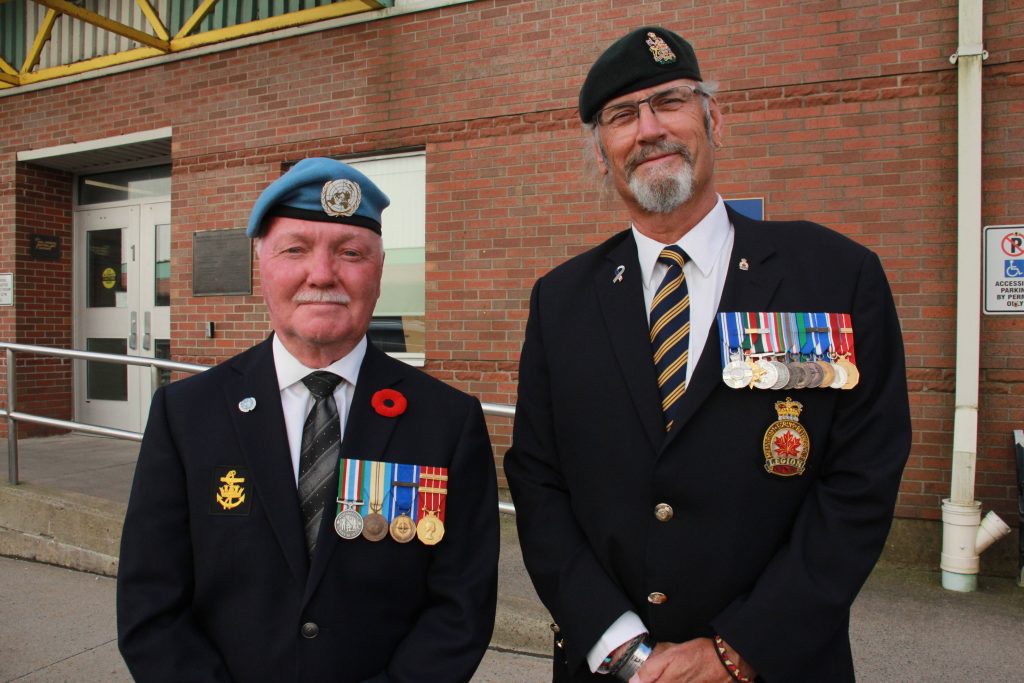 Veterans bring decades of CAF experience, camaraderie to Dockyard gym
By Ryan Melanson,
Trident staff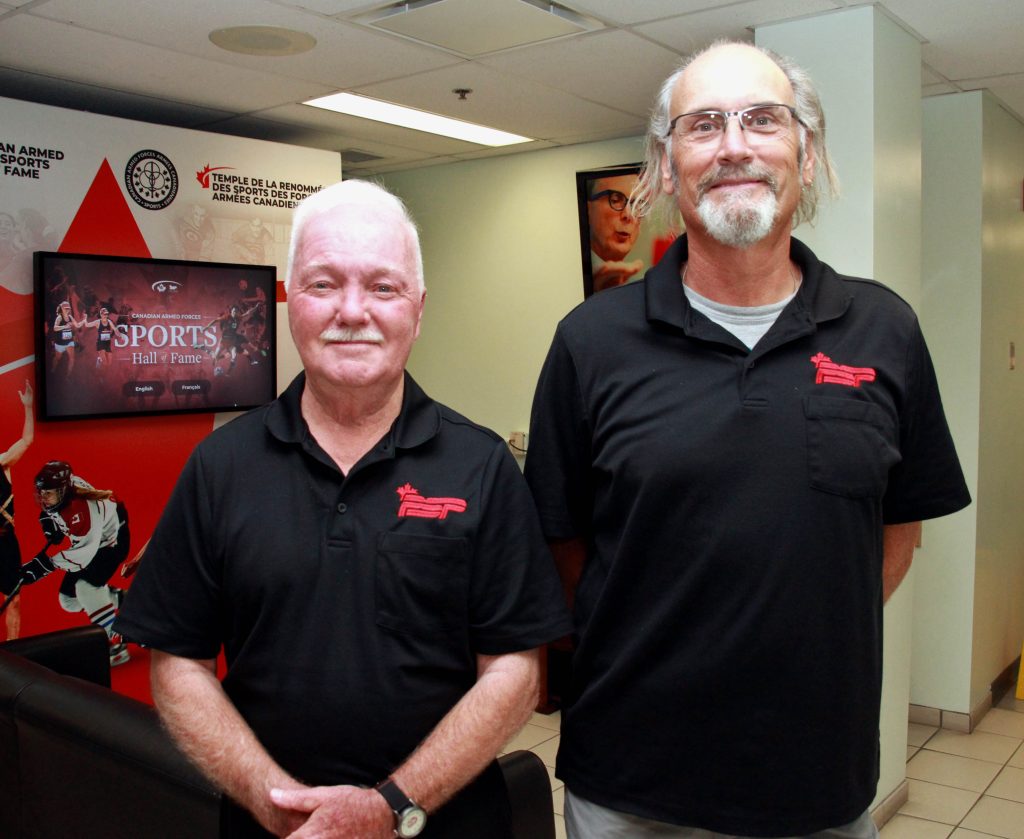 Chief Warrant Officer (Retired) Bob Thompson is no longer leading the next generation of Canadian Armed Forces personnel, but says he loves "keeping tabs" on them a few nights a week while working the front desk at the Fleet Fitness and Sports Centre inside HMC Dockyard.
"I always loved spending time with the troops and getting to know them, regardless of rank – so this feels like home," he said.

CWO (Ret'd) Thompson released from the CAF in 2015 after a 30-year Army career, and joined the Personnel Support Programs (PSP) team at the gym in 2018 after moving back home to Nova Scotia with his wife. You'll find him working the desk weekday evenings alongside Petty Officer 1st Class (Retired) Rocky Thorne, an RCN veteran with 40 years of service himself, who's held civilian roles at base gyms since ending his Navy career in 2007.
"We had very different careers, where Bob comes from the Army element and I was predominantly a naval cook," Rocky says, but they've also found a lot of common threads. Both grew up in military families and have spent their entire lives connected to the CAF – they also like to share stories of Halifax in the late 60s and 70s, when Rocky was a young sailor while Bob was growing up in the area.
Thorne's Navy years were highlighted by involvement in countless regional and national CAF sporting events, but also included an astounding 3,000+ days at sea with time spent on 13 different RCN ships, from his first posting on the aircraft carrier HMCS Bonaventure all the way to the Kingston-class ships and HMCS Summerside, brand new at the time, near the end of his career. 
Thompson spent a lot more time on land as an Army NCO, joining in 1985 as a Mat Tech in Gagetown before ending his career as the CAF Ethics Chief. The time in between of course included time spent at different bases around the country and completing overseas deployments and postings around the world, including a year at the Kabul Military Training Centre in Afghanistan beginning in summer 2012 – he was awarded the Meritorious Service Medal for his leadership and influence as part of the command team leading a multinational group of more than 500 personnel.
"It was a varied career, and I had the opportunity to work at every level – tactical, operational, strategic and institutional, right up to my last job as the Ethics Chief," Thompson said.
Since retirement, in addition to the PSP role, Bob has also been an outspoken advocate for further recognition for those who fought and died in Afghanistan, specifically pushing the dates of the Afghanistan war to be added to the front of the Halifax Cenotaph and other memorials.
Both men say they enjoy working with PSP as one way to stay connected to the CAF community, and any night at the desk is sure to bring conversations with members coming in for a workout, whether they find CAF connections through relatives or colleagues, or just shoot the breeze about CAF life and changes over the years.
"I call it our demilitarization," Thorne says. "It's a gradual departure from our military family, from this thing that has been a part of us all our lives."
Thompson echoed those comments, and said the gym has provided an addendum to a great career.
"I loved every second of it. Even when things were bad, at least you were with your people and you knew they had your back," he said.
"Coming to work with Rocky is just like that."