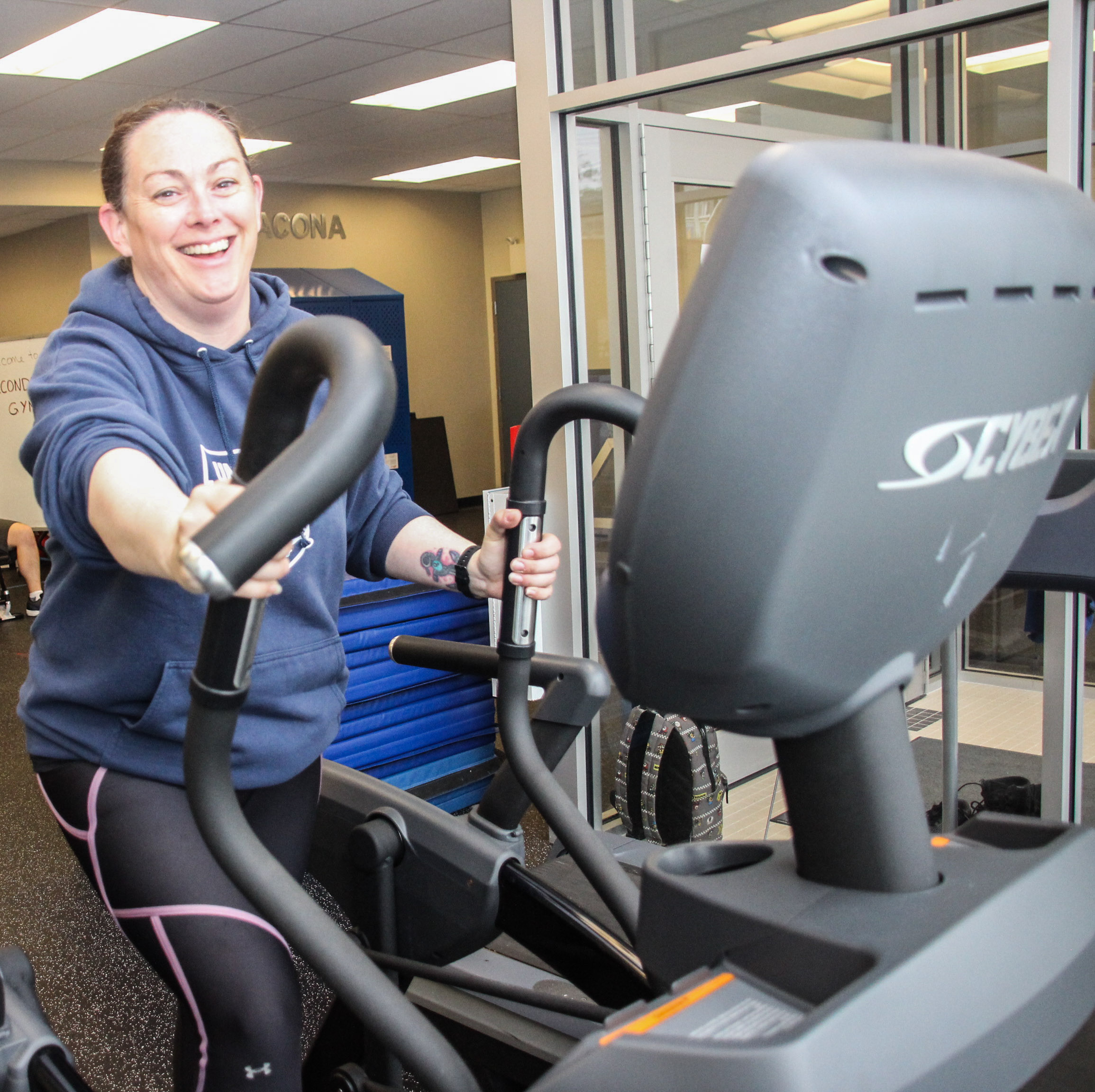 Using exercise as medicine: PO2 Nancy Ervin
By Ryan Melanson,
Trident Staff
PO2 Nancy Ervin is a Naval Communicator who has always led an active lifestyle, but in recent years, injuries accumulated through her career have begun to slow her down.
Chronic neck and back pain from years at sea, along with knee injuries and other ailments, led to her being able to do less and less when it came time for exercise.
"It's just a lot of wear and tear on my body, and that has had a big impact on mental health as well. Exercise is very important to me, and If I'm not moving, I'm not going to feel good," she said.
"You get worried about not being able to do certain things, you feel like you're letting people down, and for me, that led to depression."
Rather than continuing to struggle through painful PT sessions, PO2 Ervin recently made a change that's allowing her to get moving again, following a doctor's recommendation to begin rehab with the PSP Reconditioning program and PSP Halifax's team of Physical Exercise Specialists. She said getting a structured routine with professional advice on how to exercise safely has been a huge help, and though it's only been about a month, the added workouts are already making a difference in terms of her mental health. Having the exercise prescribed by her doctor, allowing for flexibility with work, has also been a benefit.
"The difference in how I'm feeling is huge. I'm glad to be active again," she said.
PSP Reconditioning Manager Kerianne Willigar said her and her team focus on helping members exercise safely while dealing with injury or illness, but the benefits go beyond the physical. Learning to overcome injuries, or getting back into exercise after a sedentary period, can boost self worth, confidence and overall mental wellbeing for anyone.
"They're trying to get back to a better quality of life. For people who have always been active, getting injured and not being able to have the same lifestyle can be a big shock," Willigar said.
PO2 Ervin is nearing the end of her military career, but said putting the focus back on her physical and mental health has her back on a positive path.
"It's helped immensely with my mood, and it's nice to have people really helping me reach my goals to lose weight, get healthy and strengthen muscles that I've neglected."
The PSP Reconditioning program is a fitness program designed to meet the demands of serving CAF members that are dealing with injury and illness. For more information, speak to your doctor or contact PSP Reconditioning Manager Kerianne Willigar at 902-402-4890 or Kerianne.Willigar@forces.gc.ca.