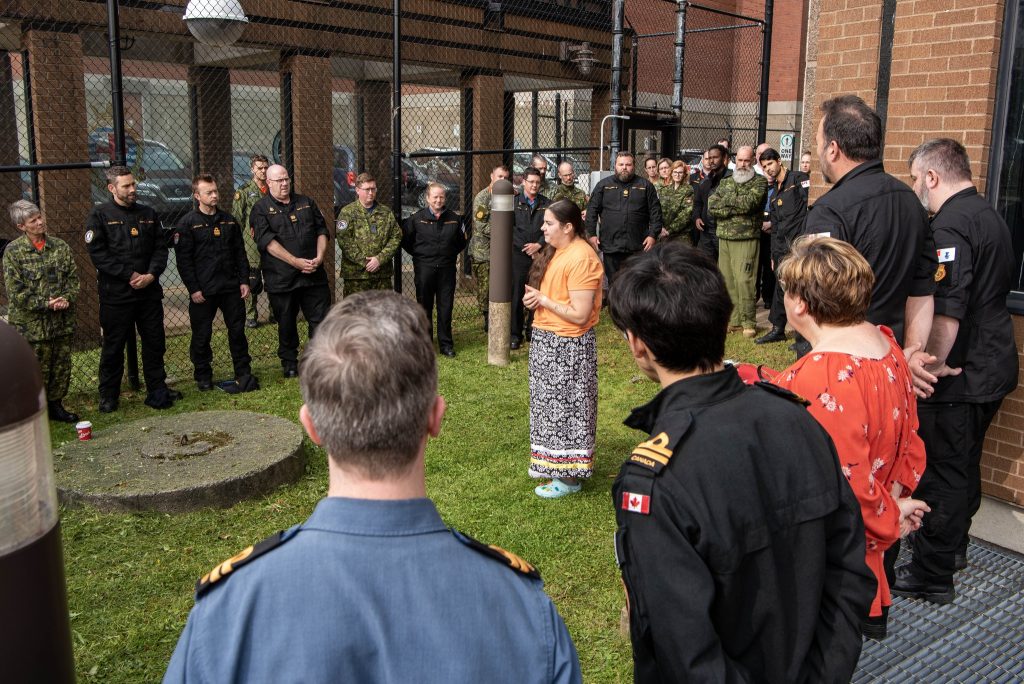 Trinity unveils new smudging area ahead of National Day for Truth and Reconciliation
By Ryan Melanson,
Trident Staff
Since joining the Royal Canadian Navy (RCN) in 2019, Sailor 1st Class Grace Assiginack says
she's actively sought ways to incorporate her Indigenous culture into her military career. After
careful planning and work alongside the command team at Trinity Maritime Operational Support
and Intelligence Center (MOSIC), the latest result of that effort was unveiled on September 28.
Following a short PD session led by S1 Assiginack, Trinity's new designated smudging area
was officially opened just outside the unit's home at Stadacona building S-89. The unit is also
now keeping a smudge kit available to be used at any time by its members.
"I wanted to do something that could bring my culture into the unit and make it available to
others," S1 Assiginack said, after leading the first smudging ceremony with colleagues in the
new space. The opening session touched on the significance of the smudging ceremony and
sacred medicines involved, along with a discussion about the history of Residential Schools in
Canada, the Indian Act, and the Truth and Reconciliation Commission.
"Today we just hope that this gives people some extra background information, and some
context when they see Indigenous cultural traditions happening in their communities or if they
have the chance to participate."
Trinity's first Indigenous Liaison Officer, S1 Assiginack is Blackfoot, and while she comes from a
family with a history of military service, she says her cultural background wasn't a big part of her
life growing up, due to members of her extended family attending Residential Schools and other
factors. As an adolescent, living near a number of Reserves in Ontario, she found opportunities
to reconnect with that heritage, in turn encouraging her father and others to do the same.
For advice on how to introduce a smudging area to the unit in an appropriate way, S1
Assiginack and Trinity leadership met with Honourary Captain (Navy) Debbie Eisan, and after
working through a few regulation-related roadblocks, the team was able to secure the prominent
area outside the unit's main entrance and make the project a reality.
LCdr Dusty Allen, Trinity's Executive Officer, said the Command Team is very pleased with the
initiative so far, and gave full credit to his Indigenous Liaison Officer for seeing it through to
fruition. The ability to open the new area just before the third annual National Day for Truth and
Reconciliation also added significance, he said.
"We can't thank the team and S1 Assiginack enough; this is a very important event for us, and it
doesn't end here today," he said, noting that further educational events are planned for the
future.
S1 Assiginack added her hope that fellow Trinity members feel comfortable continuing some of
these discussions with her, and also that colleagues make use of the smudging area if they
desire. She stressed that members need not be Indigenous to find comfort in the ceremony.
"The smudge kit is available for everyone and anyone."