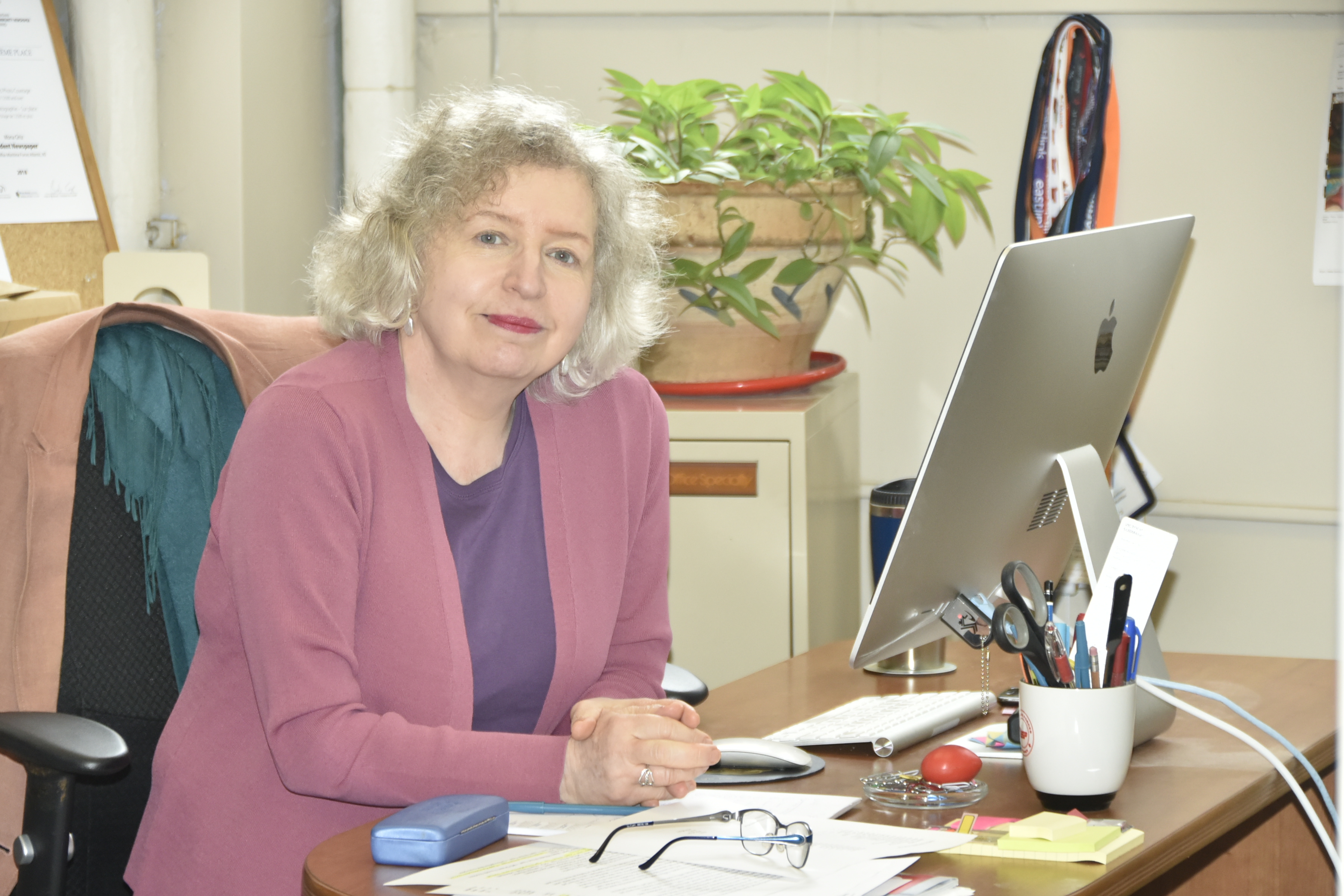 Face of Base: Virginia Beaton
Well-known Trident employee says goodbye to the editor's chair
This week, we are honoured to feature a well-known and respected member of the local Defence community as our #FaceofBaseHFX: Virginia Beaton!
Born in Toronto but a Halifax resident most of her life, Virginia began working as an assistant editor and reporter for the Trident – the Royal Canadian Navy's East Coast newspaper – in 2002, moving into the primary editor role in 2009.
Virginia began her working career as a classical musician after receiving both bachelor's and master's degrees in music. She played flute in pit orchestras, on radio programmes, on track recordings for film and anywhere else her services were in demand.
When on a job with CBC, a staff member asked Virginia if she'd done any writing/broadcasting.  She hadn't, aside from all of the research and writing she'd done as part of her master's degree, but was interested in giving it a try. This leap of faith led to a 10-year career as a freelance writer. "It paid well, and you could do it on your own time," explains Virginia, an important aspect of the job with a child at home to care for.
Fast-forward to 2002, when Virginia was made aware of the opening at the Trident Newspaper office. She knew nothing about the Canadian Armed Forces or Royal Canadian Navy, but was willing to take her chances. 18 years later, she has no regrets, noting the pride she feels doing this work. "My father was in the RCMP when he was a young man. Although he passed away before I took the job with the Trident, I think he would have been proud of me."
After an incredible run at the helm of the Trident, Virginia will be retiring at the end of December. And while much could be written to describe Virginia's many contributions as a member of the Defence community, nothing can illustrate her accomplishments and essence better than this testimonial from a dear friend and fellow Defence Team member, Mike Bonin:
"I can… remember the challenges you faced square on and how you adapted and overcame them. Situations like… staff reductions, budget cuts, personal/ family tragedies, changing printers, adapting to new formats, creating a new look and feel, [or] going digital in spite of IT restrictions did not deter your determination or resolve. Not only did you survive, you thrived. You showed us that a newspaper is more than paper and ink. You encouraged people to submit articles and photos, making the paper be not just a part of PSP, but in fact, an extension of the military and civilians who work in this area. You showed us your warm friendship and concern for other people's lives and families. You created a vehicle to tell the Navy's story and along the way, you produced a paper that won streams of accolades and national awards!"
We are certainly lucky to have had Virginia as part of our Defence family for so many years. While she will be sorely missed, we are very excited to see what she ends up doing in this next chapter. Knowing Virginia, she won't stay idle
"You have to keep learning. You have to accept that you can't stay where you are. You have to keep changing, and if you can do that and keep a positive attitude, that can lead you to a really good, productive life with a lot of opportunity to do worthwhile things."
Bravo Zulu, Virginia, on a very worthwhile and productive career! Thank you for the care, compassion and hard work you've displayed for so many years. We wish you fair winds and following seas!
---
Gens de la base : Virginia Beaton
L'employée bien connue de l'équipe du Trident quitte le fauteuil de rédactrice en chef
Nous avons l'honneur cette semaine de vous présenter une figure connue et respectée de la communauté locale de la Défense à titre de #GensdelaBFCHFX : Virginia Beaton!
Née à Toronto mais ayant vécu à Halifax presque toute sa vie, Virginia a commencé à travailler en 2002 à titre de rédactrice adjointe et de journaliste pour le Trident, le journal de la côte est de la Marine royale canadienne, et a été promue au rang de rédactrice principale en 2009.
Virginia a débuté sa carrière professionnelle comme musicienne classique après avoir obtenu un baccalauréat et un maîtrise en musique. Elle a joué de la flûte dans des orchestres maison, à la radio, sur des bandes sonores de films et partout où ses services étaient demandés.
Alors qu'elle se produisait à la CBC, un membre du personnel lui a demandé si elle avait jamais fait de la rédaction/radiodiffusion. Elle lui a répondu que non, en dehors des recherches et des dissertations faites dans le cadre de sa maîtrise, mais qu'elle était toute prête à essayer. Cet acte de foi s'est soldé par une carrière de 10 ans à titre de rédactrice indépendante. « Le salaire était bon et on pouvait écrire pendant ses heures libres », explique Virginia, ce qui n'est pas un aspect négligeable d'un emploi quand on a un enfant à la maison dont il faut s'occuper.
Transportons-nous en 2002, quand Virginia a appris qu'il y avait un poste à pourvoir dans les bureaux du journal Trident. Elle ne connaissait rien des Forces armées canadiennes ou de la Marine royale canadienne, mais elle était toute prête à tenter sa chance. Dix-huit ans plus tard, elle n'éprouve pas le moindre regret, et parle de la fierté qu'elle ressent à faire ce travail. « Mon père était dans la GRC lorsqu'il était jeune homme. Bien qu'il soit décédé avant que je n'accepte ce travail au Trident, je crois qu'il aurait été fier de moi. »
Après une période incroyable à la barre du Trident, Virginia prendra sa retraite à la fin de décembre. Et même s'il y aurait bien des choses à dire pour décrire les multiples contributions de Virginia en tant que membre de la communauté de la Défense, rien ne saurait mieux illustrer ses exploits et son essence même que ce témoignage d'un ami très cher et collègue de l'Équipe de la Défense, Mike Bonin :
« Je me souviens… des défis que vous avez dû affronter dès la case départ, de la façon dont vous vous êtes adaptée et les avez surmontés. Des situations comme… les compressions d'effectifs, les compressions budgétaires, les tragédies personnelles/familiales, les changements d'imprimante, l'adaptation à de nouveaux formats, la création d'une nouvelle image [ou] le projet de numérisation en dépit des restrictions imposées aux TI, n'ont jamais entamé votre résolution et votre détermination. Non seulement vous avez survécu, mais vous l'avez fait avec brio. Vous nous avez prouvé qu'un journal, c'est plus que du papier et de l'encre. Vous avez incité les gens à soumettre des articles et des photos, afin de faire de ce journal non seulement une partie intégrante des PSP, mais en fait un prolongement des militaires et des civils qui travaillent dans ce secteur. Vous avez prouvé votre amitié chaleureuse et votre souci pour les vies et les familles des autres. Vous avez créé un véhicule pour raconter l'histoire de la Marine et en cours de route, vous avez produit un journal qui vous a valu de nombreux prix et distinctions à l'échelle nationale! »
Nous avons indéniablement eu la chance que Virginia fasse partie intégrante de la famille de la Défense pendant tant d'années. Certes, elle nous manquera beaucoup, mais nous sommes impatients de voir à quoi rassemblera le nouveau chapitre de son existence. Connaissant Virginia, je sais qu'elle ne restera pas sans rien faire.
« Vous devez continuer de vous instruire en permanence. Vous devez accepter que vous ne pouvez pas toujours faire du surplace. Vous devez évoluer, et si vous arrivez à le faire tout en gardant une attitude positive, cela peut se solder par une existence productive et vraiment intéressante avec des milliers de chances de faire des choses valables. »
Bravo Zulu, Virginia, pour une brillante carrière très productive! Merci de votre souci pour les autres, de votre compassion et du dur travail que vous avez accompli pendant tant d'années. Nous vous souhaitons bon vent et bonne mer!