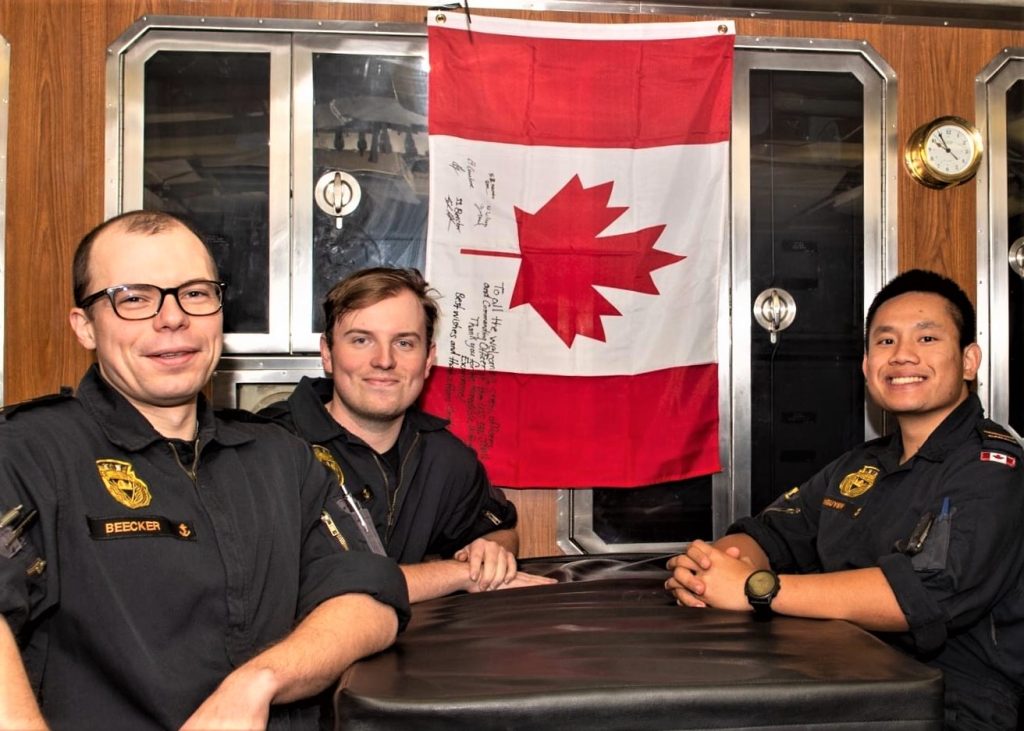 Then y'ar a Bluenose!
By Nathalie Garcia,
Canadian Submarine Force
Few of us have visited Canada's North, even fewer will sail the Arctic Ocean.  Only the more adventurous of us would attempt such a voyage and dare to disturb Neptune!
Four members of the Canadian Submarine Force recently had this opportunity when they sailed through the Northwest passage as part of a cross pollination on the United States Submarine San Juan. Lt(N) Benjamin Courchene, S1 Kyle Beecker, S2 Van Long Nguyen and S2 Miguel Wilson joined the San Juan for a month-long transit from Groton, Connecticut to Bremerton, Washington as a way to deepen their knowledge of submarine operations.
"We learned so much," said S2 Van Long Nguyen. "I'm so happy I had the opportunity to be a part of this."
Like all submariners, the crew and officers of the USS San Juan are trained to operate underwater, with all the complexities it entails. Add to this Arctic conditions and shallow water operations, and the stakes are even higher.
"Even during the most grueling and shallow portions of the trip, the San Juan's navigator, Lt Daniel Stikles' motto "Overprepared and underwhelmed" held true," said Lt(N) Courchene. "The seas were pleasantly calm below the ice, and we sailed through without an incident."
The transit was part of Operation Nanook-Tuuglik 2023, Canada's annual sovereignty exercise.  This year's iteration included assets from the Royal Canadian and United States Navies as well as the Royal Canadian Air Force.
Included in the trip was an Arctic Circle crossing-of-the-line ceremony, much like the ones sailors have undergone for centuries. It is thought to appease Neptune before approaching his realm, and has roots in ancient times. Such ceremonies are also conducted when crossing the date line, the Equator and Antarctic circle.  Once completed, the 'tadpole' is reborn as a 'shellback' and earns the title of "Bluenose."
 "This was an amazing, once in a lifetime experience and I really enjoyed the camaraderie," said S2 Nguyen.