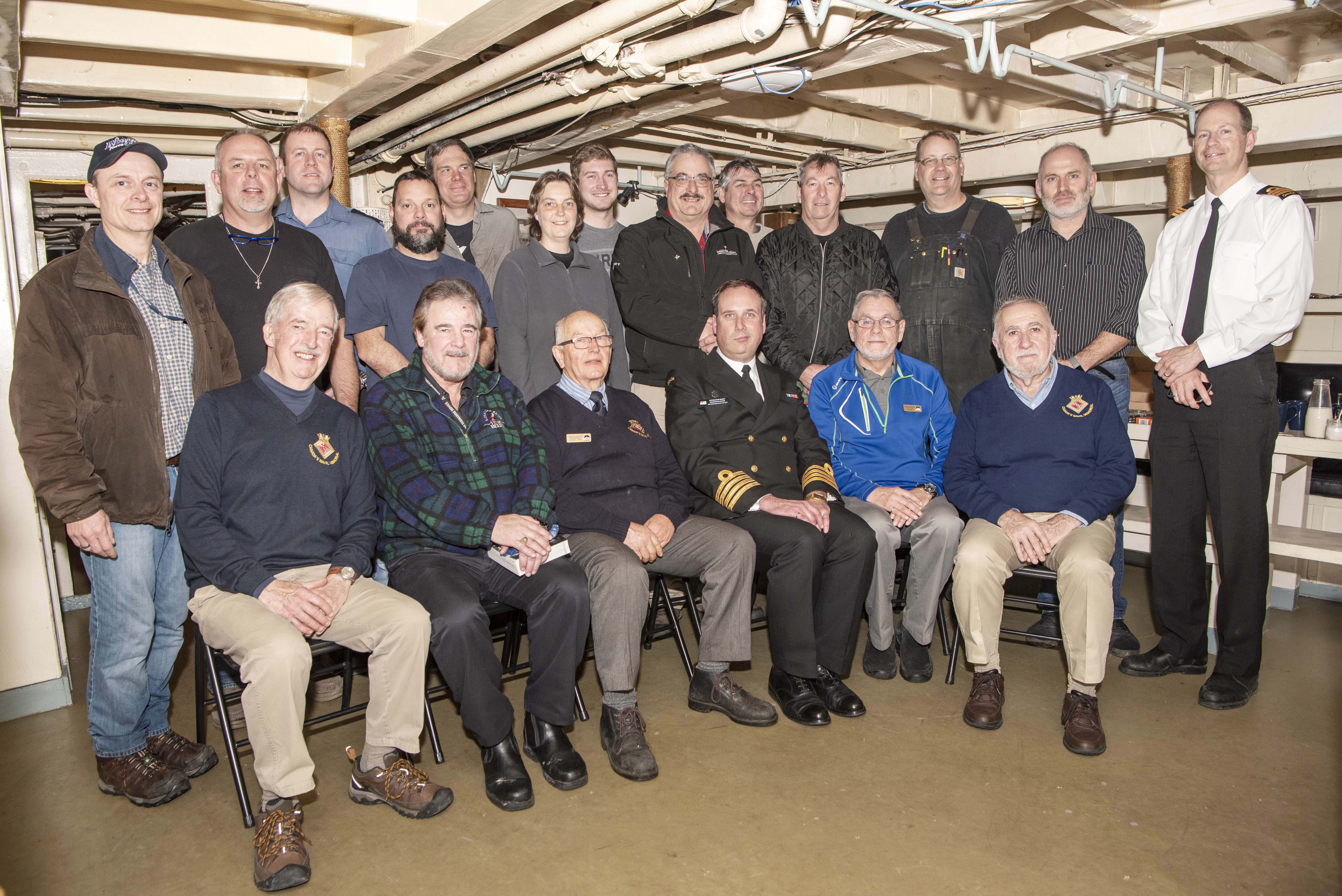 FMF personnel thanked for a job well done
By Ryan Melanson,
Trident Staff
HMCS Sackville, Canada's Naval Memorial, is currently resting comfortably in the water at her winter berth in HMC Dockyard, but that may not be the case if not for the significant hull restoration work completed throughout 2018.
Sackville was hoisted up on the Syncrolift early last spring and remained in the hands of FMF Cape Scott until October. While the full list of repairs isn't yet complete, with more issues being identified as the process went along, major work has already been done to help extend the life of the vessel.
To celebrate the successes so far, the Second World War ship and her volunteer crew from the Canadian Naval Memorial Trust (CNMT), along with FMF Commanding Officer Capt(N) David Benoit, hosted a group of the FMF employees on December 17 for coffee, food, and to express appreciation for their hard work.
"Today is about looking back at a very intense period of time for FMF. The Navy asked for the facility to take on an extra demand to support Sackville, and many of our individuals poured their hearts and souls into that work," Capt(N) Benoit said.
"That's one of the reason the ship is back in the water."
A number of unexpected obstacles and issues made for a difficult start to the project in the spring, but despite the fact some work was done under constraints, CNMT Chair Cdr (Ret'd) Wendall Brown said he was encouraged and impressed each time he visited the site.
"Everybody who came here and worked on the ship gave it their all under difficult circumstances, that was very clear and we very much appreciate all that's being done for us."
Brown added that support for the project at the Navy leadership and Federal Government level has also been encouraging, with Sackville now slated to go back into FMF's hands this coming March for further maintenance, repair and restoration. When the ship is lifted a second time, it will be positioned differently, with sections of the hull that sat on blocks in 2018 opened up for work.
"The spots that we couldn't address the first time will now be exposed, so that will be one big aspect of the project," said LCdr (Ret'd) Jim Reddy, a CNMT trustee who serves as Sackville's Commanding Officer.
A special gift presentation was also made during the luncheon to FMF's Project Manager for the Sackville project, Bob Naugler, who many know as a musician in his spare time with Bob Naugler and the Midtown Blues Band. CNMT Trustee Cdr (Ret'd) Bill Gard presented the gift on behalf of the Trust and thanked Naugler for his large contribution to the work on Sackville.
Capt(N) Benoit said he was looking forward to once again having his staff work on the ship, which he described as an important asset in telling the RCN story and inspiring the next generations of sailors.
"The ship isn't just about the World War II legacy that's embodied within it. The ship represents service and sacrifice and commitment, and those values were also demonstrated by the employees who took on this task."