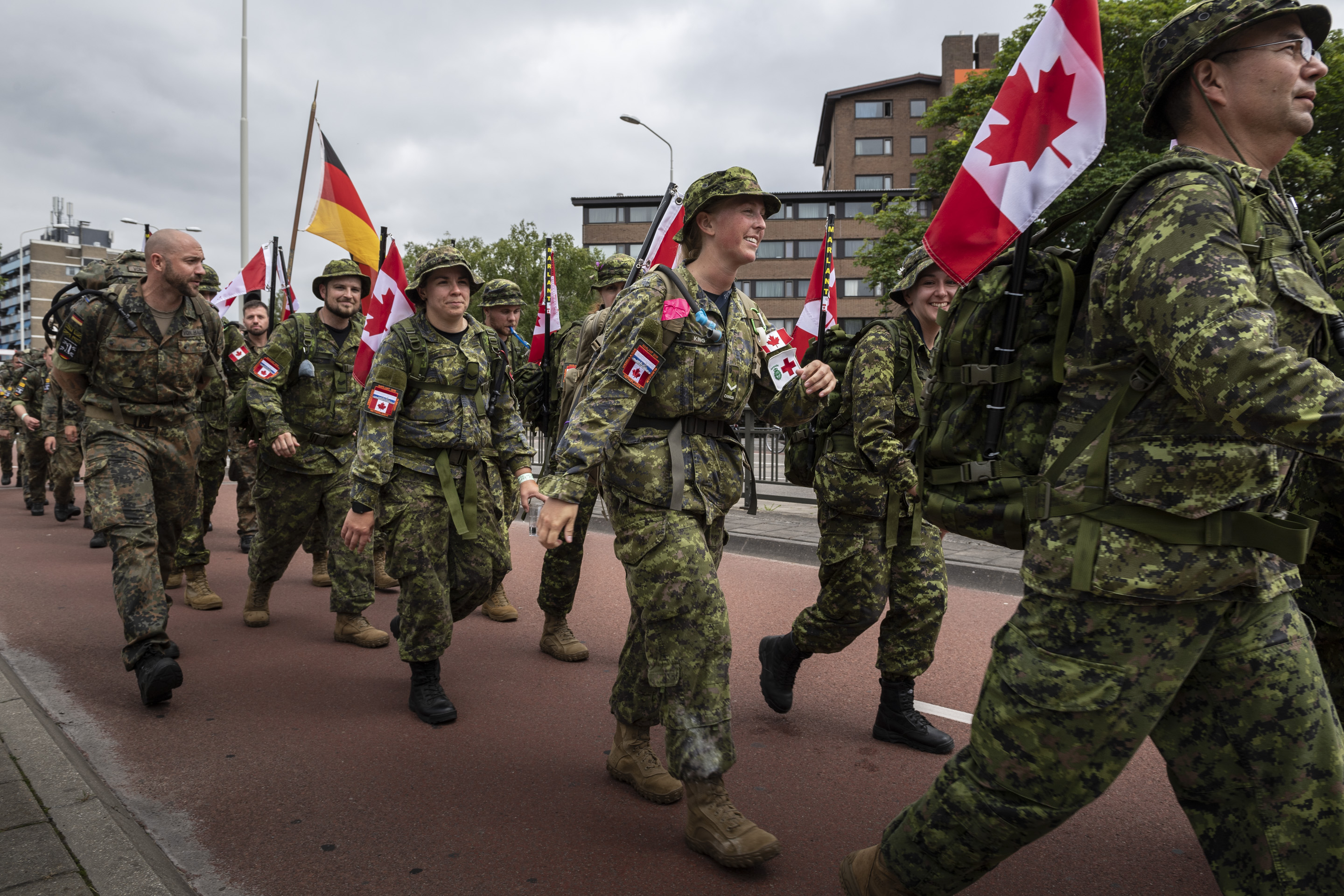 Nijmegen medic says teamwork and support key to a successful march
By Ryan Melanson,
Trident Staff
CAF members who wish to participate in the International Four Days Marches Nijmegen are required to complete an intense training program at home before travelling to the signature event in the Netherlands. Requirements include back-to-back days of 40 kilometre marches, and a total of at least 500 kilometres through the training process.
The program is designed to prepare marchers for the physically and mentally demanding four day, 160-kilometre trek, but it still can't compare to the real thing, says Pte Heidi King, who recently completed the 2019 Nijmegen marches with the MARLANT Nijmegen team from July 16-19.
"You can train as much as you want at home, but it's completely different when you're doing the real thing," she said during an interview at CF H Svcs C (A), where she works as a Medical Technician.
Some members who made it through the training marches with relative ease, herself included, were surprised by the extent of the wear and tear and painful blisters on their feet, and mental exhaustion during the final stretch also created difficulties.
"We had a team full of very strong, supportive individuals, which was really important in getting through those tough spots," Pte King said, adding that the festival-like atmosphere in towns and villages along the marching route, with music, dancing, and cheering crowds that always erupt for Canadians, also provided much-needed morale boosts.
As the team medic, she dealt with the added pressure of looking after her teammates and assisting with foot wraps and other minor treatments, while also staying on top of her own health and trying to get a proper amount of rest between marches. Checking in with her fellow marchers in the evenings was important, she said, because pride can lead people to keep quiet about ailments or issues that could impact their ability to finish the march.
"You know people want to get through and finish very badly, so you need to really talk to your team and see how they're doing. Communication is important."
Fortunately, the CAF contingent for this year's Nijmegen event, which included more than 200 marchers from bases and wings across the country, ended with a 100% completion rate, which Pte King chalked up to the positive attitude of Canadian team members, including other helpful medics who were happy to offer assistance beyond their own teams.
This year marked the 103rd iteration of the Nijmegen marches, which began as a local military exercise in the Netherlands, and has evolved to draw more than 40,000 civilians from 84 countries, in addition to 6,000 military participants, each year.
Canadian team members began their trip with a visit to the Canadian National Vimy Memorial in France, followed by memorial services at the Bergen-Op-Zoom Canadian War Cemetery and Groesbeek Canadian War Cemetery in the Netherlands, honouring the more than 7,600 who died in the campaign to liberate the country during the Second World War.
"It was very powerful. It gave us a completely different perspective and different sense of meaning about our role in uniform and the task ahead of us," Pte King said.