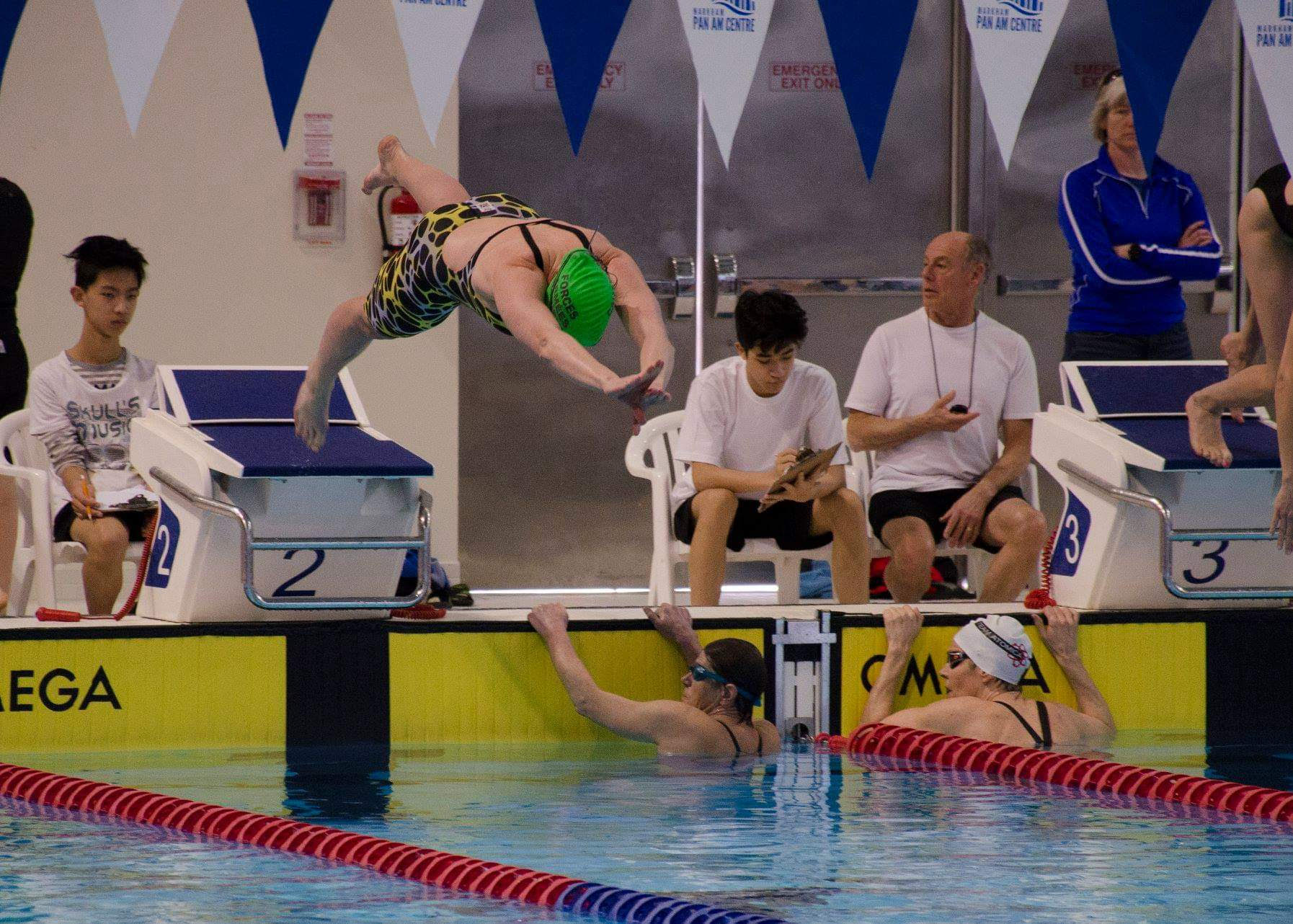 CFAST swimmer making the most of fitness opportunities
By Ryan Melanson,
Trident Staff
When PO2 Courtney Lambert joined the CAF six years ago, she didn't consider herself a swimmer, and a busy career as a musician left little time to focus on health and fitness.
Now, she's a member of both the Navy Tridents Triathlon Club and Canadian Forces Atlantic Swim Team (CFAST), a regular at local swim meets, and a veteran of regional and national CAF swimming competitions.
"I wasn't a swimmer at all. Once I joined, I had access to the equipment, I had time in the gym, and I had all the opportunities to be able to start working on my fitness," said PO2 Lambert, a tuba player with the Stadacona Band, currently completing a French course through Naval Fleet School (Atlantic).
She had the chance early on to attend a CAF swimming development camp for the Atlantic region, intending just to pick up some new skills, and ended up with a qualifying breaststroke time that allowed her to begin training for competition.
"And now I've been training for the past four years. I"m not the strongest swimmer in the Forces at all, but I've had so many opportunities through the military, and I've gotten a lot better. My whole lifestyle has completely changed around it and I'm so much healthier than I was before."
Recently, PO2 Lambert was part of the Atlantic team at the CAF National Swimming Championship, which was held alongside the Ontario Masters Swimming Championships in Markham, Ontario from March 22-25, and she brought back individual and relay medals from the civilian side of that event.
She also competed at the Nova Scotia Provincial Masters Championship at the Zatzman Sportsplex on April 27, with a small group of CFAST/Navy Tridents members who placed third as a team. The team members all had different experience levels, but still had fun competing, which is an important aspect of the CFAST and Navy Tridents teams.
"We have a program when we practice, but you can just follow it to the best of your ability. We have people who are elite swimmers as well as people who are brand new to the sport, like I was. It's a great way to expose people to swimming," PO2 Lambert said.
Swim practices are currently held at the Shearwater pool on Tuesday, Thursday and Sunday evenings, while running, cycling and outdoor swims will be incorporated soon as weather improves. PO2 Lambert encouraged anyone interested to come out to a practice and begin incorporating swimming into their fitness routine.
"There's a wide range of abilities in our club. It's for everybody. We can cater things to your abilities," she said.
Those interested in attending a practice can visit the Navy Tridents Triathlon Club page on Facebook for more information, or email samuel.kehler@forces.gc.ca