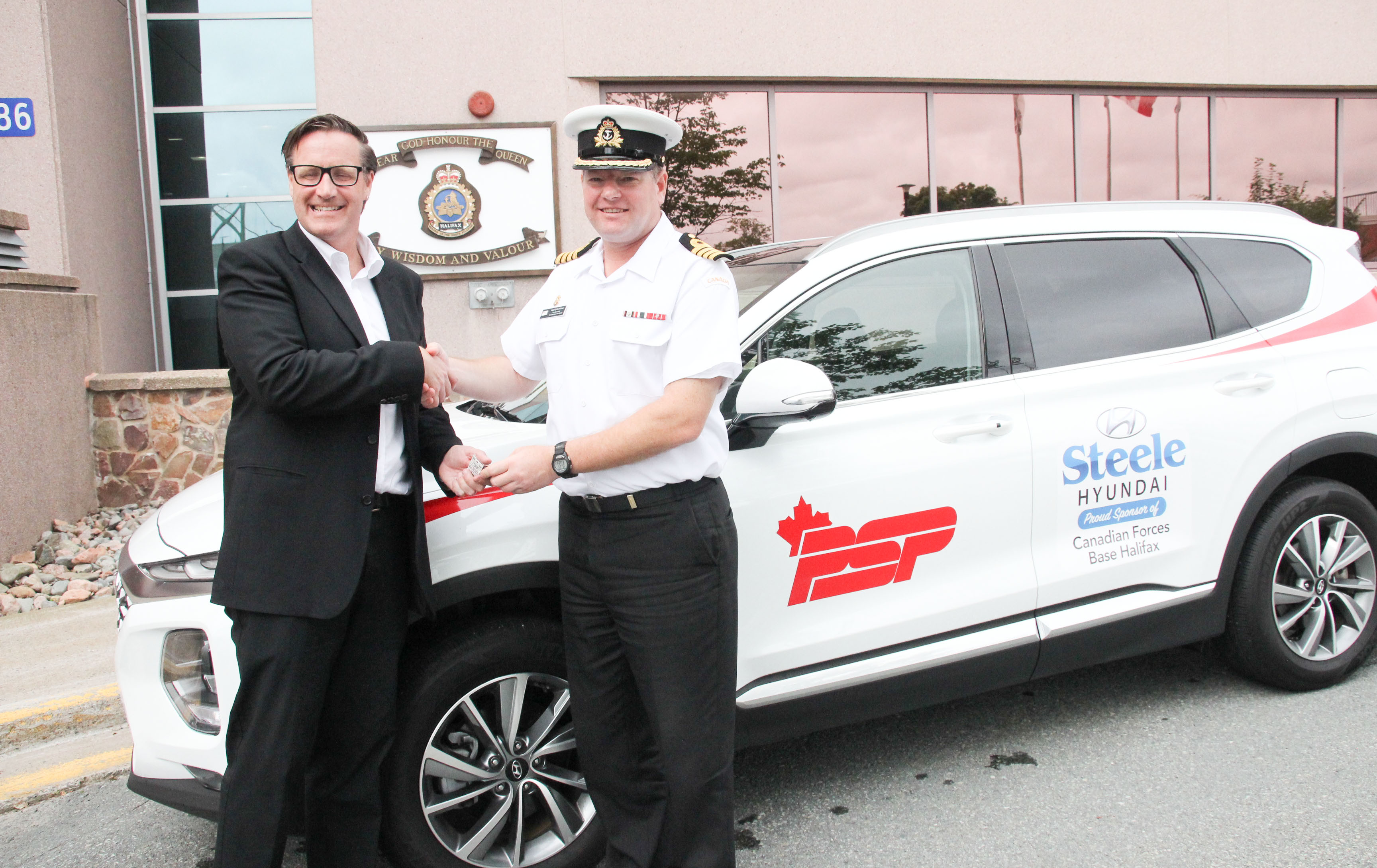 Steele Hyundai supports PSP Halifax with new vehicle
By Ryan Melanson,
Trident Staff
Personnel Support Programs (PSP) personnel in Halifax have a shiny new vehicle to be used in supporting military programs and events in the region thanks to a partnership with Steele Auto Group and Steele Hyundai.
The 2019 Hyundai Santa Fe Turbo, valued at $54,000, will be with PSP Halifax on a two-year lease, continuing a partnership with different Steele Auto Group dealerships that's been ongoing since 2011. Steele Hyundai will also provide regular inspections and maintenance to the vehicle for the two-year period.
Steele Hyundai General Manager Mike Currie came to the base on August 7 to officially present the keys to the new vehicle to Base Commander Capt(N) David Mazur and PSP Halifax Manager Joni Sawler.
"Our programs in Halifax are second to none across the country, and a large part of that is because of the sponsorships and this type of support that we get from the community," Capt(N) Mazur said, explaining that the unique community relationships enable CFB Halifax to have a reputation as one of the best bases in Canada to serve at. Support from corporate partners like Steele Auto help to offset the Base Fund/NPF budget and allow more money to go directly to programs that benefit CAF members and their families. The vehicle itself will be used to support ship arrival and departure ceremonies, sports tournaments, and other PSP events.
"Without our sponsors, we wouldn't be able to manage our programs and we wouldn't be able to put on the wonderful events that we do," Sawler said.
"The vehicle will be well used, it will be well viewed around the community, and we'll make sure people know where it's coming from. We're very appreciative of the support."
In exchange for the vehicle lease, Steele Auto Group will participate as a Platinum level sponsor at DND Family Days in 2020 and 2021, and Currie said his Steele Hyundai dealership is excited to represent Steele Auto at that event and others over the next two years.