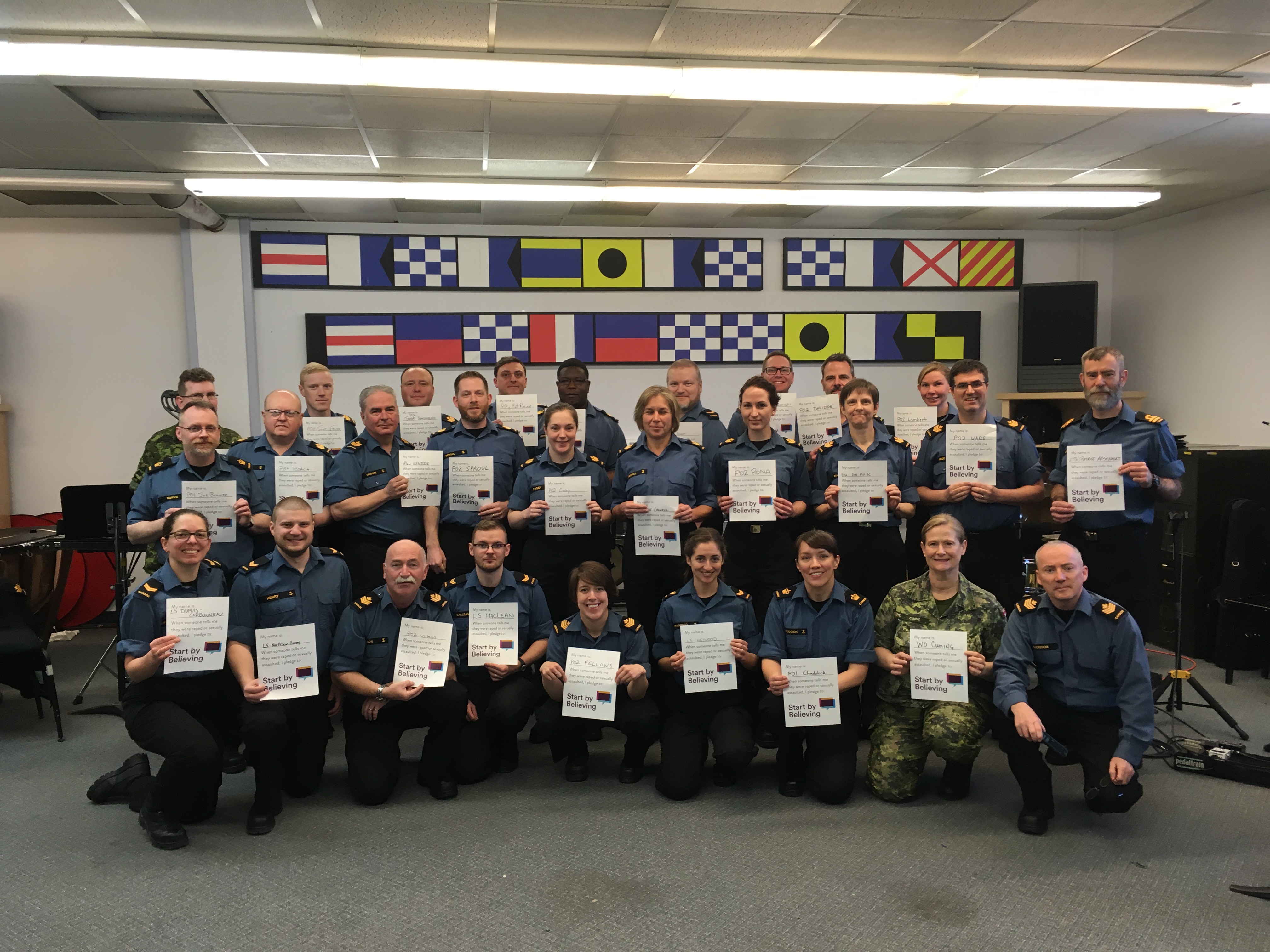 Stadacona Band makes a commitment to sexual assault survivors
By PO2 Matt Reiner,
Stadacona Band of the Royal Canadian Navy
On April 3, 2017, Canada's East Coast Navy Band made a commitment to anyone and everyone affected by sexual assault. They committed to believing the stories of all survivors.
Sounds simple, right? Why wouldn't you believe someone who comes to you with very personal information that could make them feel vulnerable and afraid to share? Why wouldn't you want to listen to their story and provide support? After all, they turned to you, they trust you.
Here's the problem; all too often survivors of sexual assault, at least those who seek out help, are dismissed as overreacting or misunderstanding the circumstance of their assault by the first person they talk to.
Sounds callous, right? How could you not listen to and help your colleagues? It's not that we're bad people; of course we want to help. It's that we all suffer from the stigmas and misunderstanding of what sexual assault is and how harmful it is to our workplace. The reasons behind these misunderstandings are complex, from social mores to gender identification to socio-political status.
The great thing is we don't need to be experts. Simply listening to someone with the bravery to approach you and tell you they are a survivor of sexual assault, and believing them, is massive. It gives them the faith to engage in the help you may provide and also the courage to seek justice for the wrongs that have been committed. By believing, you give back some of the power that has been stolen from them. By believing, you empower them.
As part of Operation HONOUR, it is our mission to continue the elimination of harmful and inappropriate sexual behaviour in the Canadian military. The Stadacona Band found this pledge, initiated by End Violence Against Women International, and brought to us through training initiated by our unit from Halifax's Avalon Sexual Assault Centre. The Stadacona Band of the Royal Canadian Navy pledges to believe survivors so they can feel safe knowing support is there for them and that justice is real.