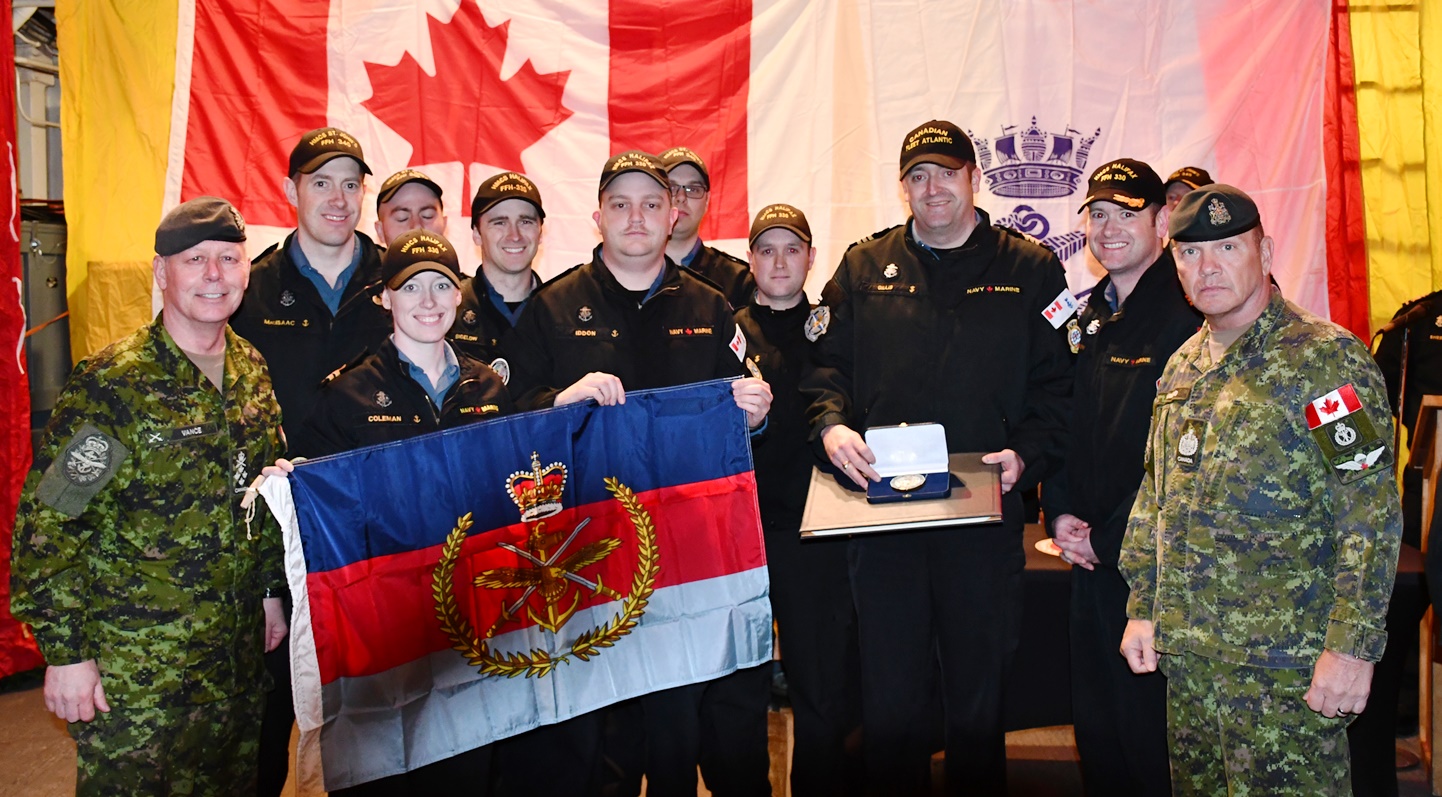 HMCS St. John's crews recognized for exceptional service
By the Royal Canadian Navy
The Chief of the Defence Staff, Gen Jonathan Vance, recognized two crews of HMCS St. John's on April 4 for their exceptional service and performance during 2017. The Canadian Forces Unit Commendation is a group award created to recognize distinguished service by a military unit.
While deployed on Operation REASSURANCE in 2017 as part of Canada's contribution to NATO assurance measures in the Mediterranean and Black Seas, HMCS St. John's spent weeks tracking Russian naval forces near Syria, including a Kilo-class diesel submarine.
As Force Antisubmarine Warfare commander, St. John's crew displayed incredible tenacity, tactical acumen, and leadership over assigned international forces while tracking Russian subsurface forces. Decisive actions in the face of Russian naval cruise missile firings bolstered coalition intelligence operations and situational awareness throughout the region, bringing great credit to the Canadian Armed Forces.
Later that same year, with a new crew onboard, St. John's was set for a six-month deployment in early 2018 and was busy completing its work-up when Hurricane Irma passed through the Caribbean in early September.
St. John's altered its plans for work-up training and instead became an integral part of what became Operation RENAISSANCE Irma Maria, arriving in the Turks and Caicos region in September 2017.
CPO2 Scott Macpherson, the ship's chief engineer, said at the time that in his almost three decades at sea, he'd performed dozens of work-ups. However, this time "was the most intense short-term work-up program" he'd ever been involved in. "We became incredibly mission-focused," he said.
While deployed the ship served as a valuable command centre, permitting calls to higher command, producing lifesaving water, and providing a home for sailors after they returned from working in the hot and humid Caribbean climate. Every day, approximately 80 sailors transferred via small boat back and forth to shore in order to conduct the humanitarian tasks assigned to them.
During the ceremony each crew was presented with a gold-embossed scroll, a 12-sided gold-coloured medallion and a special commemorative flag showing the symbols of the three services: the anchor, the crossed swords and the flying eagle topped by the Royal Crown.
HMCS St. John's will fly not one but two flags for the next two years. Traditionally the commendation flag is flown for only one year, but the CDS has given the ship permission to fly them longer in recognition of the level of service displayed by the ship's companies' in 2017.