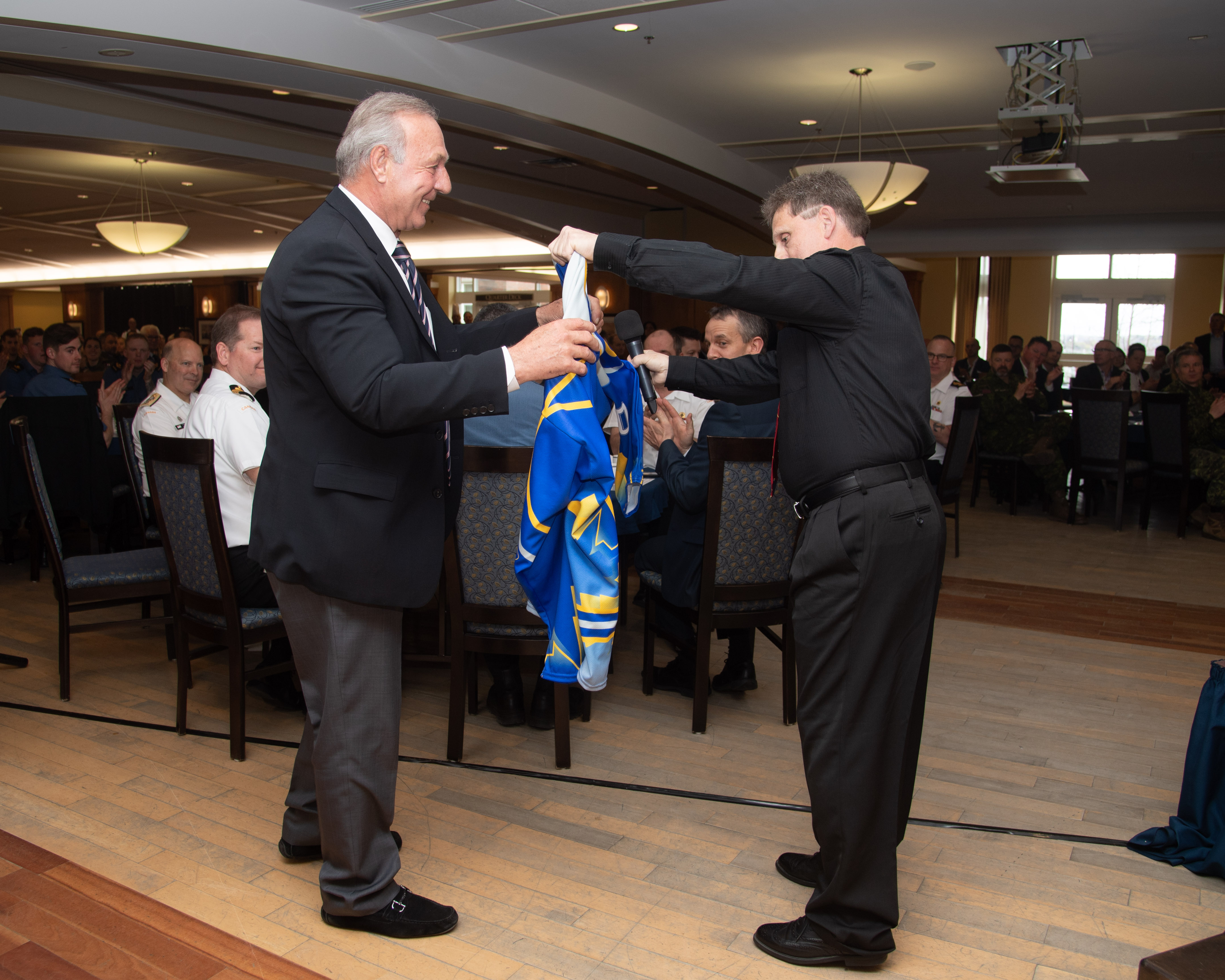 Hockey icon shares stories at Sports Recognition Breakfast
By Ryan Melanson,
Trident Staff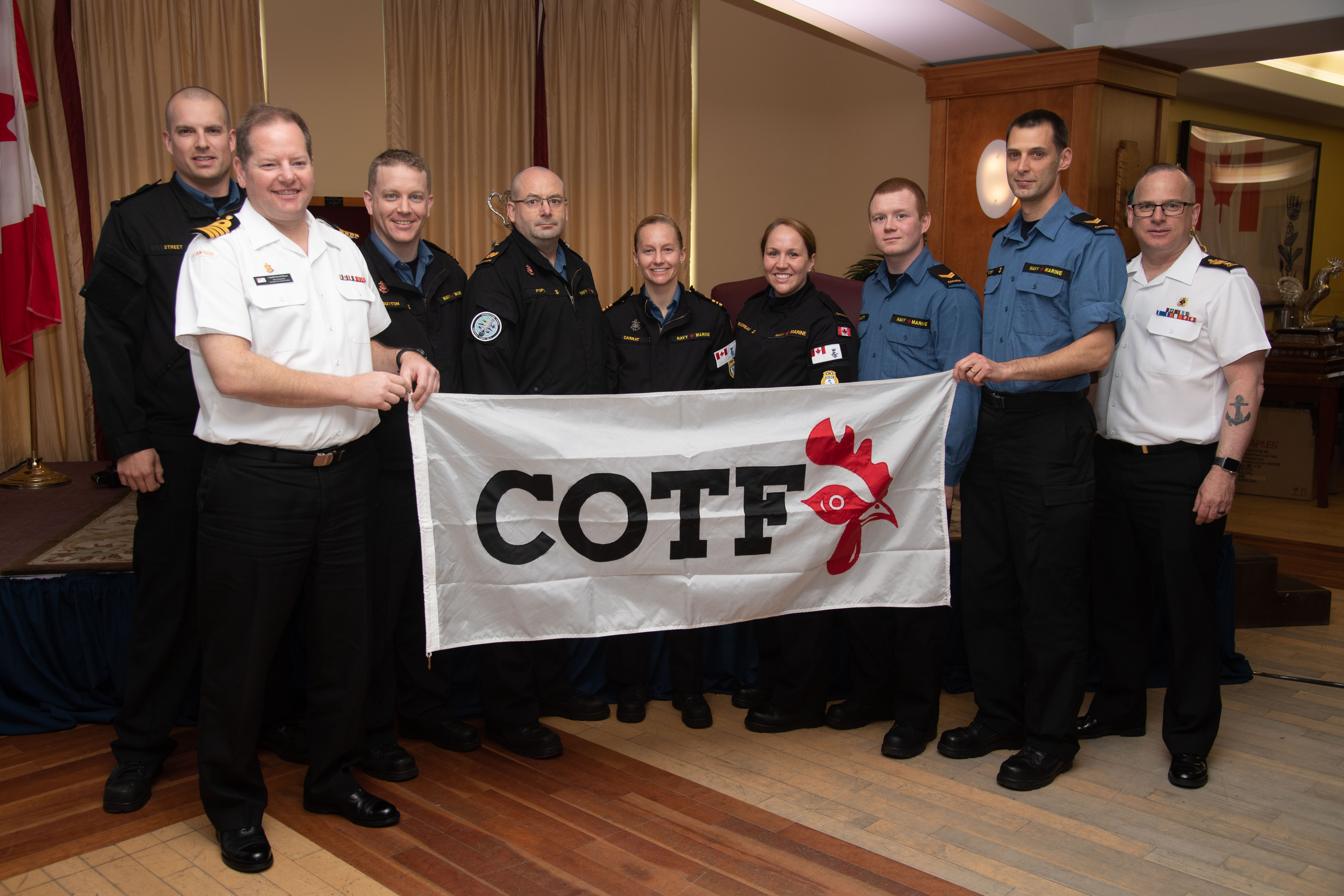 The Stanley Cup is the ultimate prize for professional hockey players, and part of the reward for those who capture the elusive trophy is getting to show it off back home, like Sidney Crosby has done in recent years in Cole Harbour and Halifax.
It wasn't always this way though. After winning the cup for the fourth time in 1978, Montreal Canadiens legend Guy Lafleur had to run away with it unannounced in order to bring it to his hometown of Thurso, Quebec. It's a story that involves stealing a car, a night of partying, and some very angry team managers and PR men, but it was worth it in the end, Lafleur told a crowd at CFB Halifax on May 22.
"I'm happy I did it. That's really what got the NHL to allow players to take the cup for a day, to bring it to their hometowns for people to see. I woke them up to that."
It was just one of the many stories the hockey superstar shared as the guest speaker at the 17th Annual CFB Halifax Sports Recognition Breakfast, which was held inside the Chiefs and POs Mess at Juno Tower. Lafleur shared the stage with veteran sports broadcaster and Nova Scotia Sports Hall of Fame President and CEO Bruce Rainnie for a wide-ranging question and answer session that covered topics spanning his 17-year NHL career, five Stanley Cup wins, and beyond.
He also spoke about his admiration for the men and women of the CAF, and how he's become more familiar with Canada's military since taking on Honorary Colonel appointments, first with 12 Radar Squadron in Bagotville from 2005 to 2008, and again as HCol for 3 Wing Bagotville since 2013. That first appointment brought him to Afghanistan, where he played ball hockey with deployed members in Kabul and even suited up for a patrol in a LAV, which he described as an eye-opening experience.
"It was a great experience and very exciting, but it also made me realize how lucky we are in Canada, to have people who are doing their best to keep our country peaceful," he said.
"I know there's a lot of sacrifice that goes into this work, I'm glad I've been able to learn about it, and I lift my hat to all of them."
Lafleur and Rainnie also got into the weeds about No.10's legendary career, from the early years and his Memorial Cup win in 1971 with the Quebec Remparts, through to his Stanley Cup years in Montreal and his eventual comeback with the Rangers and Nordiques. He talked about the most difficult goalies he played against (Bernie Parent and Gerry Cheevers) the best team he ever played with (the 76-77 Canadiens) and his thoughts of the top players in today's NHL, among other topics.
He also stuck around for photos and autographs with hockey fans and CAF members, and was presented with a special No.10 RCAF hockey jersey by PSP's Wally Buckoski.
"He was the best in the world, he's a great guy who thinks the world of our military members, and we were lucky to have him here," Buckoski said.
Of course, the annual ceremony is also an occasion to recognize the hard work and dedication toward military sports by members of the Formation. Along with the major awards, recognition was also given to the many volunteers and unit sports representatives in attendance, to all of the CAF Sports Hall of Fame or Sports Honour Roll members, and to all MARLANT sports teams who won medals at the Regional or National level in the past year.
The following is a full list of awards:
Cock of the Walk (COTW) – Campus Atlantic
Cock of the Fleet (COTF) – HMCS Halifax
Wing Cup – Fleet Diving Unit (Atlantic)
Mini Grey Cup – 2018 Champions Fleet Club Slackers
Excellence in Health Promotion Award – Campus Atlantic
MARLANT Official of the Year – PO1 Allan Rendell (volleyball)
MARLANT Coach of the Year – CPO2 Bradley Browne (combat shooting)
MARLANT Male Athlete of the Year – MS Shawn Peverill (hockey and slo-pitch)
MARLANT Female Athlete of the Year – Capt Kim O'Rourke (soccer)
MARLANT Team of the Year – CFB Halifax Men's slo-pitch
Rob Sneath Memorial Award – MWO Kenneth Penney, for his dedication to military sports and recreation through hockey programs.
Alexander Keith's Award for Formation Team of the Year – Formation Halifax Women's Soccer Team
Admiral Jones Shield Winner – MCpl Kent Thistle, for his involvement in multiple unit sports and the Nijmegen marches.
The MARLANT Environmental award winners will move on to be considered for the RCN and overall CAF awards at the 2019 CAF Sports Awards Ceremony later this year.
Organizers also wished to thank the many sponsors that made the Sports Recognition Breakfast possible and provided great draw prizes for attendees, including Alexander Keiths, Ultra Electronics, Lasik MD, VIA Rail, Canadian Springs, Halifax Mooseheads, CANEX, The Personal, Source Atlantic, Nova Scotia Crystal, Atlantic Hotel, Print 101, Subway, SISIP, Q104, Babcock, Engel & Volkers, Westjet, and more.