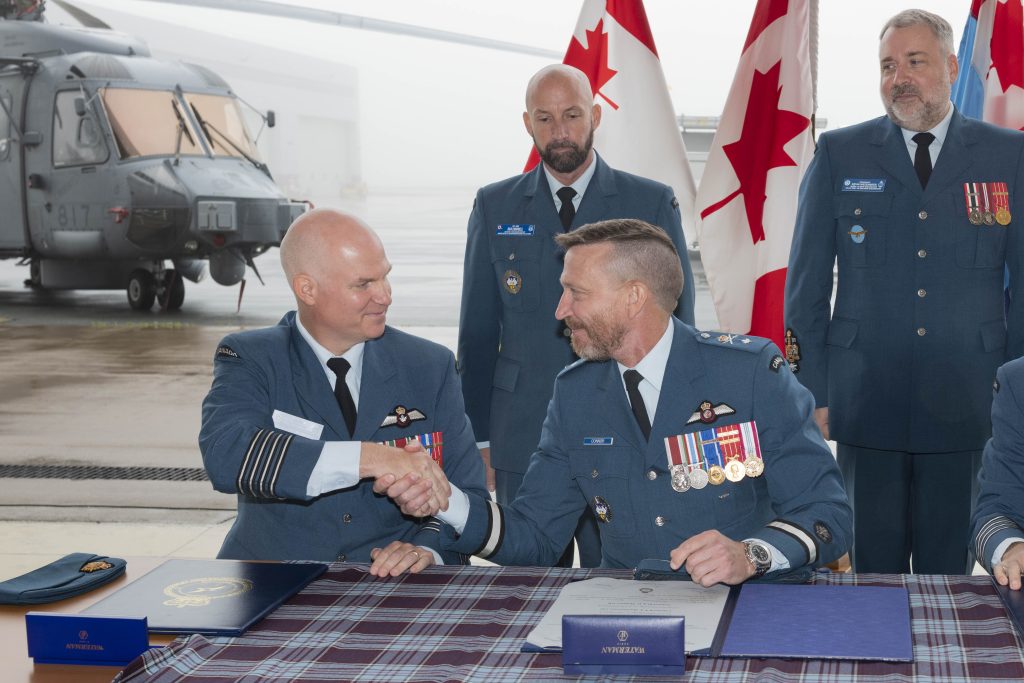 Shearwater welcomes a familiar face as new Wing Commander
By Mikela Thoms,
Federal Student Work Experience Program (FSWEP)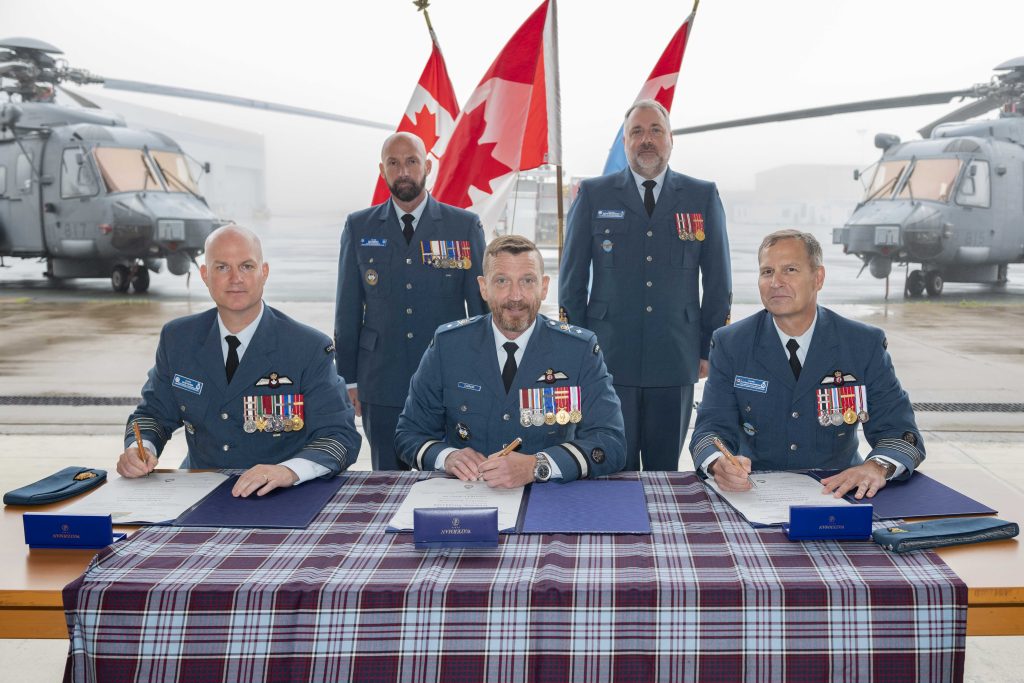 12 Wing Shearwater has officially welcomed its new Commanding Officer, with Colonel David Holmes stepping into the role on July 11. To mark the occasion, a Change of Command Ceremony took place in the hangar at 423 Maritime Helicopter Squadron. 
Col Holmes is no newcomer to 12 Wing. He's a former Sea King pilot who spent time at sea with HMC ships Halifax, Fredericton, St. John's, and in 2011, as the Air Detachment commander with HMCS Charlottetown during Operations Metric and Artemis. He also held various training and evaluation roles, and returned to the wing as Commander of 423 Squadron from 2014-2016.
However, he was quick to mention significant changes to 12 Wing that he noticed upon his most-recent return – in particular the CH-148 Cyclone: 
"The Wing has clearly made a leap during my time away and I'm committed to learning and understanding this weapon system and its significance, to each of you and to Global Security. I view this as integral to my leadership and service to you." 
When discussing what he would bring as Commander of the 12 Wing, Col Holmes said: "I commit to sharing my experience, dedication, patience, honour, and expertise. So as I step into this role, I must express my gratitude to Colonel MacNamara for the strong foundation he has built." 
To begin the event, a smudging ceremony was held by Elder and Honorary Captain (Navy) Debbie Eisan, who thoughtfully explained the tradition of smudging in purifying the body, promoting healing, and eliminating negative thoughts.
The Change of Command took place on a rainy, foggy and windy day and according to Brigadier-General Sid Connor, the reviewing officer for the ceremony: "This is the kind of weather that 12 Wing operates in at home and quite often on ship. So it's fitting that we have this kind of weather." 
BGen Connor, now Deputy Commander Force Generation at 1st Canadian Air Division HQ in Winnipeg, recently served as the Commanding Officer of 12 Wing until 2019. He expressed his gratitude towards outgoing Commander Colonel Patrick MacNamara for the last two years of his service to the wing. He also mentioned how under his leadership there has been "advancement to the capability of the aircraft", referring to the Cyclone, and "increased mission accomplishment". Furthermore, BGen Connor congratulated Col Holmes on his selection for command.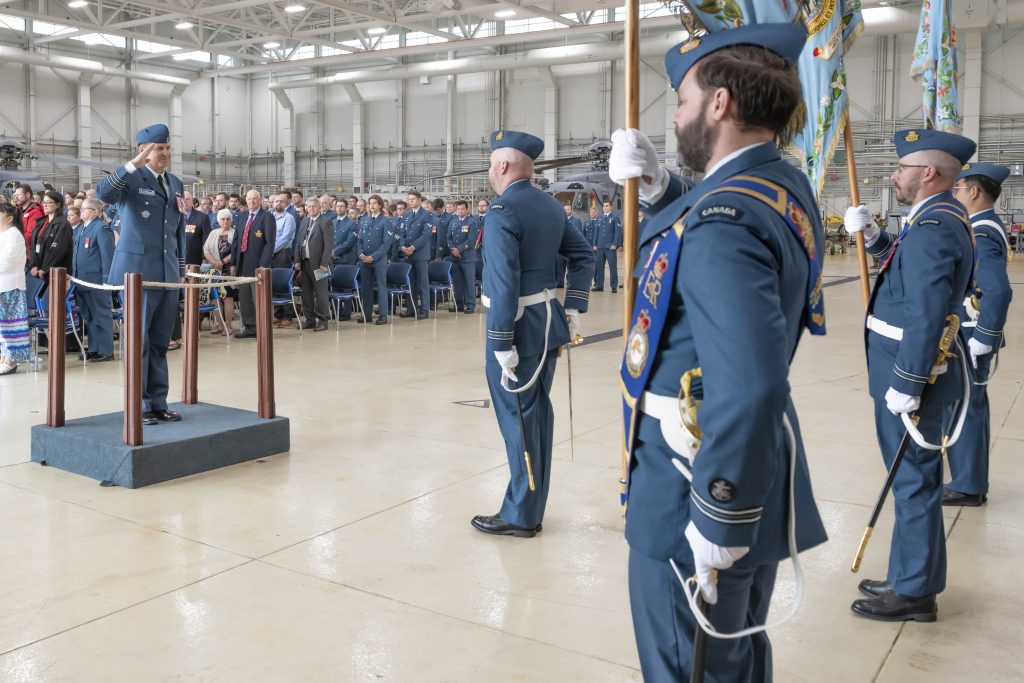 Col MacNamara expressed his appreciation and pride for having had the opportunity to work alongside the impressive team – which as a unit, has achieved numerous successes over the last two years. Among many others, he shouted out the current Chief Warrant Officer (CWO) Kevin Wezenbeek as well as CWO Bruno Poirie, whom he also worked with during his time in command.
"We achieved a notable increase in at-sea serviceability and we invested heavily in maintenance and experience building, maintenance planning, capacities, and training. None of these achievements might seem noteworthy individually, but in the aggregate, they represent a significant step in the building of a more robust and resilient cycle of operational capability," Col MacNamara said.
Col MacNamara, BGen Connor and Col Holmes all touched on the ever-changing environment that they say has made 12 Wing more critical today than ever before, and how this importance is likely to keep growing. Currently, China and Russia are prominent forces that are "undermining the foundations of a rules-based international order," said Col Holmes. Economic coercion in Africa by China, China's attempts at asserting claims over the South China Sea, and Russia's invasion of Ukraine are all modern illustrations of this threat.
"Our maritime helicopter community deploys into some of the most volatile regions and continues to play a vital role alongside our national and international partners in demonstrating resolve in the face of aggression," said Col MacNamara.