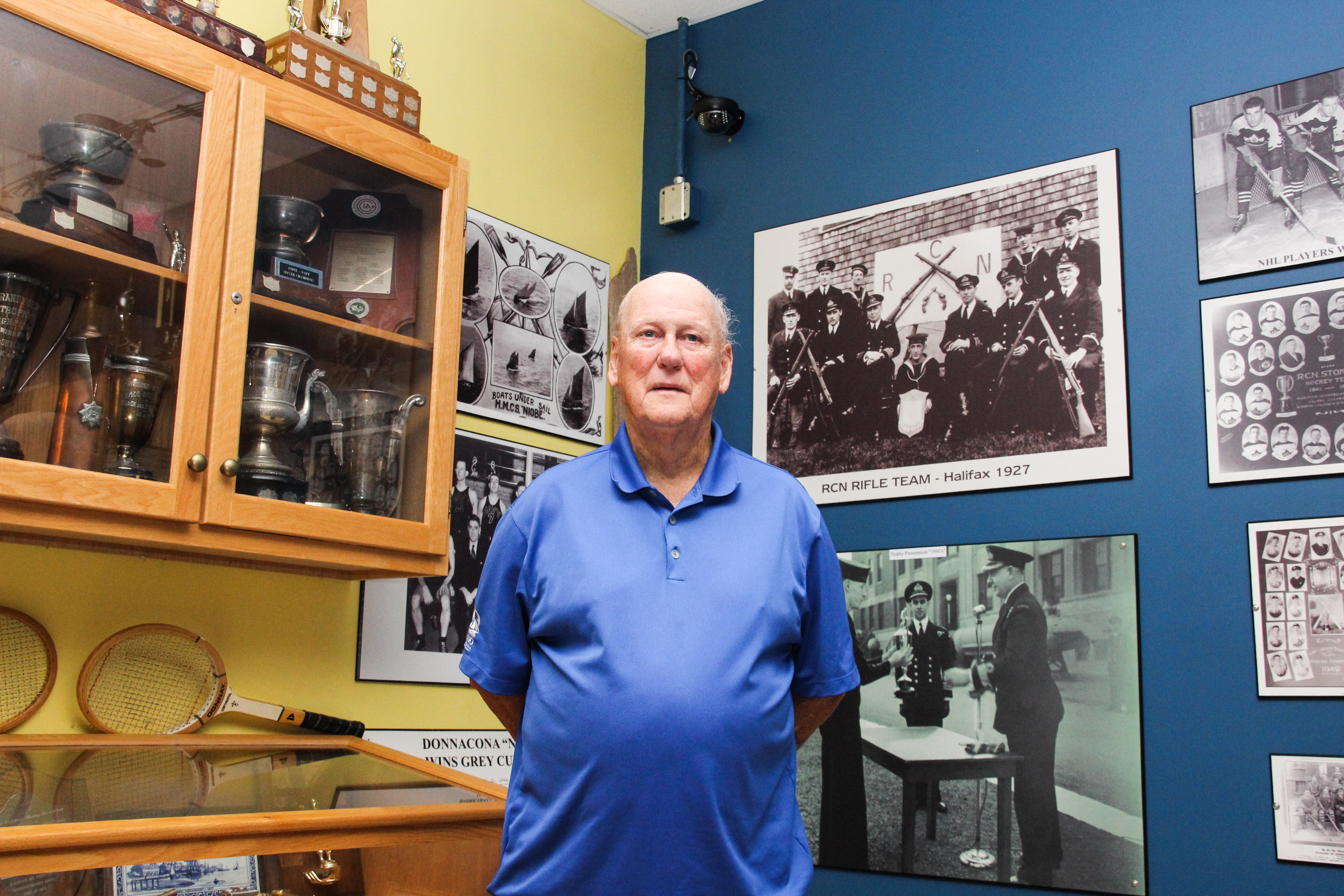 Saying goodbye to a piece of Navy history
By Ryan Melanson,
Trident Staff
In 1943, at the height of the Second World War, the Royal Canadian Navy had a much larger footprint in Halifax than it does today, and with tens of thousands of young men signing up to serve their country, that meant the talent pool for military sports was very deep.
"In the Maritimes the Navy has dominated the (sports) picture. The teams representing the tars have done wonders in providing entertainment for men of the three services and civilians alike," wrote Crow's Nest columnist Lou Zwerling in December of 1943.
"The sailors have done so much all over Canada in boxing, basketball, track and field, as well as aquatics, that space doesn't permit any sort of complete review of the year's achievements in Dominion sports. But sportdom knows that where you see a Navy team it is one that provides keen competition and good sportsmanship."
Of course, such a large number of sailors required a state-of-the-art fitness facility to help them stay in shape, both for athletics and for war. That's exactly what the STADPLEX gym was when it opened its doors in 1943, with modern weight equipment, a double gymnasium, squash courts, a wooden banked running track, 27-metre pool, and even a five-pin bowling alley.
"This would have been a very important facility in 1943," said CPO1 (Ret'd) Doug Wright, who enlisted in 1955 and wore the uniform in different capacities for nearly 50 years.
"The sailors were at war, and there were close to 100,000 of them. They needed space for their workouts and for recreation, and they would come here. They had all the sports on the go and a lot of people played professionally or in university."
Wright still works out at STADPLEX every morning, and plans to continue being there each day until the building closes permanently at the end of October. While it has has served the military community well for 75 years, the building has reached the end of its life, and further repairs have become infeasible.
"I was devastated, and even now I can barely believe it's really happening," Wright said of learning the news that the CAF will say goodbye to this major piece of Stadacona history. His connection to the building is especially personal due to the long hours he and others spent developing STADPLEX's Niobe room, a showcase of Navy sports history in Halifax that goes right back to 1910, along with the additional collections of photos and historical information that line the walls throughout the facility.
"It was just about bringing some of the history back to the building," said Wright, a CAF Sports Hall of Famer in his own right for his accomplishments in Basketball and Football.
"A lot of the people pictured aren't with us anymore, and I've had people come through and see their grandparents in these pictures, which is a great feeling."
The collection includes photos and write ups of famed teams from the Halifax area, like the 1950s Shearwater football squads, as well as individual standouts like Hoss Watson, Ed McSweeney, and LCdr Frank Mackintosh, a boxing stalwart also known for being the first manager of the CFB Halifax Fleet Club in 1963. Four oak cases show off the trophies amassed over the years, many won against top civilian or university-league teams, and outside of the Niobe room, photos capture the countless regional and national championships won in the modern era in sports like squash, hockey, basketball, badminton, volleyball, and other sports.
But STADPLEX has meant a lot to many people over the decades, and not just those who reached the pinnacle of military athletics.
"There are a small amount of people who excel at that very high level, but there's a much larger number of people who just like to play sports – basketball, ball hockey, whatever, and this has always been the place for that," said Kevin Miller, the current Fitness and Sports Coordinator at the gym. He joined the team soon after the end of the Physical Education and Recreation Instructor (PERI) trade, and the transition to fitness and sports services under the PSP banner. With 15 years in the building as an instructor and coordinator, he knows the importance the facility has held for CAF members, their families, retirees and even the wider Halifax community.
"There's just an endless number of people who have ties to this building and who've spent years playing sports and working out here. There's been a lot of hours and a lot of sweat," he said.
A renovation project in the late 90s saw upgrades to the squash courts and modernization of the office spaces in the building, but other aspects, like the rare banked track and bowling alley, were left relatively untouched, preserving the building's old-school character.
"Now the building is exhausted. It's unfortunate, but there's no doubt that it's time," said PO1 (Ret'd) Rocky Thorne. He remembers indoor bike races, diving competitions and bowling as being highlights inside STADPLEX in the 60s and 70s, but he's made new memories recently as a PSP employee at the front desk, getting to know the regulars and chatting with the thousands who pass through the gym each week.
"This is the first gym i went to in 1967, when I was just a young kid, and 52 years later I'm here at the front desk as they're closing it down. It's pretty amazing," Thorne said.
CPO1 Stephane Gagnon, a self-described gym rat in his 31st year with the RCN, spent his career almost entirely in Halifax, and said it's difficult to fathom the number of exceptional sailors and other CAF members who've passed through STADPLEX, or the number of hard-fought competitions that took place on the gym floor, the squash courts or in the pool.
"It's very sad to see the building go, as it's one of the last great pieces of Stadacona history that we have, but that doesn't erase good memories we have in there. I've played every sport you can think of at Stad, and watched so many regional and national sports, and I'll always remember that."
The closure of STADPLEX will mark the end of an era at CFB Halifax, and for those like CPO1 (Ret'd) Wright who've come to see the building as a second home over the years. While October 31 will be a difficult day, plans are currently being rolled out to ensure the current generation of CAF members in Halifax have the equipment and space they need to remain fit and continue racking up accomplishments at all levels of military sport.
"They've got a smaller Navy than they did in my day, but they still put out some great athletes, and I know they'll keep doing that without this gym, but it's very sad to see it go," Wright said.