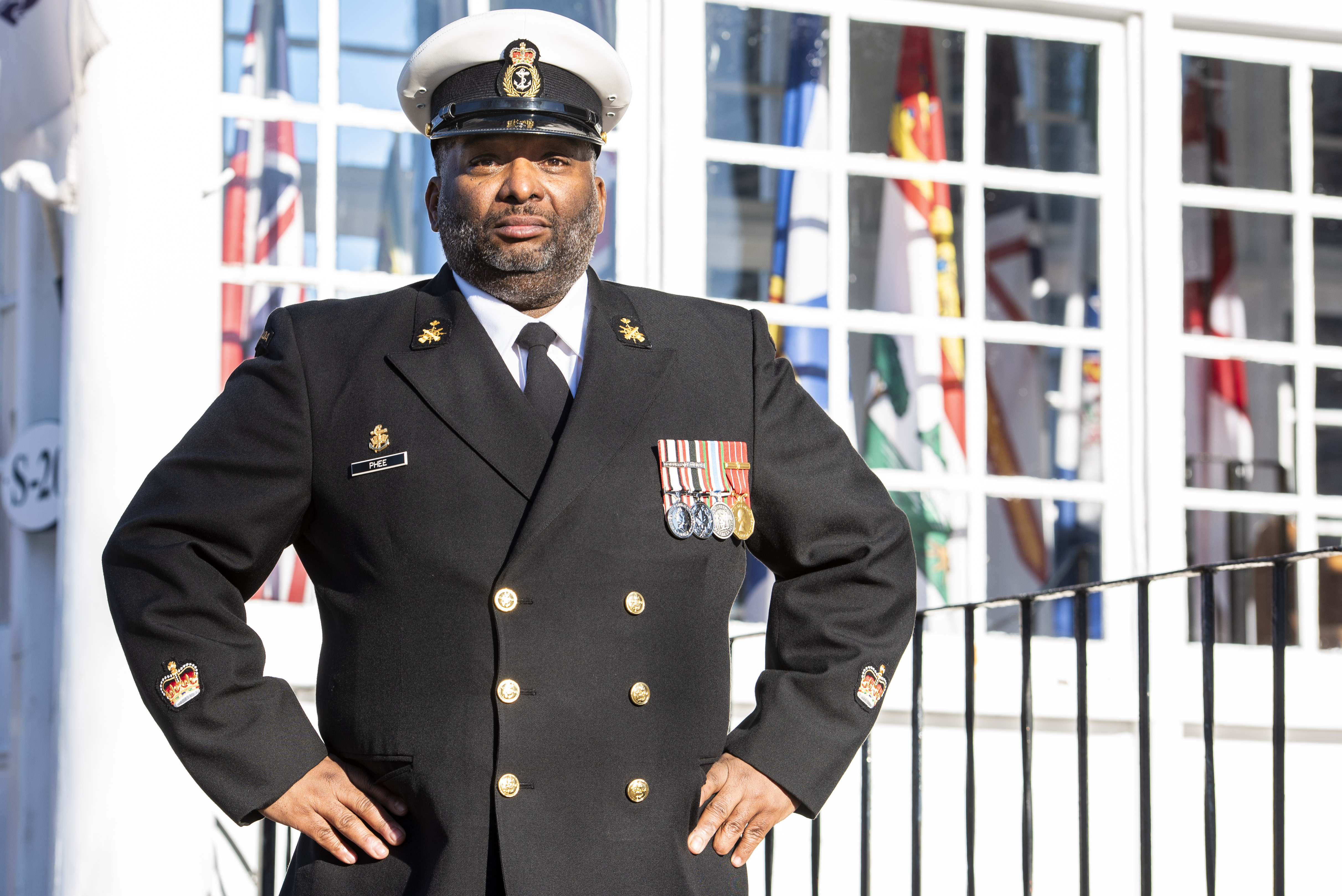 RCN Sailor Profile: PO1 Norman Phee
Current role: Curriculum Control Documentation Analysis
Hometown: Antigonish, Nova Scotia
Years of Service: 28 +
Home Unit: Naval Training Development Center (Atlantic)
Why did you join the Royal Canadian Navy?
I joined the Royal Canadian Navy because, from the time that I can remember I have always wanted to be a part of the military and protect the country. I started as an Air Cadet at 12 years old, and joined the Canadian Armed Forces at 19 right out of high school.
How important is your job to you and why?
My job is very important because I supervise the development of teaching plans as well as standards for all the Above Water Warfare courses. This is very important because the sailors leaving the school have to be proficient in their job when operating with allied navies around the world. It is nice to know that I in a small way I am providing the RCN with qualified and capable sailors.
What is the biggest challenge you've faced during your time as a member?
The biggest challenge I faced during my time as a member was being posted to Ottawa on Imposed Restriction. This means I was posted to Ottawa and worked at the Canadian Forces Electronic Warfare Centre without my family. This was our choice since my daughter just started school and we just finished renovating our house. We knew I would be posted back to Halifax, so we chose not to disrupt our daughter and her friends, or to sell our house and risk not being able to find a similar house at reasonable price.
How did you overcome this challenge?
I overcame this challenge in several ways: I would Skype every night and talk to my wife and daughter about their day. During the March break they would come and stay with me for the week, and we would do activities around Ottawa. For some of the summer break they would stay with me, then I would take leave to come home with them. During Christmas and New Years the military does reunification flights, and I took 20 days of vacation to spend with my family.
What is the best part about being in the Royal Canadian Navy?
The best part about being in the Royal Canadian Navy are the port visits. In my first five years, I visited the United States and Caribbean at least once per year, did two sails to Europe, and visited Iceland and Greenland, as well two cities in Russia. As a sailor on a ship you may be deployed to an area of hostiles to enforce peace, however you dock in safe ports. While in the ports the ship organizes trips of the surrounding areas and local attractions.
What is your most memorable experience?
The most memorable experience came in 1994 when I was on a ship conducting training. I was the junior member of the team, and was reviewing tactical messages when I noted that the ship was entering a simulated minefield. I informed the Operations Officer, who was extremely busy, but took the time to listen to my concerns. At which time he did a double check and confirmed that I was correct and ordered the ship to reverse course. I later received a well done from the ship and the sea trainers for my due diligence.
What are some additional highlights from your naval career?
A highlight of my naval career was being posted to Canadian Forces Recruiting Centre Toronto. While at the recruiting centre I was able to help people who were interested in joining the forces, but not sure how to go about it, or what jobs were available. I also attended a ball for African Canadians within the Scarborough community. Prior to the ball, these young men and women were taught what was required to succeed in life. This ball was the final stage of this program for young men and women of African descent, where they were able to meet members of the business community in a formal setting.
Why have you stayed in the Royal Canadian Navy?
I have stayed in the RCN for over 28 years because I love what I do. The RCN has provided me with experiences that I would not have had in any other branch. I have sailed halfway around the world and I've seen more countries than I can name. I have met a prince and had drinks with mayors and premiers. All this was because of the RCN, and as a representative of Canada.
What would you say to someone that is considering a career in the RCN?
I would say to anyone wanting to consider a career in the RCN, that it would be an excellent choice. You will see the world and make friends that will last a lifetime. I would recommend that if they have a loved one that they talk to them first and let them know that you could be away from home for up to 6-9 months of the year. If their loved ones are in agreement, the rewards are huge.
What is the most unique thing about yourself, outside of the Navy?
The most unique thing about myself outside the navy is my membership with my daughter's Home and School committee. The committee fundraises for different school needs as well as runs evening activities such as school dances. Being in the RCN with a home port of Halifax allows me the chance to connect with my daughter after being away for 4 years.