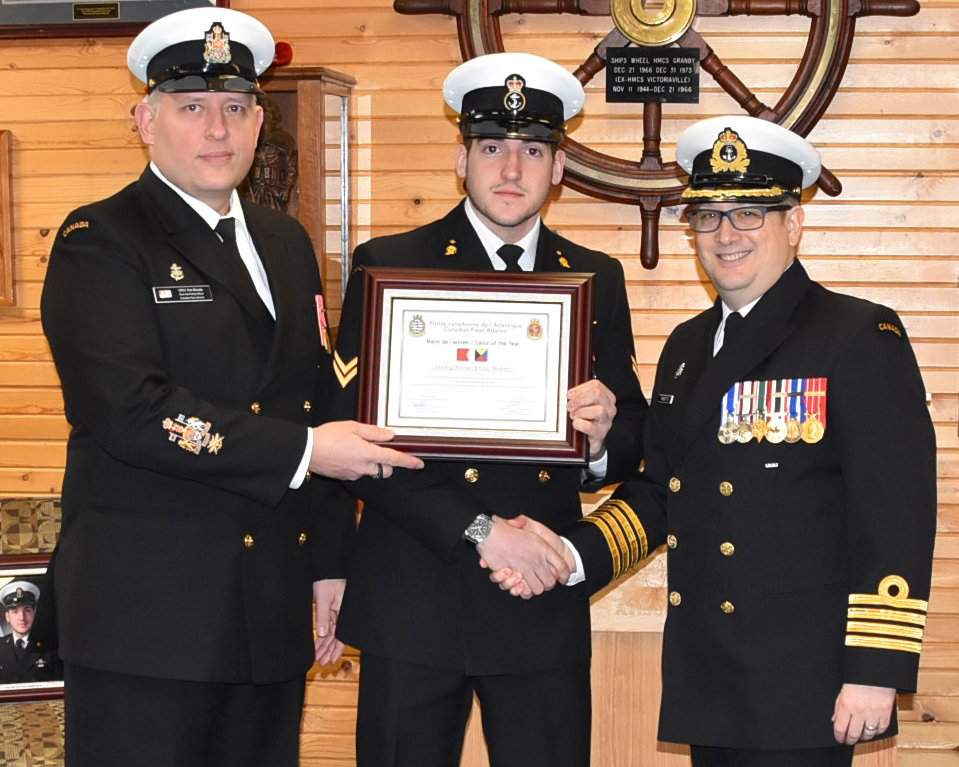 Sailor of the Year making his mark at FDU(A)
By Ryan Melanson,
Trident Staff
When LS Jeffery Haskins joined the CAF in 2011, he had one goal: become a diver.
The road to get there wasn't easy, but now, two years after joining Fleet Diving Unit (Atlantic), he's become a key junior member of the team, known for punching above his weight and looking out for his colleagues.
As recognition for what he's accomplished at FDU(A), LS Haskins was recently presented one of the Atlantic Fleet's most prestigious awards, being named the Sailor of the Year for 2018. The presentation was made at FDU(A) in Shearwater on February 28, with Capt(N) Andrew Hingston, Deputy Commander CANFLTLANT, delivering the award along with Fleet Chief CPO1 Tim Blonde.
"I was completely surprised, I didn't expect anything like this. In my mind, I'm just going full speed ahead with my job because it's what I love to do," LS Haskins said.
He spent the early part of his RCN career as a cook on ships, and as a healthy member in a seagoing trade that was high in demand, he was often busy sailing. This meant, however, that being freed up for his initial Ship's Team Diver course wasn't an easy request. He finally got that wish in early 2016, was able to follow it up with his Port Inspection Diver training, and began working at FDU(A) later that year.
"I'm trying to put my best foot forward at all times. I waited for years to get here, so I just want to be my best every day," he added.
Over the past year, he's taken over the lead Port Inspection Diver role within FDU(A)'s underwater engineering section, meaning he's overseeing more junior divers and taking on new responsibilities. In addition to those regular duties, he's also volunteered to begin teaching the initial diving courses to new members.
"This has allowed me to take on more of a leadership role, and it's lot of work that often means coming in early and staying late," LS Haskins added. Other highlights in 2018 included his deployment supporting the Avro Arrow recovery dives in Lake Ontario last summer, as well to ARDENT DEFENDER, an EOD exercise held in Meaford, Ontario last fall, involving more than 20 countries.
He's also been lauded by supervisors for the way he conducts himself outside of the office; he's one of the first to volunteer for unit community events like the annual Christmas Daddies run, he's been to known to help out elderly neighbours with outdoor chores, and even used his diving skills to help rescue a child in distress at a local lake last summer.
LCdr Patrick Fournier, the Commanding Officer at FDU(A), had nothing but praise for the young sailor, and noted he's often sought out by senior members at the unit to help with complicated or delicate assignments. He's willing to help regardless of the circumstances, and always gets the job done, LCdr Fournier said.
"LS Haskins' performance exceeds all standards expected of a Leading Seaman. His professionalism and positive attitude are a pleasure to remark, and his presence improves the performance of the entire section."
The sailor stressed that he didn't do it alone, and said the tight-knit family of divers has taken him in and provided him with the support and camaraderie needed to thrive as he continues to pursue his goals.
"This is the best unit in the Canadian Forces to work with. We're a brotherhood here and we either succeed as a team or fail as team."
LS Haskins is now preparing to move on to the next phase of his diving career. He's expecting to start his Clearance Diver course this fall, and said he knows he knows his colleagues will continue to be there backing him up as he transitions to a new role.