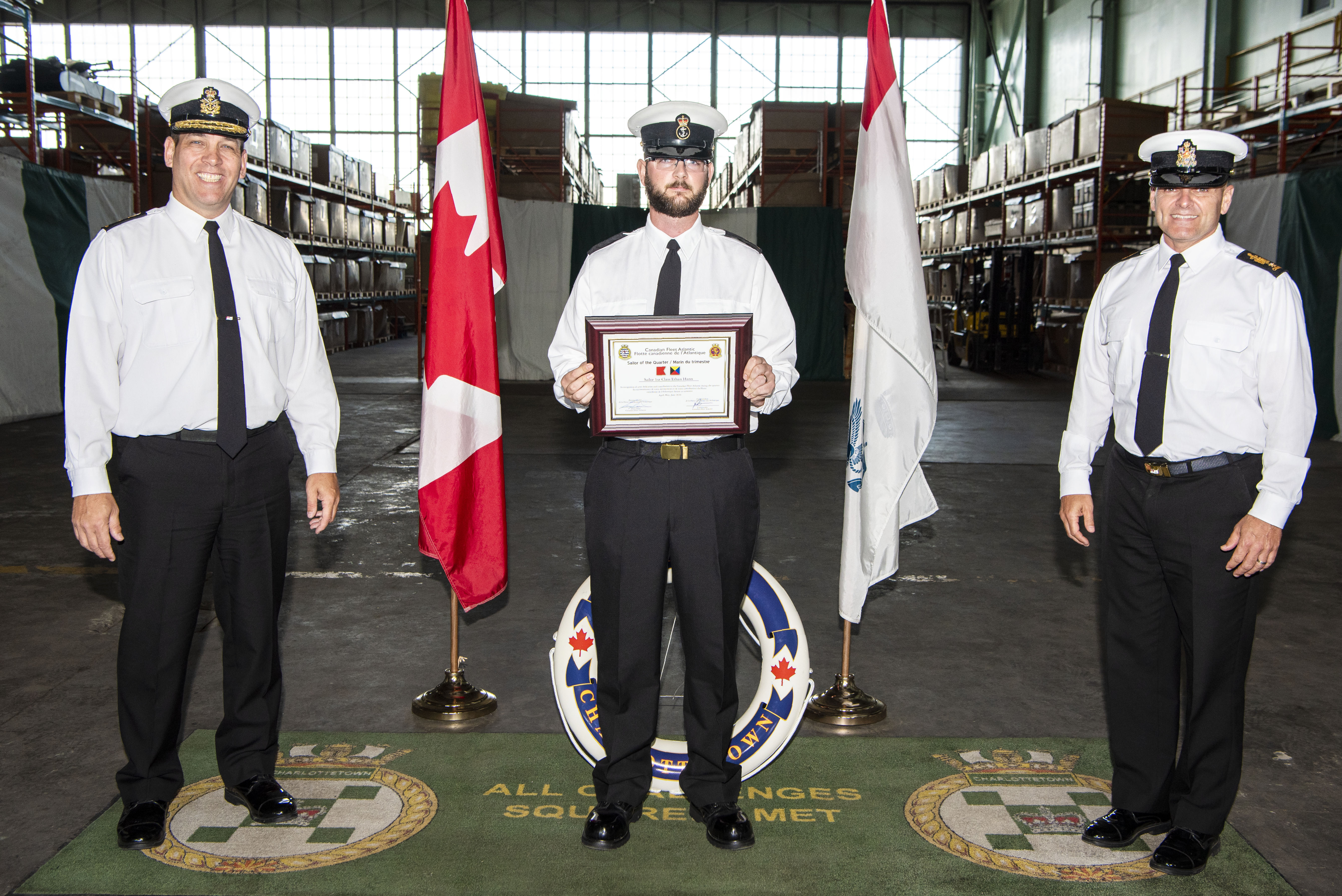 Sailor of the Quarter credited for Op REASSURANCE work
By Ryan Melanson,
Trident Staff
When HMCS Fredericton was preparing for its Operation REASSURANCE deployment in late 2019, S1 Ethan Hann, a MARTECH onboard the ship, was playing a key role. He was credited with ensuring Fredericton left Halifax with a functioning steam generator, and for educating himself on electrical maintenance procedures enough to fix issues and bring the system back into service while at sea.
This was just one of the ways that S1 Hann has been lauded by his supervisors and shipmates. He also worked long nights and weekends prior to deploying, served as training coordinator for all MARTECHS of his rank and below, and constantly set an example for his peers and junior members while at sea.
In recognition for this hard work before and during Fredericton's deployment, S1 Hann was presented with MARLANT's Sailor of the Quarter award on September 24, with Cmdre Richard Feltham, Commander Canadian Fleet Atlantic, and Fleet Chief CPO1 Darcy Burd visiting HMCS Charlottetown's shore office to make the presentation at S1 Hann's new unit.
"I can't lie, I was a little bit shocked when I found out about this," said S1 Hann, who was humble about the praise from his superiors. He said he had mentorship that helped him gain the expertise needed to keep equipment running at sea, and that his shipmates also played a big role.
"I really can't take all the credit for these things. The entire department was great, they gave me a lot of help, and I really enjoyed spending time with a lot of our people," he added.
S1 Hann also worked above his rank frequently, including acting as the Auxiliaries and Main Propulsion Master Sailor while others were on course or leave, and his dedication to broadening his expertise was said to embody the MARTECH mandate of expanding the foundation of knowledge and skills for members. His former Commanding Officer, Cdr Blair Brown, who nominated him for the award, said his reliability, professionalism and initiatives made him a tremendous asset during a difficult deployment.
S1 Hann said he was grateful for the acknowledgement, and despite the difficulties of COVID-19 restrictions and tragedy at sea with the loss of Fredericton's Cyclone helicopter and shipmates, described the deployment as an important step for his career.
"It was my first deployment, so there was a lot to learn and the first few months were pretty exciting. Things got difficult from there, but we got through it, and now I'm very happy to be back home."