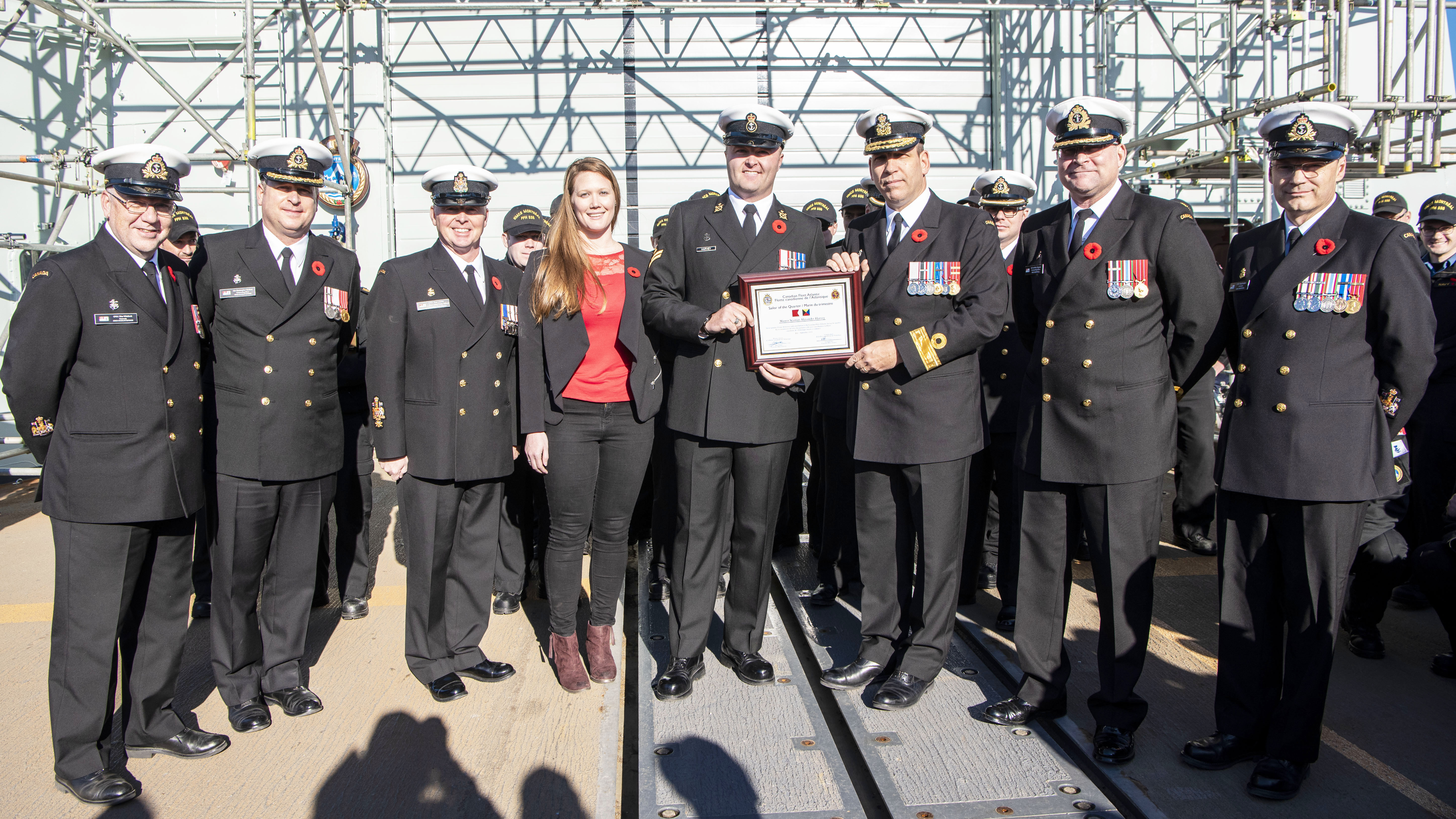 Sailor of the Quarter focused on charity, community
By Ryan Melanson,
Trident Staff
MS Alex Harvey was a only a member of HMCS Charlottetown for a little more than a year, but that was enough time to leave a big impression on his command team and shipmates.
As a Sonar Operator on the ship, he consistently performed above his rank, supervised and assisted his subordinates and other junior members, and was credited with helping establish a trusting relationship among personnel that came in handy when dealing with administrative or personal issues.
Combining those qualities with his penchant for naval history that led to briefs and presentations to the ship's company, as well as his commitment to charity and volunteering in his community, it's clear why MS Harvey was selected as Maritime Forces Atlantic's Sailor of the Quarter for Q3 2019.
"It was a big surprise, because I know how many great people there are who get put forward for these honours. I didn't expect it and it's very humbling to accept the award," MS Harvey said after receiving his plaque from Cmdre Richard Feltham, CCFL, and Fleet Chief CPO1 Tom Lizotte, on board HMCS Montreal on November 6. The awards are presented quarterly to recognize RCN members who go beyond their expected duty with outstanding dedication and contributions to the Atlantic Fleet.
MS Harvey was posted to Charlottetown shortly after the ship's return from a six-month Op REASSURANCE deployment, with the crew preparing the ship for a rest and maintenance period. While the program still included time at sea and lots of demanding work, the extended time ashore also allowed him to put an extra focus on his work as a sponsorship coordinator with the non-profit charity Dreams Take Flight. The group provides once-in-a-lifetime trips to Disney World for children suffering from medical or mental health challenges, or who are socially or emotionally challenged.
Originally from Calgary, MS Harvey was introduced to the charity when he was eight years old.
"I was living in a homeless shelter, and they took me out of there on one of these great trips, and I never forgot that. I'm very passionate about the charity and giving these experiences to kids who are in the same type of difficult situation I was once in."
On top of his work with Dreams Take Flight, he's also a member of the Eastern Shore Rugby Football Club, often volunteering as a rugby instructor for kids at the elementary and junior high levels.
Now, as a member of HMCS Montreal, and with the ship about to enter a busy sailing period next spring, MS Harvey said he's ready to keep building on an already-successful RCN career.
In nominating MS Harvey for the award, his former Commanding Officer, Cdr Christopher Rochon, described him as an enthusiastic and capable individual who is highly deserving of the extra recognition.
"MS Harvey sets a strong example for his shipmates through his consistent approach and professional excellence, and he represents his ship and the RCN exceptionally well in his volunteer efforts," he wrote.