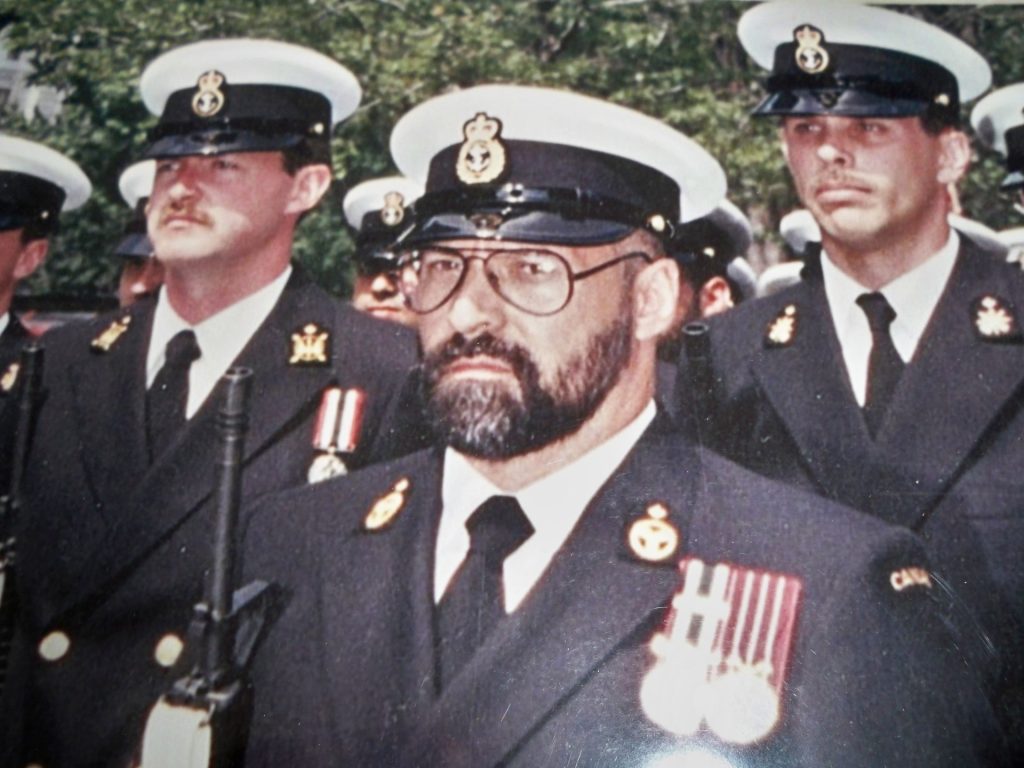 RCN Proud: Petty Officer 2nd Class (Retired) Luc Brisson
By Vincent Joyce,
Pictou County Military Museum
Luc Brisson was born on August 7th, 1958 in Chicoutimi, Quebec. He joined the Royal Canadian Navy on May 1st, 1979. Luc took his training in St. Jean, Quebec, and HMCS Stadacona in Halifax. 
Mr. Brisson's courses were: Basic, Seaman, Marine Engineer Technician, Environment Digital Image Systems, and Patrol Frigate Conversion. The ships that Luc served on were: HMCS Skeena, HMCS Assiniboine, HMCS Protecteur, HMCS Vancouver, HMCS Montréal, HMCS Saugenay, and HMCS Champlain. He served in Canada, the Atlantic and Arctic Oceans, Mediterranean, Caribbean, North Sea, Baltic Sea, and throughout Europe in Spain, Portugal, France, and many other places. 
Mr. Brisson was awarded: the Special Service Medal, the Canadian Peacekeeping Service Medal, the United Nations Service Medal (Yugoslavia), and the Canadian Forces Distinguished Service Medal and Bar. Luc was discharged on January 20th, 2002. His trade at discharge was Marine Engineer Artificer, and his rank was Petty Officer 2nd Class. 
Luc is married to Mary Margret Doyle of Sydney, Nova Scotia, and he has four children, three daughters, and one son. His son is a master sailor posted to HMCS Ville de Québec, and one daughter is a master corporal with the Royal Canadian Dragoons. Luc and Marg have been members of the Veterans U.N. – NATO Motorcycle Club of Canada for over 10 years. Their motto is, "Never forget who we are."
RCN Proud profiles focus on former or current Royal Canadian Navy personnel with at least 12 years of service. If you would like your story told or have a suggestion for a future profile, please contact Vincent Joyce at vpjoyce@outlook.com.