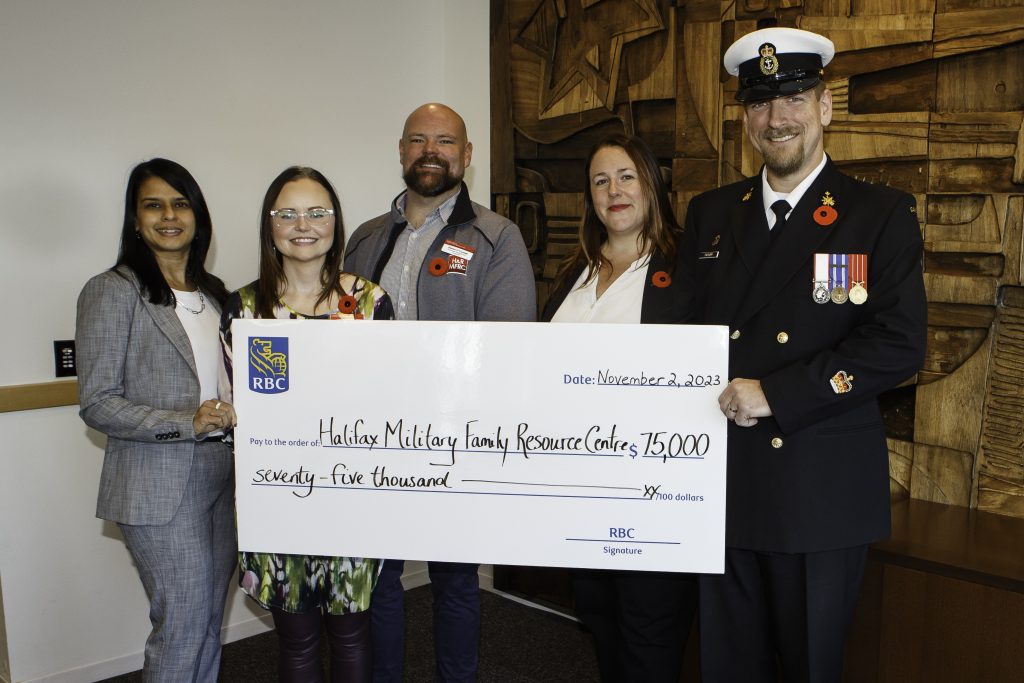 RBC Foundation to assist with improvements to specialized child care support at H&R MFRC

By the Halifax & Region Military Family Resource Centre
The Halifax & Region Military Family Resource Centre (H&R MFRC) is pleased to announce the RBC Foundation has approved a one-year grant of $75,000 directed to our Specialized Occasional Child Care Program. The program aims to build resilience in children and support the well-being of parents/guardians on the homefront.
This funding will strengthen the existing Occasional Care Program while infusing it with additional staffing and sessions, creating a more sustainable and helpful service for military families.
The H&R MFRC specialized occasional child care program directly impacts the lives of local military families by offering parents access to short-term, inclusive child care as they navigate relocation, absences and transitions. Families identified that a lack of childcare options can be a barrier to accessing services, which is why we are looking at making the program more flexible and responsive to the community.
The program is open to infants eight months and older, up to children aged 12 years who are part of a military family or who are from a veteran family who has recently been medically released. Families can register for the service online and pay a small fee. If payment is a barrier, families are encouraged to work with our team for flexible options.
The program provides a safe and welcoming space for young children to connect with peers through play and social experiences. "By bringing children from military families together with other community members who understand the unique challenges of military life, they can feel understood and less isolated," says Shelley Hopkins, Executive Director.
CFB Halifax and 12 Wing Shearwater are highly operational with frequent back-to-back deployments affecting hundreds of families each year. For these families, access to short-term child care can help them remain resilient during the deployment cycle. During relocation, families can access the service as they pack/unpack, get settled, search for employment, and seek medical or mental health support. During the transition into or out of the military, families can use the service to attend appointments or meet with our team.
The program is not funded nationally, and program fees offset some of the costs to operate it. RBC Foundation funding will cover a large portion of the costs associated with implementing and revamping this high-quality, preventative, and valuable program.
To learn more about this program, please visit halifaxmfrc.ca, or call our 24/7 info line at 902-427-7788.