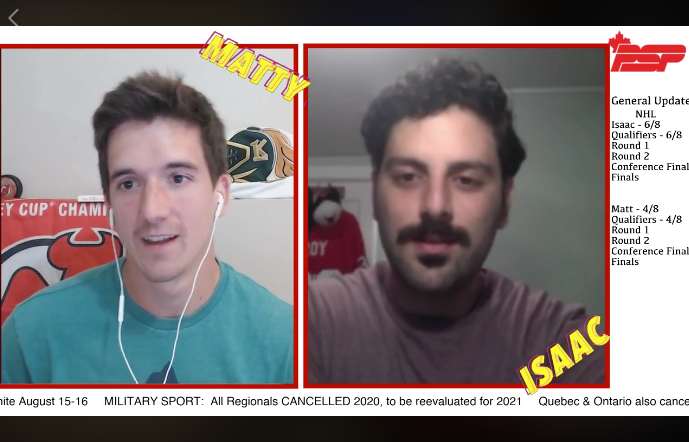 PSP sports gurus look to grow online talk show
By Ryan Melanson,
Trident Staff
While organized sports was largely on hiatus for four months during the spring of 2020 due to COVID-19, it was still very much top of mind for PSP Halifax's Isaac Habib and Matt MacKenzie. The duo has been producing their weekly Sport Cell talk show each Wednesday night since May on Facebook Live, and they hope what started as a fun quarantine project can grow into a useful avenue for exploring news and happenings in military sports.
Habib, a Fitness and Sports Coordinator at the Fleet Gym, said he was approached by MacKenzie, PSP's Community Recreation Coordinator, in April, as the organization was brainstorming ideas to stay connected with the CAF community with so many people working remotely.
"We were quarantined, we were trying to stay busy, and this was something that got us excited and let us try something a little bit different," Habib said.
Early episodes focused on the uncertainty in the sports world, and as things have begun to come back to life, they've discussed highlights of the ongoing NHL, NBA, and MLB seasons. They also open each show with an update on any news relating to military sports, and plan to make that a larger part of the weekly broadcast when military athletes return to action.
"Isaac is very tuned in to the military sports world, so we'll be able to touch on anything that happens. Yes, everything is cancelled right now, but we're hoping this can become a spot where military athletes can actually get some information on their regional tournaments, for example. There's a million sources to listen to sports talk, but the military side is where we have an edge." MacKenzie said, also mentioning plans for tournament previews or athlete profiles.
The pair has already brought on guests who've played on base hockey and slo-pitch teams, and they plan to continue those segments.
"Having these actual conversations about military sports has probably been the best part of the show so far," Habib added.
The goal is to strike a balance between relevant and useful information, along with the banter and humour that's typical of sports broadcasting. So far, they've had fun, gotten some engagement from viewers online, and they plan to keep going.
As for CAF sports, plans are still developing for a return to regional and national level play, but Habib said announcements for some local intersection events like golf and curling are likely to be made soon. Relevant information will be distributed when it becomes available, and you can also keep up with the latest news by tuning into Sport Cell on Facebook Live each Wednesday evening at 7 p.m. AST at https://www.facebook.com/PSPHalifax/.