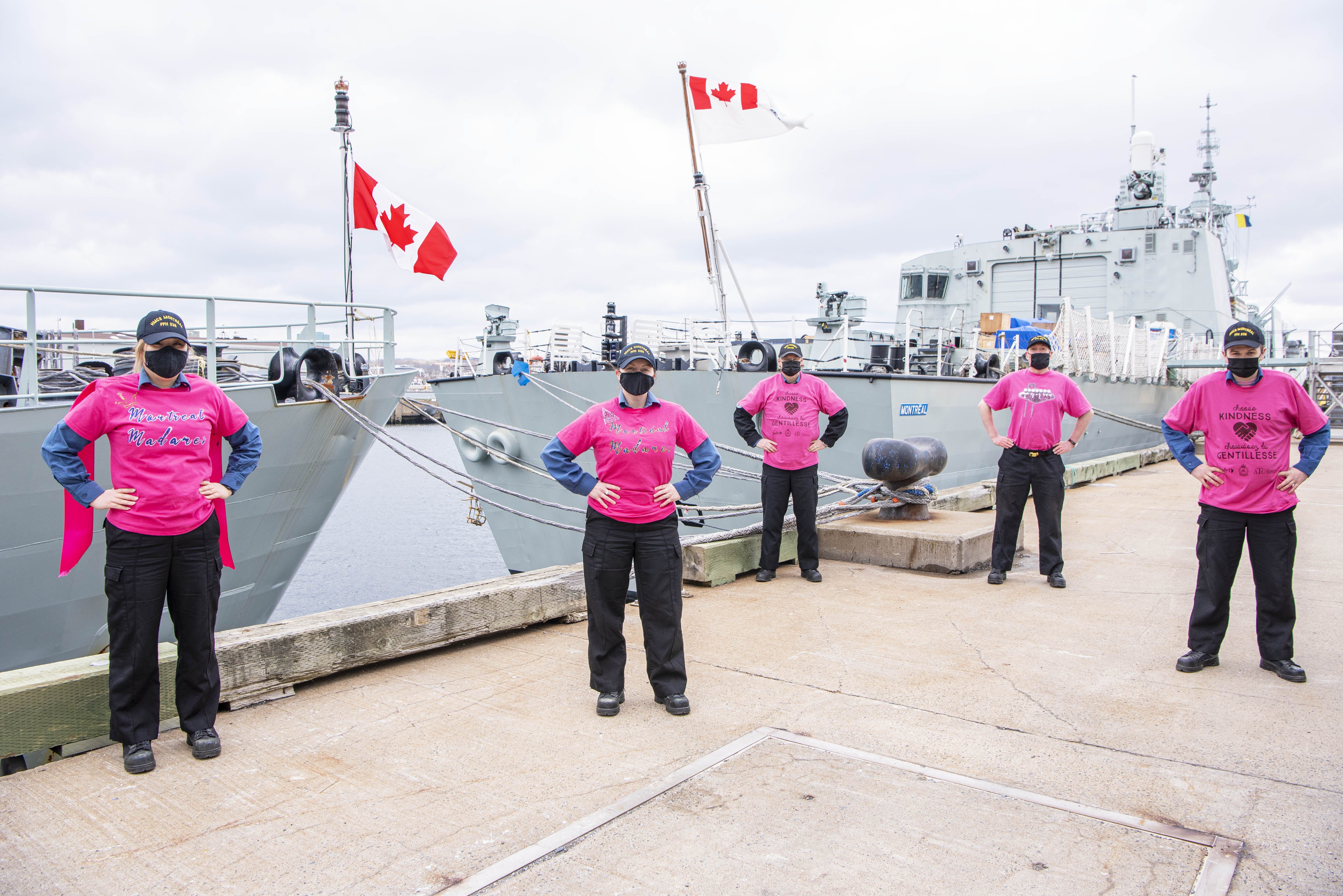 Promoting kindness and civility, one shirt at a time
By Elizabeth Sharpe,
CFB Halifax Public Affairs Intern 
I think we can all agree that there can never be too much kindness in life, whether at work or at home. And with COVID-19 creating stress and uncertainty all around us–feelings that can follow us to the workplace–being kind is more important now than ever. This is why we support Pink Shirt Day at Canadian Forces Base (CFB) Halifax.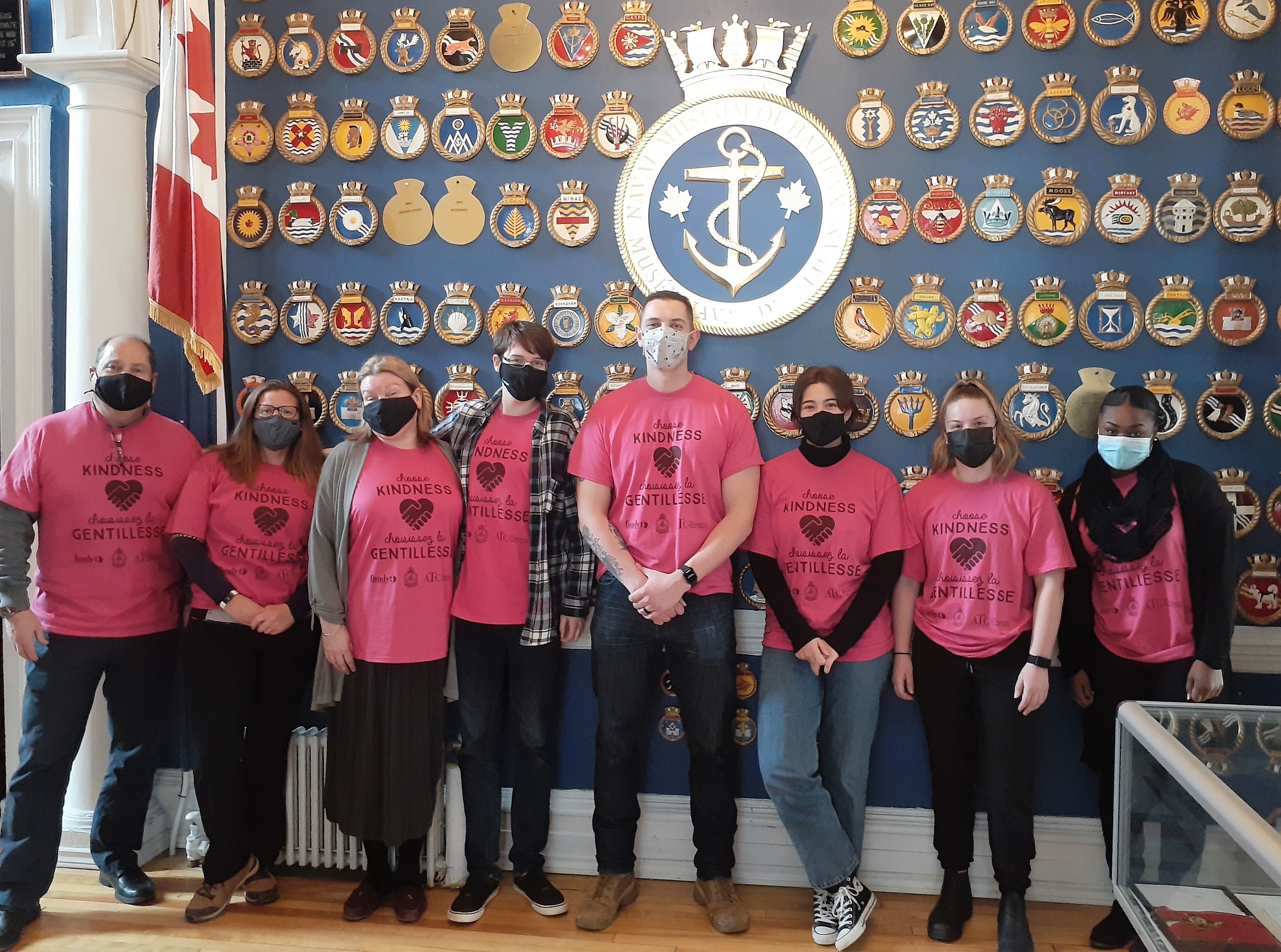 An annual, global celebration, Pink Shirt Day encourages people to wear a pink shirt as a way to take a stand against bullying, while fostering compassion and raising awareness of respect and civility in our homes, communities and workplaces. 
CFB Halifax strives to create a work environment and organizational culture where all employees are treated with dignity, respect and fairness, today and every day, which is why we were more than happy to once again acknowledge and celebrate Pink Shirt Day in 2021. Our 2021 theme for Pink Shirt Day at CFB Halifax was Choose Kindness, a simple and important message that reminds us all to be kind to ourselves and those around us. 
Thanks to our generous sponsors, Fundy Textile & Design Ltd. and SanMar Canada, we were once again able to sell custom CFB Halifax pink t-shirts leading up to Pink Shirt Day on Wednesday, February 24 as a component of this year's campaign. 
There was excitement in the air throughout the Base as members lined up to purchase their very own 2021 Pink Shirt. The 600 custom t-shirts didn't last long, selling out almost immediately in half of the selling locations, with only a handful to spare by end of day. The success of the sale meant that local Defence Team members could visibly show their support for workplace respect and kindness on Pink Shirt Day, while also benefitting local charitable organizations. Proceeds from the sales will be distributed to two local, non-profit organizations via the National Defence Workplace Charitable Campaign: LOVE (Nova Scotia) and The Youth Project. These organizations were chosen as their programming promotes healthy relationships and the cultivation of safe spaces for youth across the Halifax Regional Municipality and the province. To learn more about each program, visit www.lovenovascotia.ca and www.youthproject.ns.ca. 
There are numerous benefits to creating a civil and respectful workplace. Practicing small, everyday acts of civility and kindness can go a long way to help everyone feel safe, comfortable and respected. For tips and tools on how to communicate with kindness, you can visit: https://www.canada.ca/en/department-national-defence/maple-leaf/defence/2021/02/communicating-kindness-pandemic-tips-tools-dtm.html. 
We would like to extend a huge thank you to all of the volunteers who worked behind the scenes as well as to those who sold the shirts at each location; to everyone who purchased a shirt or wore their own pink shirt on Pink Shirt Day; and of course, an extremely special thank you to our sponsors who made our 2021 Pink Shirt Day campaign possible. 
Now a movement celebrated across the globe, Pink Shirt Day was inspired by an act of kindness in Nova Scotia: in 2007, David Shepherd and Travis Price of Berwick, Nova Scotia, bought and distributed 50 pink shirts after a grade 9 student names Charles McNeill was bullied for wearing a pink shirt on his first day of high school. Today, Pink Shirt Day is all about working together to stop bullying by celebrating diversity, creating communities of respect and promoting positive social relationships. For more information, visit www.pinkshirtday.ca.