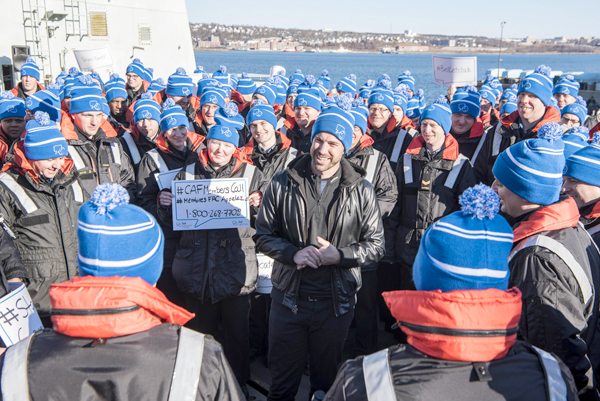 Pro athlete shares mental health struggles
during visit to CFB Halifax
By Ryan Melanson,
Trident Staff
A Canadian pro golfer turned mental health ambassador visited HMCS Charlottetown on January 23, two days ahead of this year's Bell Let's Talk campaign, to tell his own story and offer thoughts on mental health issues and the stigmas that can still surround them.
Andrew Jensen has opened up about his mental health struggles in recent years and has become an advocate, founding an organization called Andrew's Long Drive. Working with the Canadian Junior Golf Association and Canadian Mental Health Association, the group works on promoting open dialogue and on furthering education around mental health issues, including warning signs to look for in yourself and loved ones, as well as techniques and habits that reinforce good mental health. Jensen has also become an Ambassador with Bell Let's Talk, the annual effort that sees the telecom firm donate millions to mental health initiatives while promoting discussions around the issue on social media.
He told his story of struggling with depression through his teenage years and into his young adulthood as he began his pro career, which led to multiple suicide attempts and eventually took him away from the sport. While he still suffers from depression, Jensen said he's gotten healthier through being open about his battles and offering his stories as a learning tool for others.
"I want people to know it all matters. Your pain and your struggle is worth something. All those years I thought it wasn't worth anything, or that no one cared… I don't want anyone to have to go through that."
Jensen has a number of personal military ties, with his father and two brothers all either serving in or retired from the CAF. In fact, his father was the club pro at the Highlands Armed Forces Golf Course outside of Ottawa, where Jensen got some of his introduction to the game. He said it was an honour to be invited to CFB Halifax to speak, and while he had a whirlwind day that included stops at Halifax schools and radio stations, the visit with Charlottetown had some added importance.
"It's my first time speaking to members of the Armed Forces and it does mean a lot to me," he said.
Cdr Jeff Hutt, the ship's Commanding Officer, said he was thrilled to host Jensen and other guests from the Bell Let's Talk campaign. He added the hope that his crew would take the opportunity to not only learn a bit about depression, but also about the courage, tenacity and bravery of those who have sought help for their mental health struggles and grown healthier because of that choice.
"It's important that Andrew is here to talk to us. As men and women of the Canadian Armed Forces, these are people on the front lines of what is becoming a true epidemic in Canada around mental health challenges."
 And in a message sent to Formation Halifax personnel, RAdm John Newton, Commander MARLANT and JTFA, said he was proud to see the collaboration with the campaign continue, and stressed the importance of taking care of both mental and physical health.
"We have made great strides and have more work to do to eliminate barriers such as stigma associated with mental illness and the importance of accessing mental healthcare. Commanders, managers, and team leaders are all encouraged to have open and honest conversations about mental health in the workplace."
Nationally, the CAF hosted a live panel discussion in Ottawa featuring Bell Ambassador and comedian Mary Walsh, Senior CAF Psychiatrist Col Rakesh Jetly and CAF Social Worker LCdr Lyn Kingsley, which was streamed on Facebook and Periscope along with live Tweeting.
CAF members who are struggling with their mental health don't need to deal with it alone. Support can be sought from local base and wing clinics, padres, friends and family and medical professionals, and visit www.forces.gc.ca/yourenotalone for more information on how to get help.