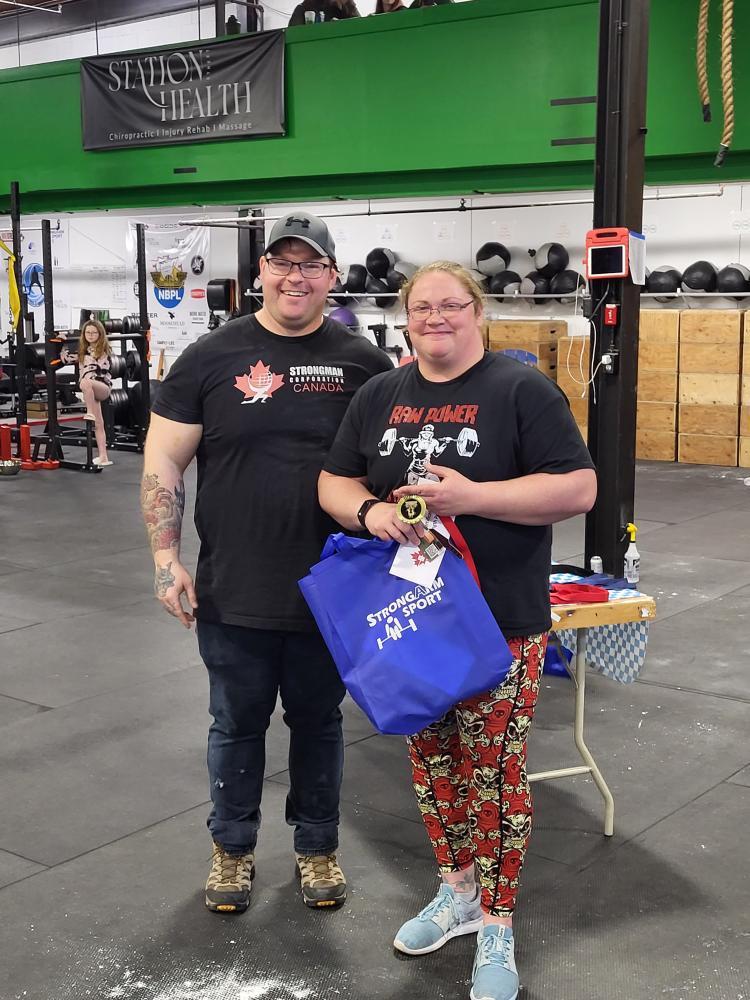 PO2 Telford taps into "Stoker determination" to win Strongwoman gold
By Ryan Melanson,
Trident Staff
Though she only started competing in the sport less than a year ago, Petty Officer, 2nd Class (PO2) Ashley Telford is making her name known in the Strongman/Strongwoman community. 
She recently brought home gold after dominating the competition at her second-ever event – the 3rd Annual NB's Strongest – held in Saint John, NB, on April 29. PO2 Telford won first place in four out of five total categories, only faltering in the final event due to a technical foul while carrying a 150lb sandbag across 40 feet.
"I didn't touch the line before I let go of the sandbag, so I missed that one," she said, though she still finished well ahead of her closest competition in overall points. Some of her impressive feats from the day included a 450 lb yolk, a 175 lb-per-hand farmer's carry, a 160 lb axle clean and press, 13 reps on a 405 lb trap bar deadlift, and a grueling medley involving 100 lb, 150lb, and 200 lb sandbags.
Rather than playing it safe during competition, PO2 Telford said she pushed herself to the limit

"I definitely wanted gold, because I had never won anything like that before. I put all my stoker determination into it and I got it done."
She started training for the sport last October, beginning with a novice class at the Raw Power Strength and Performance Centre in Burnside, where she still trains now. PO2 Telford said she was inspired by shipmates who had competed at a high level, shouting out Master Sailor Jarvis Wills and his wife Lisa, who are now training partners of hers.
"I've always been a big fan of Strongman. It's always been one of the only sports I actually enjoy watching," she said. Once she started trying it herself, she realized she was having fun and seeing strong results. 
"You get a bit of a rush each time – I enjoy seeing how I can force my body to do things that it doesn't want to do."
Her first competition in Prince Edward Island followed soon after, where she won a silver medal. She now has no plans to slow down with the sport, planning for the Nova Scotia's Strongest competition later this month, followed by Atlantic Regionals this August in Charlottetown.
"There's going to be some very tough competition, so I'm excited," she said.
PO2 Telford also thanked Personnel Support Programs (PSP) for supporting her through the Out Service competition process, which has provided funding for equipment, registration fees, and some travel and meals for her most-recent competition.