PO2 Telford brings home the gold once again
By Gabrielle Brunette,
Fleet Maintenance Facility Cape Scott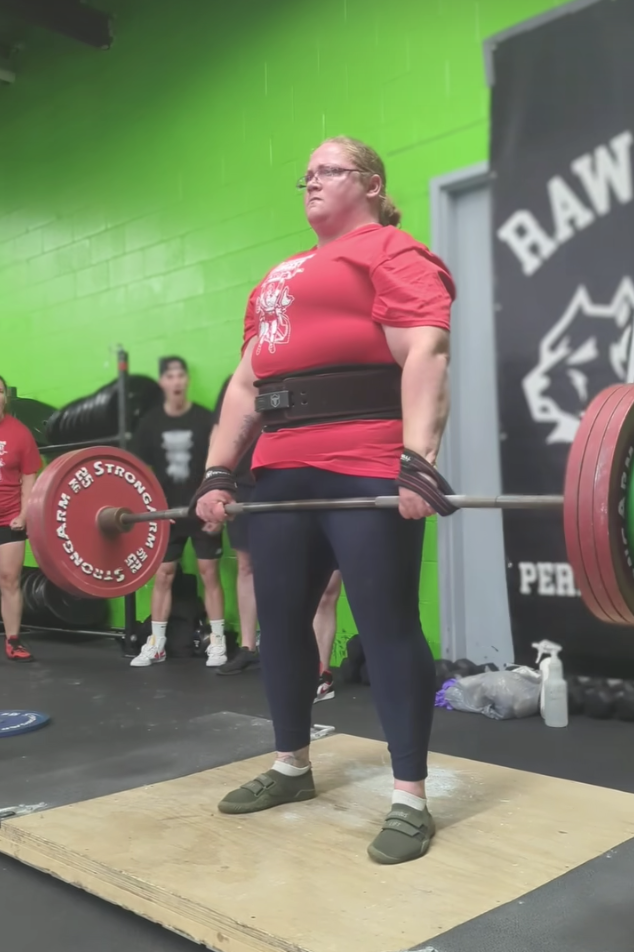 Petty Officer, 2nd Class (PO2) Ashley Telford started competing in Strongman/Strongwoman competitions less than a year ago. 
Since then, she has secured gold medals at both New Brunswick and Nova Scotia's Strongest competitions, and most recently at the Atlantic Provincials on Prince Edward Island.
"There's a real rush to the sport. The personal bests are addictive," PO2 Telford said. "It's also a great way to relieve stress and frustration." 
PO2 Telford has only competed in a few sanctioned competitions, but she's been making waves.
Maxime Boudreault and Samantha Belliveau, founders of Strongman Corporation Canada, showed up at the Nova Scotia's Strongest event, and shortly after, PO2 Telford was named Strongman Corporation Canada's Athlete of the Month.  
"After Nova Scotia's competition is when I really decided to keep going with Strongman and give it my all," PO2 Telford said, adding her hope to compete at Nationals in Winnipeg this year. 
PO2 Telford compares the sport to being part of a big supportive family.
"Everybody cheers for everybody…We're all screaming our guts out for each other, even though we're competing against each other," she said, adding that more experienced competitors will often help novices with things like properly applying tree resin to their forearms for better grip. 
Although PO2 Telford is technically competing against other athletes, she said the main competitor is herself. She will set goals for herself, constantly trying to improve and beat previous personal records.
"Everybody has the one event that they're really strong at, that they love, and log is mine. So, my next goal is hopefully to have a 220-pound log overhead," she said. 
During sanctioned meets, participants cycle through five events that include conditioning and various forms of heavy lifting. PO2 Telford said one of the biggest challenges she has faced so far is getting used to the points system, something she is determined to improve on for future competitions. 
PO2 Telford joined the Navy almost 22 years ago, and has since cycled in and out of the Fleet Maintenance Facility Cape Scott (FMFCS). She is currently back with us, posted in the Diesel shop. 
Outside of work, PO2 Telford runs her own farm taking care of three rescue horses: Andy, Rocky, and Kelso. That's how she got involved with the Veteran Farm Project – A Nova Scotian initiative started by Jessica Miller, former medic with the Canadian Forces Health Services Centre. 
The Veteran Farm Project is a support group which seeks to address trauma and food insecurities among veterans, particularly women veterans. Miller has been ordering products from PO2 Telford's farm, who used the extra money to pay for her first lifting course at the gym. 
In the spirit of veterans supporting veterans, the Veteran Farm Project has generously donated 500 dollars towards PO2 Telford's trip to the Atlantic Provincials.
She's also received support from the Personnel Support Services (PSP) Out Service program through reimbursement for some costs associated with competing.
PO2 Telford wishes to thank her coach Bradley Tremblett, who has guided her and supported her throughout her training and competitions. She also sends a special shoutout to Sheri Millington – Wellness Coach, Competitive Director, and Owner of the Raw Power Strength and Performance Center. 
We wish PO2 Telford the best of luck in future competitions! Bravo Zulu for all your great accomplishments.