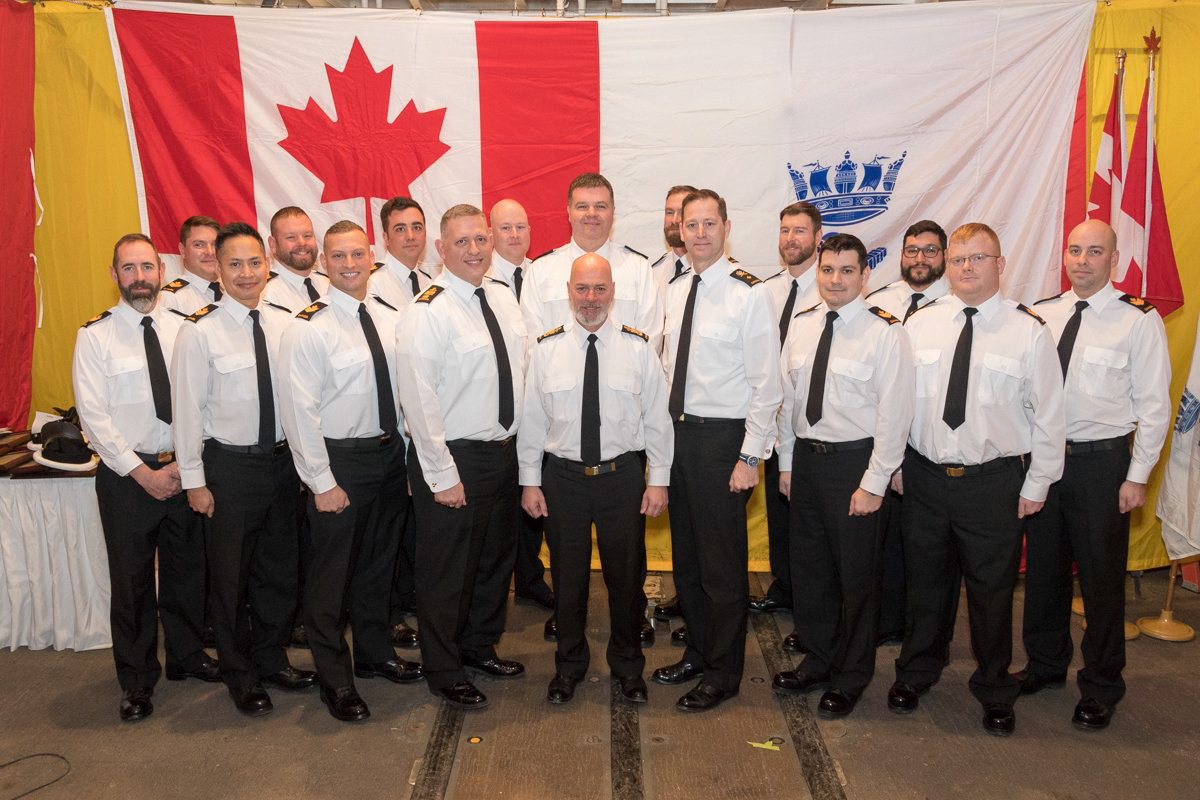 PO2 promotion ceremony marks major career step for sailors
By Ryan Melanson,
Trident Staff
For non-commissioned members of the Royal Canadian Navy, the promotion from the rank of Master Seaman to the rank of Petty Officer, Second Class is seen as a significant moment in the progression of a naval career. The move comes with membership in a new mess, new responsibilities aboard a ship, and a greater degree of influence within the organization.
Because of this, the Navy has chosen to recognize the career step with special ceremonies that celebrate groups of Master Seamen as they receive their promotions. This new initiative kicked off in Halifax on February 7, with RCN Chief Petty Officer CPO1 Michel Vigneault coming to HMCS St. John's to personally congratulate and present scrolls to a group of 14 newly promoted Petty Officers from across the Formation.
"This promotion is not solely about seniority or passing examinations," he said to the group of sailors and their colleagues, friends and family members who were gathered in St. John's' hangar, adding that factors like work ethic, vision, leadership skills and other intangibles played a role for each member in determining whether they were ready for the next rank.
"Don't underestimate the power and significance of this rank, both for your subordinates and for command."
Senior NCMs are a crucial component of the RCN, he said, and will become even more so in the coming years as Canada begins to receive a steady supply of new naval vessels, beginning later this year with HMCS Harry DeWolf.
"The Navy is going to need leadership and expertise to move these changes along, and that's going to come from people like you."
Cmdre Craig Skjerpen, Commander CANFLTLANT, said he was pleased to see the extra recognition for the sailors as they begin the transition to a new, more supervisory position. Adjusting to the change and navigating an environment where friends and colleagues may become subordinates can be difficult, and the job comes with plenty of new challenges, he added.
"It takes time to adjust to such a big step up the ladder, but never forget all of the hard work you put in to get here."
The full list of sailors promoted to Petty Officer, Second Class at the ceremony includes: PO2 Anthony Banfield, PO2 Kris Bunleon, PO2 Brad Burden, PO2 Travis Carrier, PO2 Jeffrey Elliot, PO2 Jeremy Hiscock, PO2 Nicholas Holden, PO2 William Kerr, PO2 Donald Munro, PO2 Frederick Pickett, PO2 Steven Prince, PO2 Jason Tofflemire, PO2 Trevor Vincent, and PO2 Jeremy Warford.