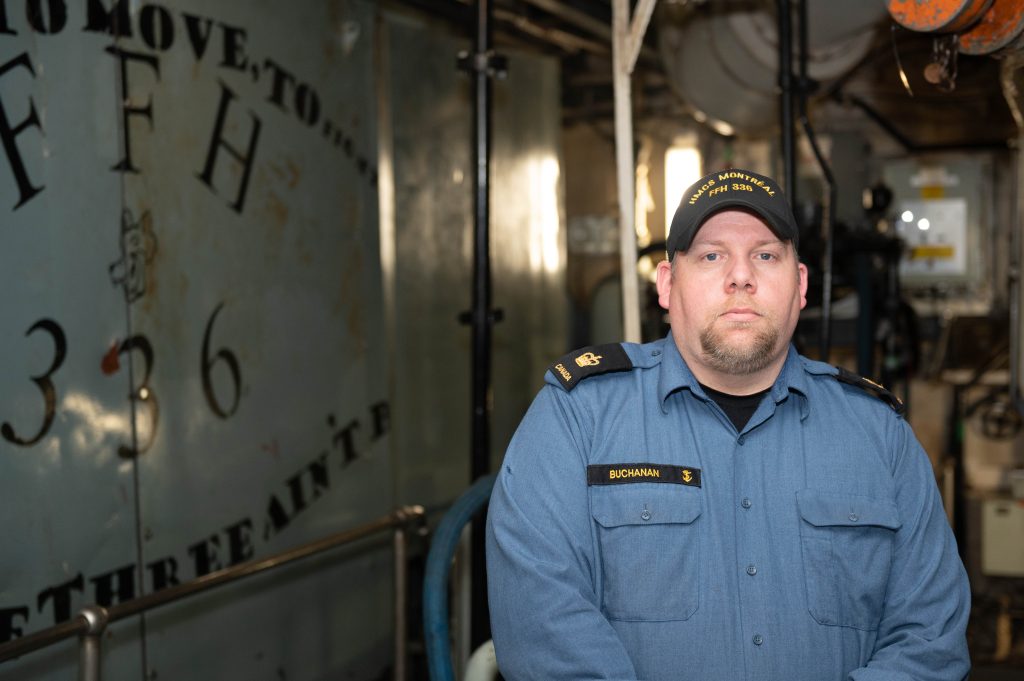 HMCS Montréal's PO1 Buchanan reflects on Operation Projection
By Capt Trevor Young,
HMCS Montréal
Petty Officer 1st Class Rory "Bucky" Buchanan grew up in Sundridge, Ontario and joined the Royal Canadian Navy as a marine technician in 2004. Initially, he had hoped to become a police officer with the Ontario Provincial Police. He was searching for a job with purpose—with longevity—which eventually led him to the recruiting office for the Canadian Armed Forces. "The person I spoke with happened to be a navy guy," he said, and quickly followed up with, "I didn't even know Canada had a navy!" 
20 years later, Bucky is one of the highest-ranking non-commissioned sailors in His Majesty's Canadian Ship Montréal's marine systems engineering office—the group of people responsible for making "the boat float and move." This is a refrain I have come to hear a lot while spending time with the members of the engineering department, though the job itself is more complicated than it sounds. At the Petty Officer rank, Bucky is the supervisor of other sailors. So, when the crew is conducting marine engineering drills, he is mentoring, teaching, and coaching them through the proper routine.
Almost 20 years ago, Bucky was looking for a job—what he found was a career. "I stayed because it's exciting," he told me, "I have seen lots of action as part of the naval boarding party with Standing NATO Maritime Group 1 in the Mediterranean Sea," something he never thought he would be able to say. It is not only what you do personally, either, he told me. It is also about the larger stories you get to be a part of. Bucky is currently helping make HMCS Montréal "float and move" to places like Japan, Malaysia, and Vietnam on Operation Projection in support of global initiatives in the Indo-Pacific region—something that very few East-coast ships ever get to do. 
Bucky's memories from growing up in a small town environment are the sense of security, and a remembrance of a kindness that does not quite exist in urban centres. This sense of simplicity and comfort was a theme of my conversation with Bucky. He told me that the hardest part about sailing is always the long, painful "farewell" to life ashore. However, he also told me about the first time he goes to the upper decks of the ship after slipping from the docks. "It's not like any other feeling in the world," he said. He told me about looking around and seeing nothing other than water and sky, and the sense of isolation that comes along with it, "it's frightening at first, and then, suddenly… it's breathtaking, calming." 
With the upcoming conclusion of Operation Projection Indo-Pacific and after having served 20 years in the RCN, Bucky has started contemplating what his life might look like outside the navy. He might begin a civilian job with the Department of National Defence as an engineering consultant or something similar. Or, he might stay in uniform and do another naval deployment. Regardless, much like the open seas, he knows the possibilities are endless.