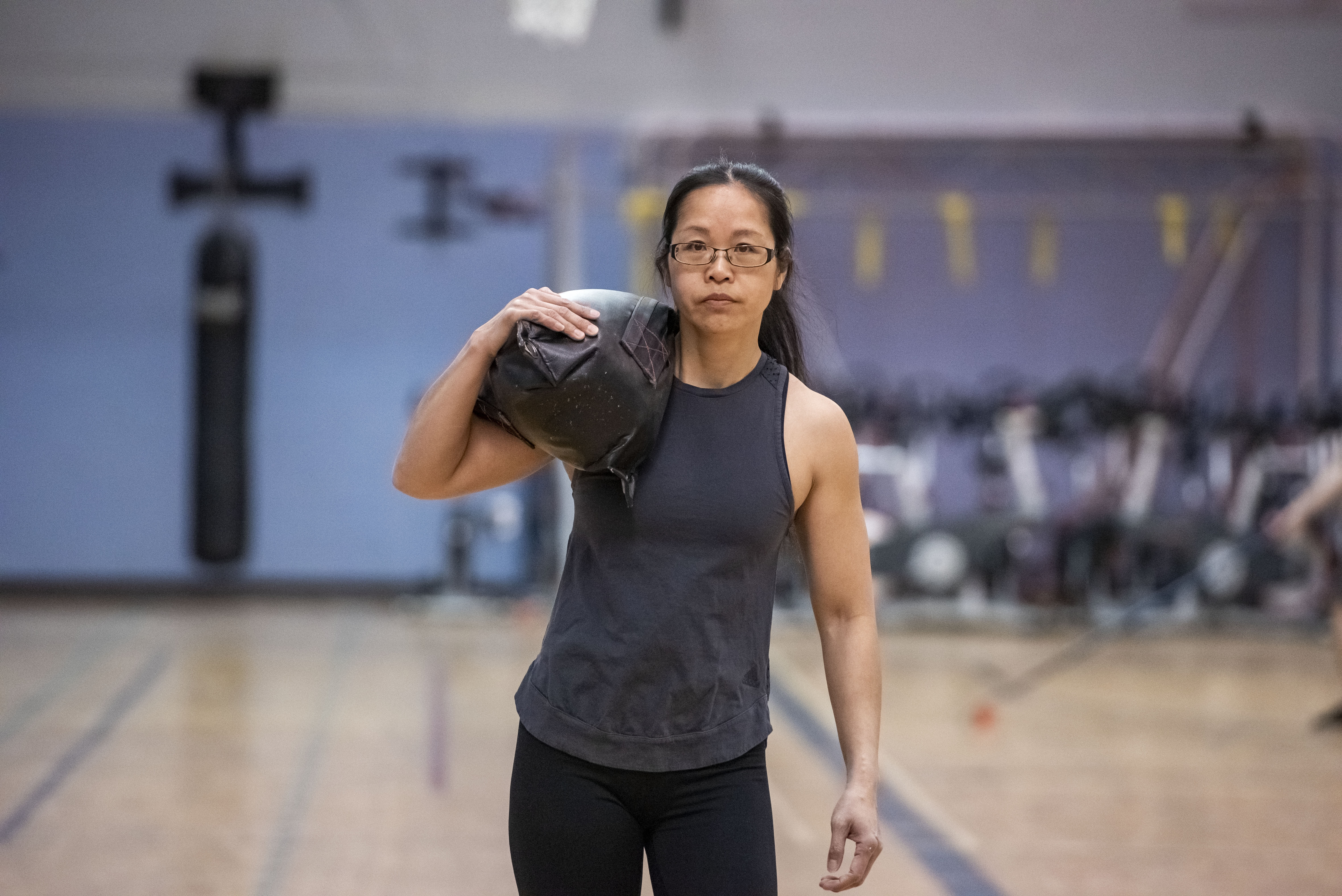 PO2 Lieu achieves Platinum in the CAF FORCE Test
By Mona Ghiz,
MARLANT PA
PO2 Hoa Lieu recently hit her fitness goal by reaching Platinum in the FORCE Operational Fitness Evaluation. Achieving an almost perfect score of 398 out of 400, she has accomplished a feat only one percent of CAF members have reached since the FORCE Evaluation began in 2013.
Lucas Hardie, Coordinator of Fitness and Sports at PSP Halifax said, "The FORCE Evaluation is made up of four separate evaluation components, designed to elicit and measure different physical capabilities and consists of sand bag drag, sandbag lift, intermittent loaded shuffles and 20 meter rushes."
Lucas went on to say, "There is one minimum standard for all CAF members. The fitness test is researched based and rewards people who achieve the highest level of fitness with Platinum being the highest level."  All CAF personnel have a responsibility to maintain a high standard of personal fitness and this standard will be evaluated by the FORCE evaluation.
"I was relieved to finally achieve it this year, because I tweaked my workout to strengthen my weakness," said PO2 Lieu. "Reaching platinum is an athlete's mentality; you got to want it bad, to go get it."
PO2 Lieu changed her training regime to include biking to work for one hour in each direction. She said, "I try to work out five days a week. For weight lifting, I broke my muscle groups into a three-day split. So some days, I was biking, weightlifting, and running."
She added, "I treated the FORCE Test like a sport. In this sport, there are five events and each taxes the body differently. I based my workouts on what muscle groups were required during the test and I strengthened and stretched them to increase mobility. I conditioned my body to take the pounding of carrying the sandbag and sprinting."
A Boatswain by trade, PO2 Lieu works onboard Royal Canadian Navy warships. "There is a lot of manual work, heaving, lifting and operating weapons," says PO2 Lieu. "Your physical fitness plays a valuable role. You need to be as strong as the guys in your unit, to be successful in your position."
PO2 Lieu was six years old when she and her family emigrated from Vietnam to Calgary, Alberta in 1980. Fitness and sports has always played an important role in her life. She played basketball, volleyball, badminton and participated in track while growing up. She attended the University of Regina and competed as a member of the Women's Wrestling Team.
Physical fitness and self-improvement is a culture integral to the CAF which is why a career in the RCN was a natural fit for PO2 Lieu, who joined the Naval Reserve 26 years ago in Regina. PO2 Lieu is currently employed as a Personnel Analyst for Personnel Coordination Centre (PCC) Atlantic and says, "The Navy is not a one size fits all. There are many trades to choose from, so there is something for everyone…" As a member of the top 1 percent in the FORCE fit club, PO2 Lieu emphatically states, "…the Navy is the place to be."