NFS(A) instructor was "filled with pride" after role with Indigenous Games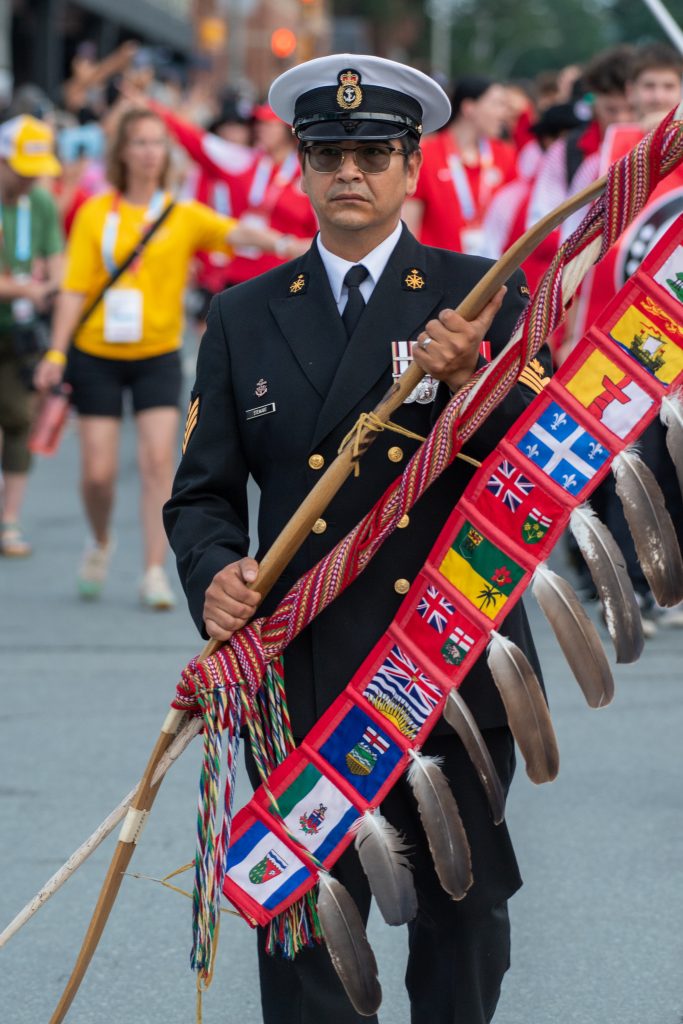 By Ryan Melanson,
Trident Staff
A local sailor says he was left feeling proud of his heritage, culture, and his military career after being tasked to carry the DND/CAF Eagle Staff during the opening ceremonies of the recent North American Indigenous Games (NAIG) in Halifax.

PO2 Arnold Stewart, a citizen of the Nisga'a Nation from British Columbia, is the designated keeper of the Eagle Staff, which is a traveling symbol of unity among all Indigenous CAF members, and as one of the few who has undergone the teachings and guidance required to carry the Staff, he stepped up to help lead the opening parade and represent the CAF on July 16.
"It was an amazing experience. My heart was filled with warmth and pride to be out there with so many different people all from the North American Indigenous community. It was great seeing all those smiling faces," he said.
The week brought full-circle moments for PO2 Stewart, who added he was especially thrilled to be associated with the NAIG again after participating himself as an athlete in 1995, winning a silver medal in basketball. This time around, it was son on the court, as a member of Nova Scotia's U16 basketball team. PO2 Stewart's parents flew to Halifax to watch their grandson play, and it all added up to a meaningful week for him and his family.
"It was special to share that. I couldn't have been more proud as a father than when I was watching him on the court," he said.
"And the Games itself was really an excellent week overall, we took in some of the competition and saw lots of good talent."
More CAF support to NAIG
PO2 Stewart took the week of the Games off work to enjoy the time with his family; otherwise, he would have likely been involved with the NAIG in a different capacity. His workplace, Naval Fleet School (Atlantic), helped out with the NAIG shooting competition at the Bedford Rifle Range, along with members of 36 Canadian Brigade Group and other local units.
NAIG athletes were on site from July 16-21, and CAF members supported in a number of roles, including an Officer in Command, a range chief, range safety officers, a small arms custodian, and an ammunition custodian, along with others who acted as site security, helped escort participants through the site, and performed other jobs as needed.
In addition to playing a role in the opening/closing ceremonies and the shooting competition, the CAF also invited NAIG athletes, volunteers, coaches and families to HMC Dockyard for an open house on July 20, with ship tours, RHIB rides, informative displays, and more.