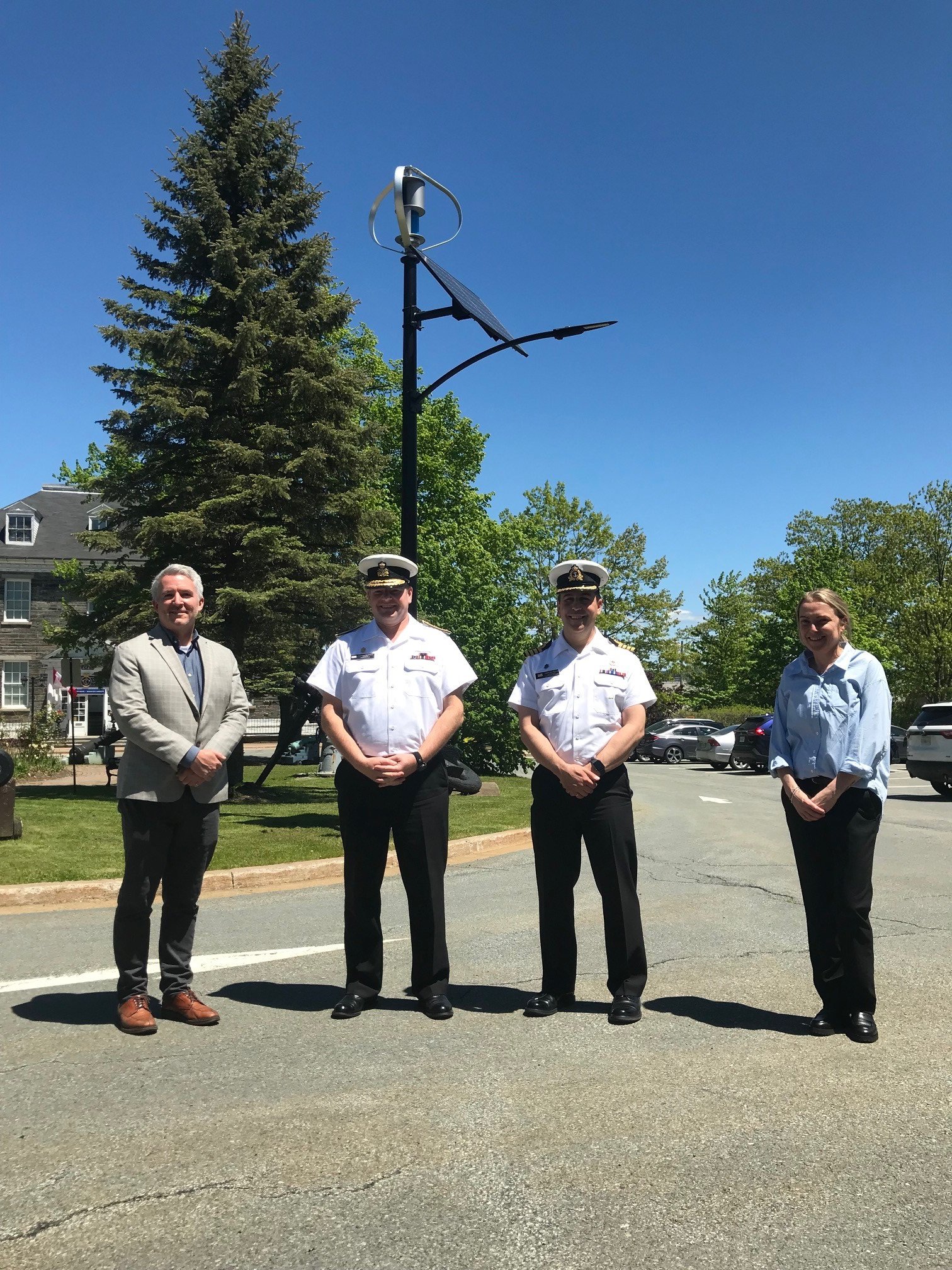 New solar lights brightening things up at CFB Halifax
By Trident Staff,

Things are looking a little brighter lately around CFB Halifax, thanks to the installation of a set of six new solar and wind-powered lights that will also help bring down the base's carbon footprint.
The CFB Halifax Base Commander at the time, Capt(N) Sean Williams, and his predecessor, Cmdre David Mazur, who is now serving as the Fleet Commodore at Maritime Forces Pacific (MARPAC) in Esquimalt, met up earlier this summer to check out the newly installed lights and thank members of the team for making the work happen. They were joined by staff from Maritime Forces Atlantic (MARLANT) Safety and Environment and Defence Construction Canada.
Cmdre Mazur, who was in Halifax for a visit, said a number of factors led the project happening, including a lack of proper lighting on the base in the evenings, ongoing challenges with infrastructure, and a desire to continue moving CFB Halifax in an environmentally-friendly direction.
"This was a way to combine all three of those three concerns into one good idea for the base, and I was so happy to be able to come back and see the finished product."
A small plaque installed near the lights outside the Naval Museum of Halifax makes mention of Cmdre Mazur's passion for the environment and climate change issues, but he said the move was common sense for the base more than it was inspired by his own interests, especially after taking note of the green infrastructure features being used by private-sector businesses.
"This is something our bases should be doing in any capacity we can, and I know that the same thoughts are happening when we put up our new buildings or have other large projects. It's very important," Cmdre Mazur said.
Bill Kelly, who helped get the project off the ground as Senior Staff Officer with MARLANT Safety and Environment, said despite delays to the project brought on by the pandemic, the finished product has been a welcome addition to the base.
"They're completely off the grid, they're a great piece for promoting environmental awareness, and there's some safety benefit as well with the extra lighting at night. We're very happy with them."
---
De nouvelles lampes solaires pour éclairer la BFC Halifax
Par l'équipe du Trident

On dirait qu'il y a un peu plus de lumière ces temps-ci à la BFC Halifax, grâce à l'installation de nouvelles lampes alimentées à l'énergie solaire et éolienne qui serviront également à réduire l'empreinte carbone de la base.
Le commandant de la BFC Halifax à l'époque, le Capv Sean Williams, et son prédécesseur, le Cmdre David Mazur, actuellement commodore de la Flotte des Forces maritimes du Pacifique (FMAR[P]) à Esquimalt, se sont rencontrés au début de l'été pour voir les lumières nouvellement installées et remercier les membres de l'équipe qui ont réalisé ce projet. Se sont joints à eux des membres du personnel de la section de la sécurité et de l'environnement des Forces maritimes de l'Atlantique (FMAR[A]) et de la société Construction de Défense Canada.
Le Cmdre Mazur, qui était de passage à Halifax, a expliqué qu'un certain nombre de facteurs ont contribué à la mise en œuvre du projet, notamment un éclairage insuffisant en soirée à la base, les problèmes d'infrastructure persistants et la volonté de continuer à faire évoluer la BFC Halifax dans une direction respectueuse de l'environnement.
« C'était une façon de faire de ces trois facteurs une seule bonne idée pour la base, et j'étais tellement heureux de pouvoir revenir et voir le produit fini. »
Sur une petite plaque installée près des lumières à l'extérieur du Musée naval d'Halifax, on peut lire une remarque sur la passion du Cmdre Mazur pour l'environnement et les questions de changement climatique. Cependant, ce dernier a affirmé que c'est le côté pratique qui l'a poussé à agir plutôt que son intérêt pour le sujet, surtout après avoir pris connaissance du fait que des entreprises privées se servaient d'infrastructures autonomes.
« Je me suis dit que c'était quelque chose que la base devait faire dans la mesure du possible, et je sais que les mêmes réflexions sont faites lorsque nous construisons nos nouveaux bâtiments ou que nous réalisons d'autres grands projets. C'est très important », a déclaré le Cmdre Mazur.