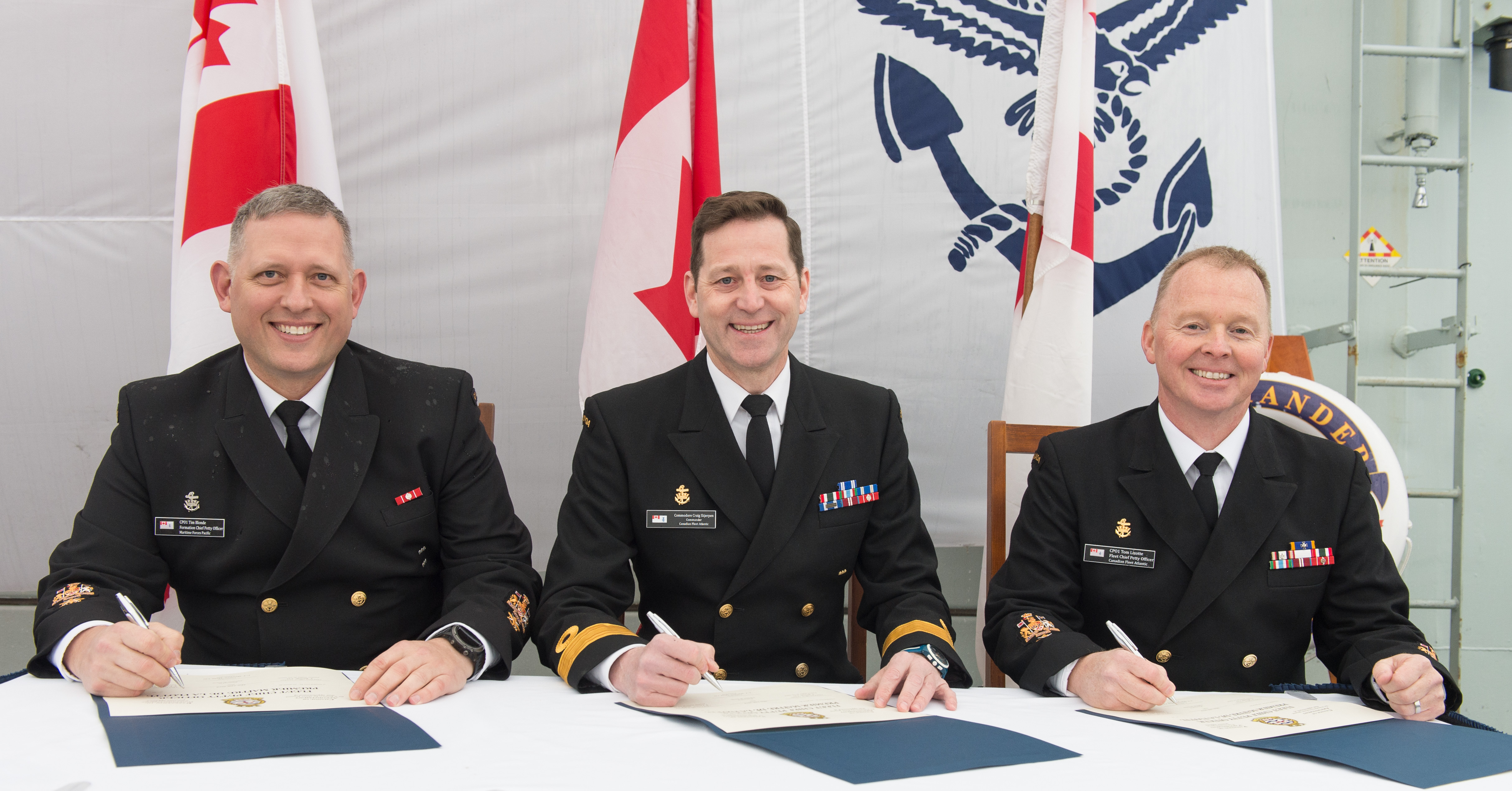 CPO1 Lizotte becomes new Fleet Chief CANFLTLANT
By Virginia Beaton,
Trident Staff
During a Change of Appointment ceremony on the flight deck of HMCS Halifax, CPO1 Tom Lizotte succeeded CPO1 Tim Blonde as the Fleet Chief Petty Officer of Canadian Fleet Atlantic.
Cmdre Craig Skjerpen, Commander CANFLTLANT, was the presiding officer for the ceremony.
In his farewell address, CPO1 Blonde noted that though he had been Fleet Chief for just under a year, that was enough time for him to be very impressed by the caliber of the personnel in the fleet and in the CANFLTLANT headquarters, saying, "Thank you to everyone at Canadian Fleet Atlantic. The fleet staff is awesome."
He particularly acknowledged Cmdre Skjerpen, saying "Thank you for your vision of moving the fleet forward to a better place."
CPO1 Blone listed some of the accomplishments and advancements that have taken place during the past year, including the deployment of ships with embarked Cyclone helicopters, the use of Pumas, the progress in the building of Arctic and Offshore Patrol Ships such as the future HMCS Harry DeWolf and the future HMCS Margaret Brooke, and deployments to Op REASSURANCE.
"It was a big year," CPO1 Blonde summarized. "The fleet and its personnel are truly fantastic."
Cmdre Skjerpen observed that CPO1 Blonde "is a doer. He knows how to make things happen." Cmdre Skjerpen added that during his time on the east coast, CPO1 Blonde "learned about change management."
Of the incoming Fleet Chief, Cmdre Skjerpen welcomed him to the job and added, "I've had the opportunity to work with Tom before."
After thanking CPO1 Blonde and Cmdre Skjerpen "and all the people who have mentored me," CPO1 Lizotte paid tribute to his family for their support. He stated that he looked forward to meeting members of the fleet, saying, "The job that they are doing today in the Navy is outstanding, so, well done, and thank you."
CPO1 Lizotte enrolled in the CAF as a Marine Engineer in 1989. He has served in HMC Ships Margaree, Fraser, Charlottetown, Anticosti, Halifax, Toronto, and Montreal, and served as Coxswain of Montreal.
His shore appointments include being a fire field instructor at the damage control school of the then CFNES; Technical Service Supervisor for the Mechanical Engineering Team at FMF Cape Scott; Chief Engineer at Fleet Diving Facility; Fleet Technical Authority at FMF Cape Scott where he also was East Coast Advisor for the Marine Engineering Occupation. CPO1 Lizotte's deployments include sailing in Charlottetown to Op APOLLO in 2001, and in HMCS Halifax to Haiti in 2010 following the earthquake. He was admitted to the Order of Military Merit in 2010 and was Coxswain of Sea Training Atlantic fro, 2016 to 2018. In May 2019 he completed Second Language Training at 12 Wing Shearwater.
CPO1 Blonde is now Formation Chief Petty Officer for CFB Esquimalt.