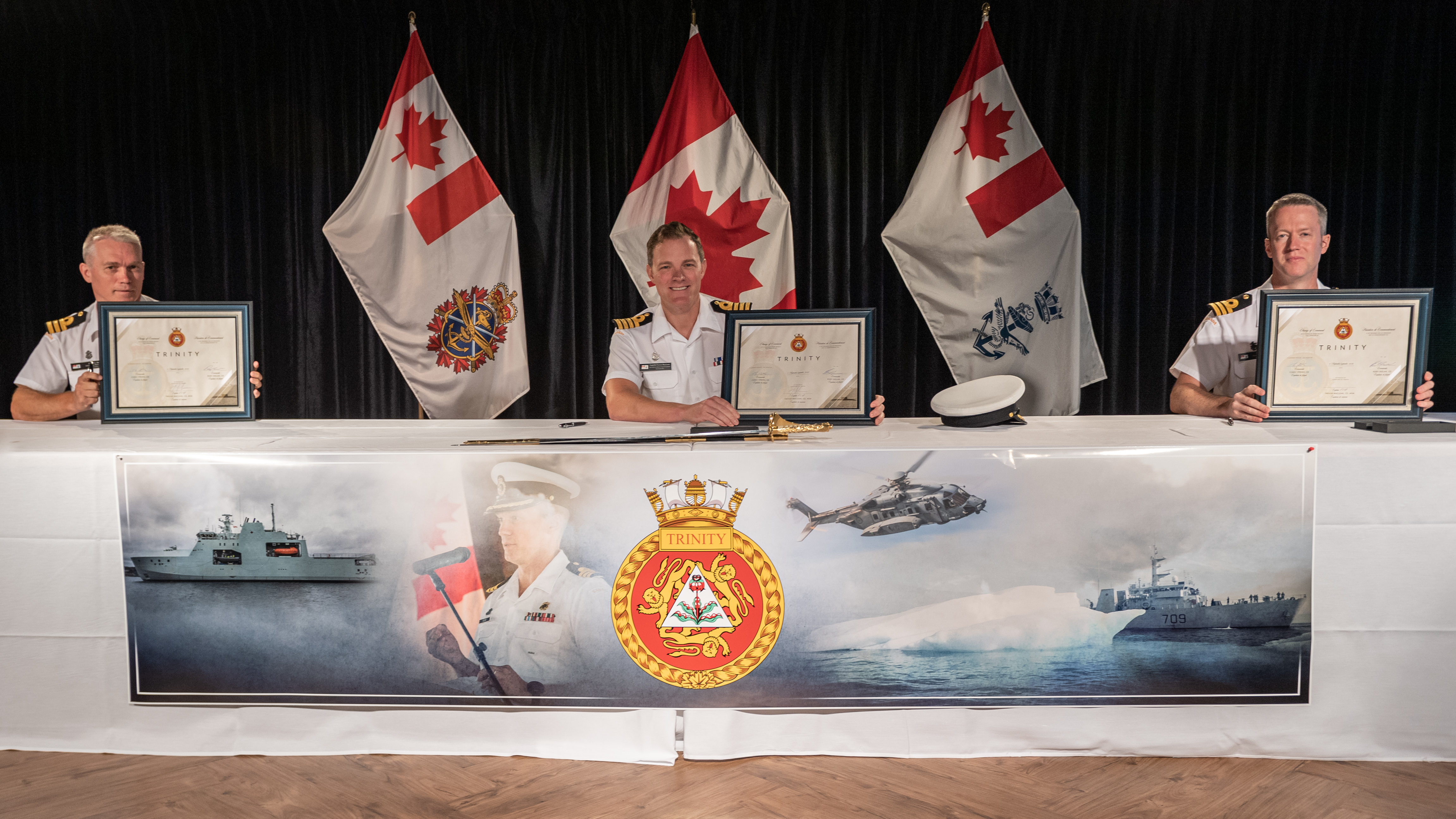 New Trinity CO welcomed into complex work environment
By Ryan Melanson,
Trident Staff
After three years at the head of the RCN's operational support and intelligence centre, Cdr Corey Steiro is moving on. The outgoing Trinity Commanding Officer officially handed the reins to his successor, Cdr Rory Dolan, during a small ceremony at Tribute Tower on September 4.
Cdr Steiro said his naval career has reached heights he couldn't have imagined when he first became a reservist in 1994 in Saskatoon. At that time, he said, he had no idea what Trinity was. Now, after leading the unit, he describes it as the most complex organization in the RCN, responsible for analyzing sensitive information and for maintaining lines of communication with RCN and CAF colleagues, other Canadian government entities, and international allies.
"The goal has always been to provide the absolute best operational support, 24/7," he said.
"And there's been no shortage of difficult issues along the way, the type that we don't have specific courses to prepare for."
He provided a few examples of those issues, including manning shortages, information management problems, potential criminal investigations, and flooding within the unit's building, all in an environment of increasing demand for operational support. He said open communication from the command level down through the unit was key in overcoming those challenges while getting buy-in from his people and advice from those with expertise.
"I can't overstate the importance of clear and transparent communication, both up and down the chain as well as with our external partners," he added.
Capt(N) Trevor MacLean, Chief of Staff for Maritime Component Command, who presided over the ceremony, described Cdr Steiro's leadership as a force multiplier, and gave him credit for new initiatives at the unit that have advanced RCN interoperability with allies.
"He used every possible resource to its fullest extent, and developed new ways to ensure our ships get the information they need, when they need it."
Capt(N) MacLean also took the occasion to welcome Cdr Dolan, his wife Deborah, and his two sons back to Halifax, after his most recent posting with CJOC in Ottawa. Cdr Dolan is also a former Deputy Commandant of the CF School of Military Intelligence, and has served as an intelligence analyst at the Pentagon in Washington, DC, and as Chief of Strategic Warning at NATO headquarters in Brussels, Belgium.
The new Commanding Officer, originally from Alberta, said he was humbled and honoured to be stepping into the role, and to be working in Halifax for the first time since 2006. He's served in three different countries and six different cities since then, across a variety of intelligence-based roles, and said arriving at Trinity now feels like a full-circle moment.
"Coming back to Trinity, and coming back to the Navy, is really the highlight of my career to this point. For a Naval Intelligence Officer, there's no job more exciting than this one."
Cdr Dolan has spent recent weeks working with Cdr Steiro to get up to speed at Trinity and become familiar with the unit's 260 employees, its important operational support roles, and the relationships Trinity maintains with outside partners and allies.
"This is a more diverse organization than I could have ever imagined, with locations, missions and mandates all across North America. I can't wait to get to work," he said.
While a small crowd of family and colleagues attended the ceremony in person, it was also streamed live through Facebook for those who wished to tune in from home.