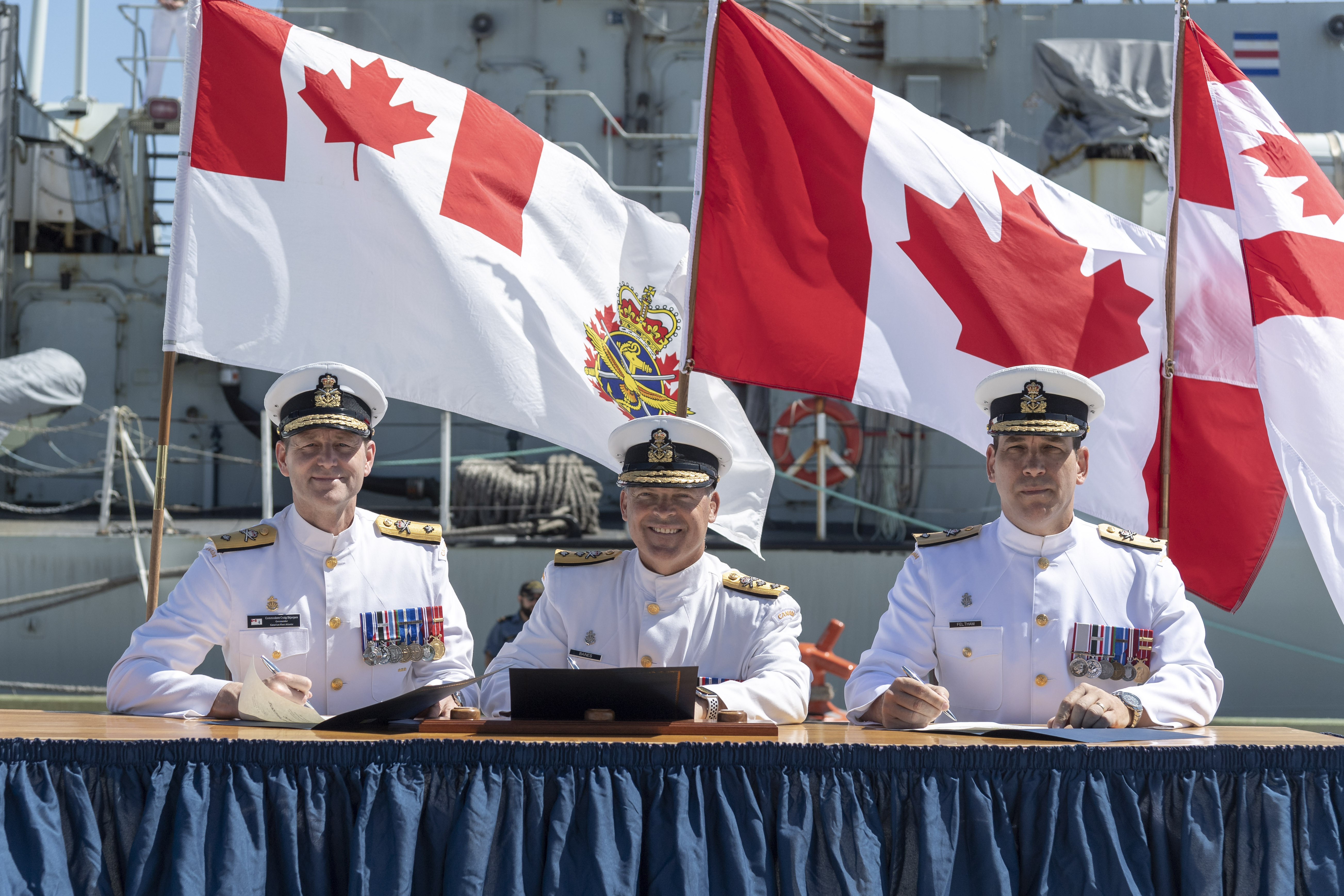 Outgoing CCFL credits team for adapting to change
By Ryan Melanson,
Trident Staff
The first of the Royal Canadian Navy's future fleet of Canadian Surface Combatant ships won't be set to for acceptance until the mid-2020s, and while that may seem like a far off date, Cmdre Craig Skjerpen doesn't see it that way.
"In reality it will be just the blink of an eye," he said, highlighting the importance of the many changes that have taken place in the Atlantic Fleet in recent years as the RCN begins looking ahead to the CSC.
"We're on a path to change the culture of the Navy, and to continue to be adaptive in a world that is changing."
Cmdre Skjerpen gave his final address as Commander of Canadian Fleet Atlantic on the newly opened Jetty NJ at HMC Dockyard on July 11, before officially handing over command to incoming CCFL Cmdre Richard Feltham.
While joking that his exit marked the unfortunate end of the position being held by "Craigs from Saskatchewan" – referring to himself and his predecessor RAdm Craig Baines – he said he was happy to hand over the job to his longtime colleague, and expressed confidence in the strong leadership that now exists across the Formation, including other command teams like Fifth Maritime Operations Group, FMF Cape Scott and in the Base Commander's office at Stadacona.
Cmdre Skjerpen got technical in describing some of the many changes and new initiatives undertaken by the Fleet during his time in command, mentioning changes to watch rotations, leadership and mentorship structures, crew flexibility, attack-team size reduction, the introduction of Asterix, and more. He also talked about new technologies like land-attack missiles, low-frequency active sonars and UAVs that are being adopted.
"I'm heartened by the fact there are terms and ideas that are new to me, but that will soon be in the everyday vernacular of every sailor here," he said.
"The level of engenuity, flexibility, change initiative and change management has been nothing short of fantastic. The Fleet and readiness team has astonished me with how much they've been able to accomplish."
RAdm Craig Baines, Commander MARLANT and JTFA, presided over the ceremony, and credited Cmdre Skjerpen for excelling in a demanding job while being an agent of positive change for the Fleet and the Formation. The CCFL role requires strategic communication, planning and networking skills, along with the ability to command multiple ships at sea in austere environments, he said.
"Craig has done this multiple times with incredible success, as particularly evidenced during his time commanding numerous ships during Trident Juncture 18 last year."
RAdm Baines noted that Cmdre Feltham will soon have a similar opportunity as he steps into the CCFL role, set to command a multinational task group at sea during CUTLASS FURY 19 off of Halifax this September. A new Fleet Commander will also mean new perspectives and fresh ideas among the senior leadership of the formation, he said.
"I absolutely look forward to having his counsel and advice as part of the team."
Cmdre Feltham is a former Commander of MOG 5, and is being welcomed back to the east coast after a stint in Ottawa, serving most recently as Director General Naval Force Development. This is the third time in his career that he and Cmdre Skjerpen have exchanged command responsibilities, and he said he was humbled to be taking over from a good friend.
"It's hard for me to express how I feel and how honoured I am today to be coming back to the fleet in this role," he said, adding the special connection he feels to the city where he met his wife Michelle and started his family.
"No matter how far away I've been from Halifax, my heart has always remained here."
Cmdre Feltham added he was looking forward to the next two years, beginning with the excitement of CUTLASS FURY 19, then heading into delivery of the first Harry DeWolf-Class ship, and continuing with further changes aimed at preparing for the future while maintaining the reliability that east coast ships and crews have become known for.
"There's change coming, and we have to put all our energy and attention on making sure we give our sailors the tools to succeed. That's my number one priority."