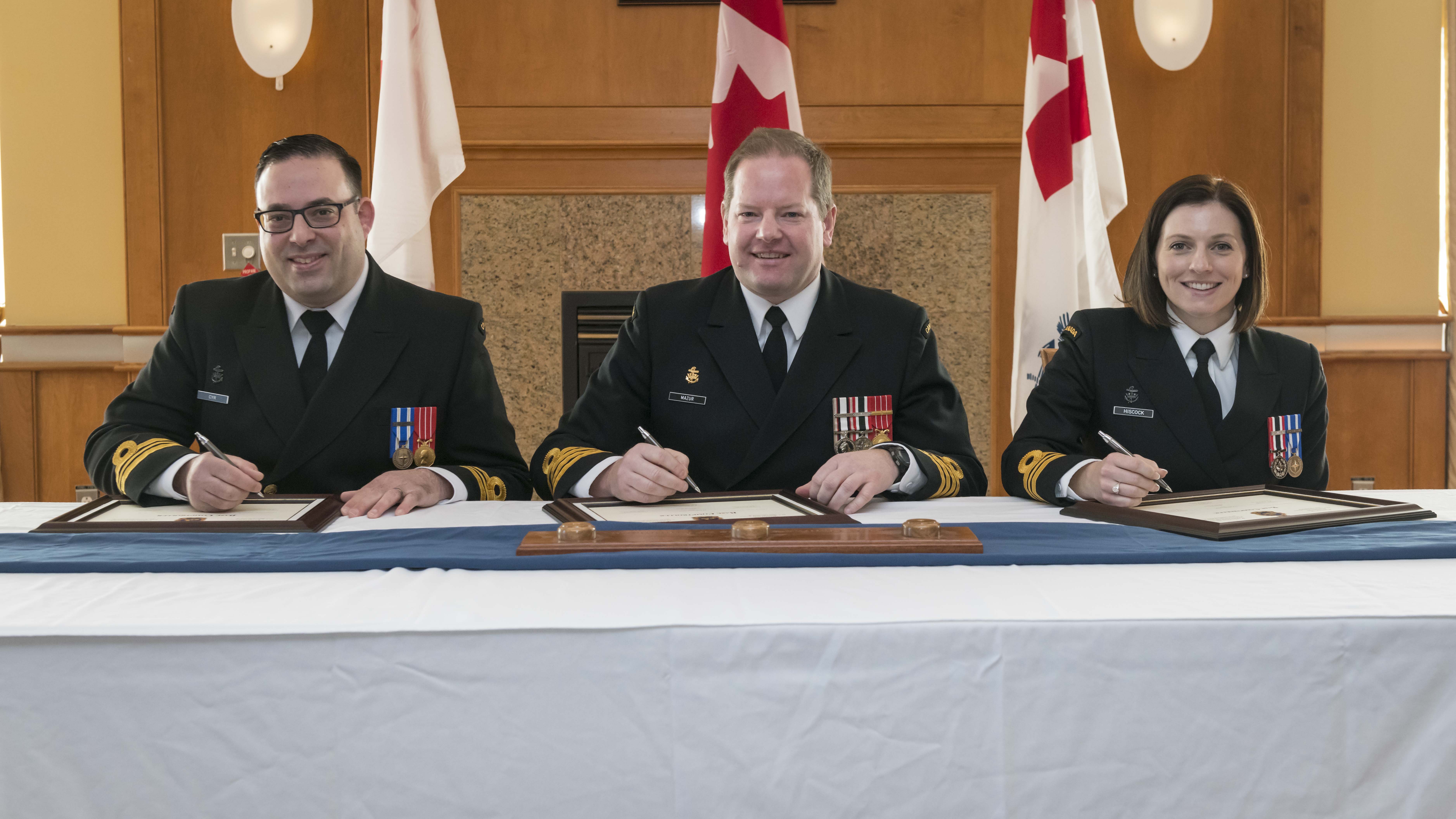 First Change of Command ceremony for Base Comptroller unit
By Ryan Melanson,
Trident Staff
When LCdr Robert Cyr began his role as the first Commanding Officer of the Base Comptroller unit in summer 2017, the newly-formed entity was in its very early stages. His entrance was quiet, with no formal ceremony, and he began working with a small group to establish the unit.
The change came after a 2013 study that recommended the Base Comptroller lead a new group, separate from BLog, that would serve as a home for Financial Services Administrators (FSAs) within CFB Halifax, with a focus on budget and risk management, financial training and verification, and other basic financial services.
"We had an opportunity to think about what we want to achieve with this new unit, and to start charting the course for what will come next," LCdr Cyr said as he prepared to hand over command of the unit to incoming Base Comptroller LCdr Natalie Hiscock at a Change of Command ceremony on February 12.
The first year saw a focus on training, with leadership identifying a gap in training as financial specialists progress from the junior ranks to the NCO level, LCdr Cyr added. He also spoke about the work that went into building a level of camaraderie among his people, with team-building exercises, unit gatherings, and the collecting of traditional unit mementos or decorations that help establish identity.
"We've been trying to create the culture of a unit, which helps build esprit de corps, and I can honestly say it's been working, " he said, mentioning the recent BCompt Christmas gathering as a highlight and an example of how far the team has come.
CFB Halifax Base Commander Capt(N) David Mazur, presiding over the ceremony, said as a Naval Warfare Officer, he's always valued those who do important logistics work behind the scenes while others focus on operations.
"With the size and all the functions of this base, executing the budgets and all our finances is a big task, and I never once had a concern with LCdr Cyr in charge. I'm sure that strong leadership is going to continue under LCdr Hiscock."
After signing the documents and officially assuming command as the new Base Comptroller, LCdr Hiscock said she's passionate about finance and excited to step into the role, and believes that having good financial stewardship and accurate financial information allows for the base to make the right decisions when it comes to money and budgets.
"I feel like I've won the lotto. Base Comptroller is a position I've wanted for a long time and I'm very happy to be here," she said.
She added that she's pleased to pick up on the advancements in training that have already begun, which ties in well with her plan to put a focus on supporting her people, so they can in turn deliver the best financial services possible to the base.
"I'm from Newfoundland, so being a people person is very much one of my strengths. I love our people and I think they're the greatest resource our organization has. Nobody does it all on their own, and I know if we support people and give them the opportunity, they'll do amazing things," LCdr Hiscock said.