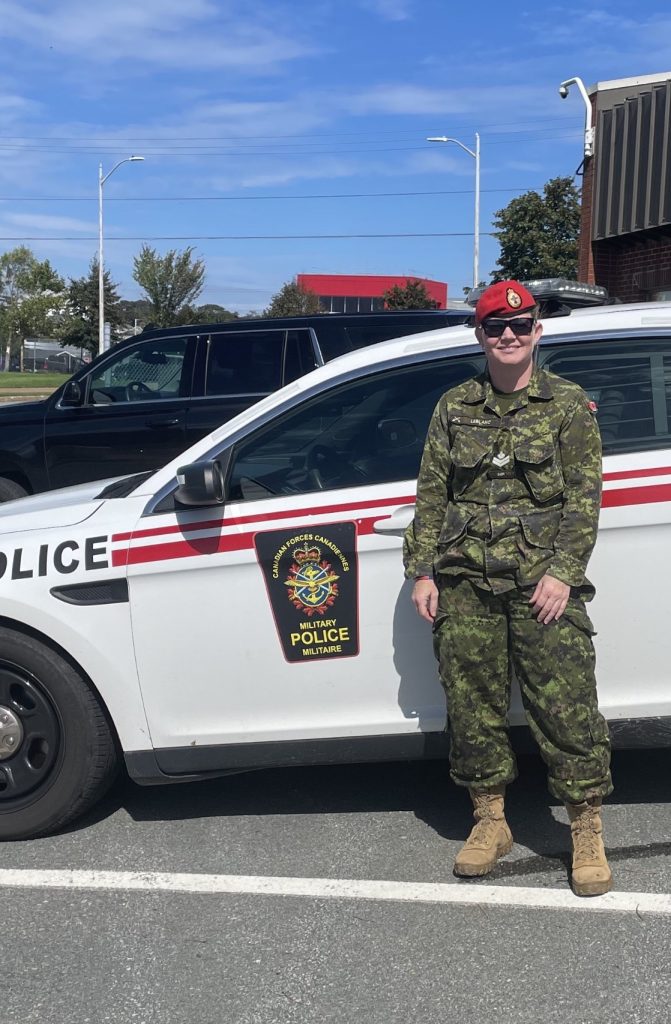 NDWCC Face of Base: MCpl Marie LeBlanc
By CFB Halifax
Meet our first 2023 National Defence Team Workplace Charitable Campaign (NDWCC) Face of Base: Master Corporal (MCpl) Marie LeBlanc, a dedicated member of Military Police Unit (MPU) Halifax. 
Born in Moncton, New Brunswick, and raised here in Halifax, MCpl LeBlanc's journey in service to our nation began in 2012 when she joined the reserves with 3 Military Police Regiment before transitioning to the Regular Force in 2016. Today, MCpl LeBlanc serves at MPU Halifax as a Victim Services Specialist within police operations. This role involves reaching out to victims following incidents, providing essential support, conducting regular check-ins, offering updates, and extending a helping hand during challenging moments. It's a rewarding and emotionally taxing role, but MCpl LeBlanc finds immense fulfillment in knowing that she can positively impact the lives of those in need. 
Beyond her military duties, MCpl LeBlanc is deeply committed to charitable giving and community involvement. She firmly believes that giving back to our community creates a brighter future, setting a powerful example for her son and reinforcing the importance of collective efforts to strengthen our community bonds. 
Her passion for giving back to the community led her to become involved with the Halifax Region NDWCC this year, volunteering as the Official Point of Contact (OPI) for MPU Halifax. She's excited about this opportunity to contribute to the campaign and encourages fellow Defence Team members to support the NDWCC as well, emphasizing that volunteering and contributing to charitable campaigns are meaningful ways to make a positive difference to those in need. 
MCpl LeBlanc knows it's important for individuals who wear uniforms, especially those in sensitive professions like policing, to be visible in the community, and actively engaging in charitable initiatives. This not only helps break down negative stigmas associated with their roles but also strengthens the bonds between the military and the communities they serve. 
Her involvement in various community initiatives includes supporting Feed Nova Scotia food drives, volunteering in Christmas parades, representing the Military Police when needed, and contributing to Camp Courage, a program empowering young women to explore careers in first response services. 
Thank you, MCpl LeBlanc, for your dedication to service, commitment to our community, and inspiring contributions to the NDWCC!