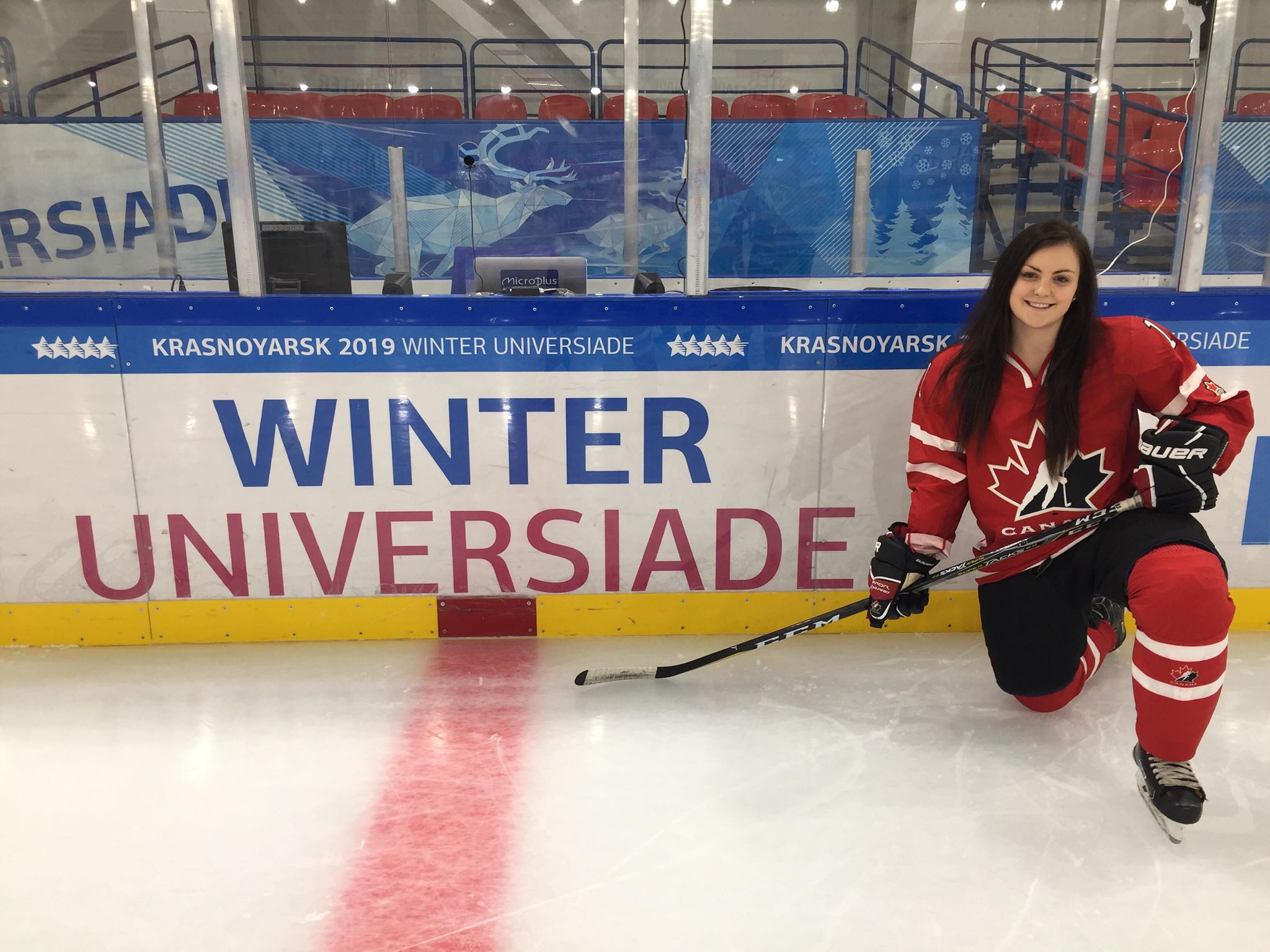 Naval Cadet brings silver medal home from once-in-a-lifetime hockey trip
By Ryan Melanson,
Trident Staff
As she prepares for her first RCN posting later this spring, a Naval Cadet and hockey standout from Halifax recently found time to scratch an item off her list of life goals: to play with team Canada at an international tournament.
NCdt Cassandra Labrie, an engineering student and Captain of the Universite de Moncton Aigles Blues hockey team, was picked to join the Canadian team for the hockey portion of the 2019 Winter Universiade in Krasnoyarsk, Russia.
The Universiade is an international student and youth competition held every two years, with 58 nations participating in 76 different sports. In the hockey portion, the Canadian women faced off against teams from China, Japan, Switzerland, the United States, and a powerhouse team from Russia with a roster of Olympic-calibre players.
The tournament features some of the top university hockey players from each respective country, and NCdt Labrie said her and a teammate were approached after a playoff loss meant their schedule was freed up.
"We signed some forms and a week later we were on our way to Russia," she said.
"It was a little scary to think about travelling so far away for hockey, which I hadn't done before, but it was exciting. I saw it as a once-in-a-lifetime kind of chance, so I didn't pass it up."
The roster met at the airport and had only two short days of prep before their first game against China, but the team meshed well together and found success early, including an exciting win against the rival American team, which ended 1-0 in Canada's favour after a goal in the game's final seconds.
"We just got closer and tighter as a team as we went on and realized we had a shot at the finals against Russia," she said.
Though out-skilled against their Russian opponents, the Canadians used lessons from their earlier round-robin matchup and were able to keep the game scoreless until the third period, eventually falling 2-0 after a late empty-net goal.
"In the finals we were more prepared and we altered our game plan. We learned how to play with them, pressure them, and we could tell they were sweating. There were more than 2,000 people at the arena, all cheering for Russia, and that was great motivation for us," NCdt Labrie said.
She described the tournament as a very positive overall experience, allowing her to raise her hockey game, meet national and international peers, and experience the hospitality of the host country and all the staff and volunteers who helped run the event.
"Everybody was great to us and I was very proud to be wearing the Maple Leaf," she added.
NCdt Labrie is currently finishing up her final university semester and expects to begin Naval Engineering courses following her posting, following in the footsteps of her parents, both RCN veterans. She also has her eyes on CAF hockey, and said she plans to become a factor on either the Halifax Mariners or Esquimalt Tritons hockey team.
"I love hockey and if I can keep playing and stay active in sports during my career, that will be a huge advantage for me."
NCdt Cassandra Labrie is seen on the ice in her Team Canada gear at the 2019 Winter Universiade, which took place from March 2-12 in Krasnoyarsk, Russia.
SUBMITTED