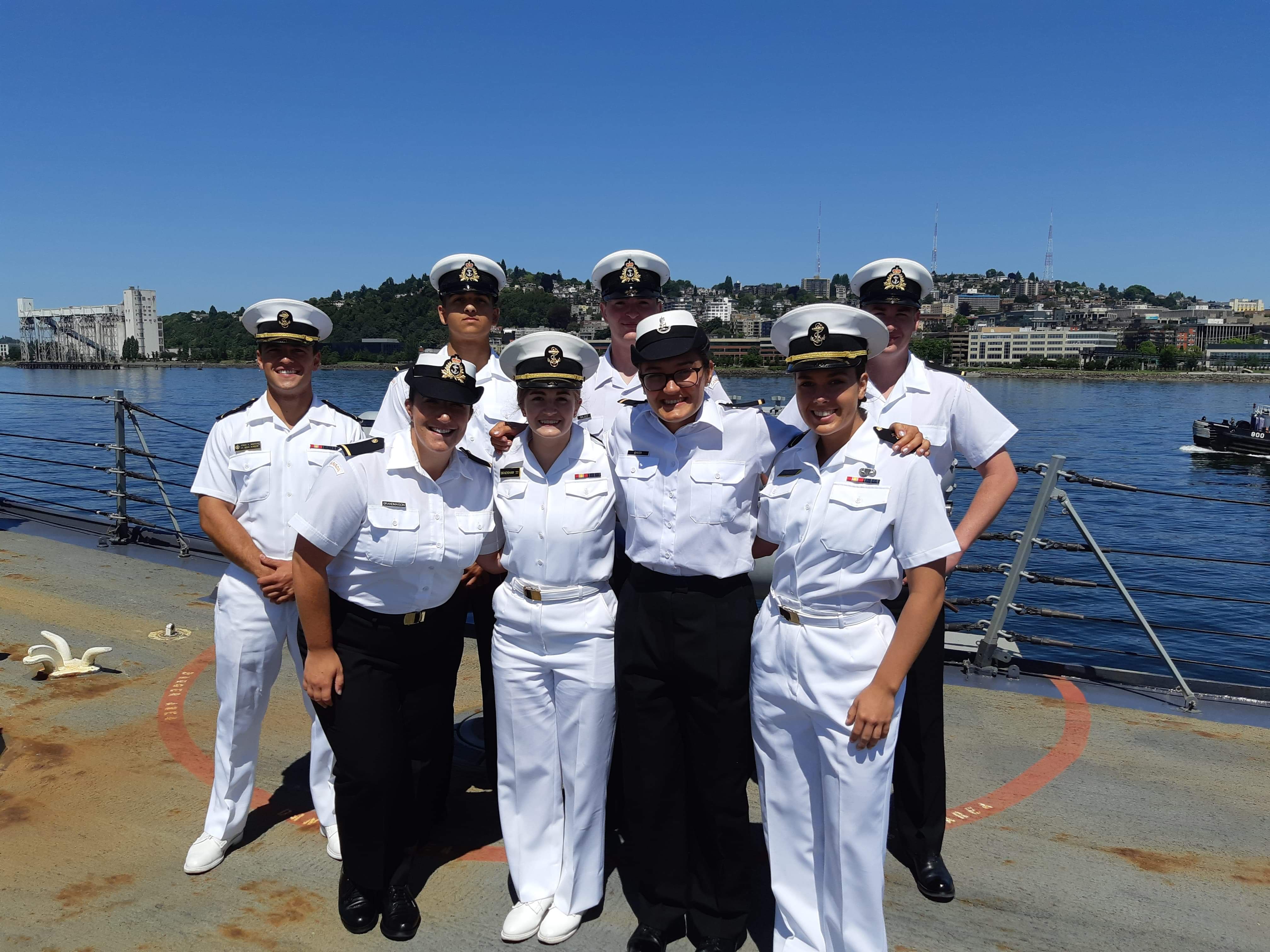 Naval Cadets enjoy USN exchange
By Peter Mallett,
The Lookout Staff
A group of Naval Cadets gave glowing reviews about their recent summer job placements aboard the United States Navy (USN) vessel USS Spruance.
The six junior sailors are enrolled in the CAF Regular Officer Training Program (ROTP). They recently wrapped up three-week job placements aboard the USN's Arleigh Burke-class destroyer.
They embarked Spruance in Seattle and arrived at US Naval Base San Diego on August 27.
Their participation was part of the ROTP's On the Job Employment (OJE) program. OJE finds work placements in the CAF for 160 naval cadets throughout the summer months when they are not attending classes at Royal Military College in Saint-Jean, Que., Kingston, Ont. or Canadian universities.
Lt(N) Tony Greenwood, Basic Training List (BTL) Manager for Junior Naval Warfare Officers at the Naval Personnel and Training Group (NPTG), helped organize this year's exchange.
Lt(N) Greenwood, a graduate of the ROTP in 2014, says the intention of the exchange is to give cadets practical experience on a warship.
"I also had some interesting work placements during my time in ROTP, but sailing aboard a USN destroyer is an incredible assignment for these young sailors and by all reports they thoroughly enjoyed it. The idea was to give this group of cadets practical experience on a warship and it was mission accomplished."
This year's participants were NCdt Jonathan Anderson, NCdt Eve Baker, NCdt Farris Bakir, NCdt Timothy Baljet, NCdt Lisa Grandmaison and NCdt Alex Morneau.
Four of the cadets spent most of their time in Spruance assisting with bridge watchkeeping duties. Two other students, NCdt Baker who is studying to become a Logistics Officer, and NCdt Morneau, an engineer, were involved in their respective departments in the ship.
In his review of the placement, NCdt Baljet said he was thoroughly enthused about the opportunity to learn outside the classroom while aboard Spruance.
"This was an incredible opportunity for learning the capabilities, customs and organization of the USN," said NCdt Baljet. "The U.S. sailors welcomed us and then assigned us to a junior officer to shadow and help them complete their watches alongside and underway. We also had ample opportunity to explore both the ship and the ports of call in Everett, Seattle, Seal Beach, and San Diego."
OJE placements here in Esquimalt included work-study placements at Fleet Diving Unit Pacific, the Naval Tactical Operation Group's Advanced Boarding Party, and the Canadian Forces Sailing Association.
The Regular Officer Training Program gives young Canadians an opportunity to obtain both an officer's commission in the Canadian Armed Forces and an undergraduate degree. The aim of the ROTP is to develop selected young men and women as officers in the CAF in a variety of career occupations. Successful ROTP candidates enroll in the CAF as Officer Cadets and attend the Royal Military College of Canada or the Royal Military College of St-Jean or an approved Canadian University. For more information visit the webpage: www.rmc-cmr.ca/en/registrars-office/regular-officer-training-plan-rotp