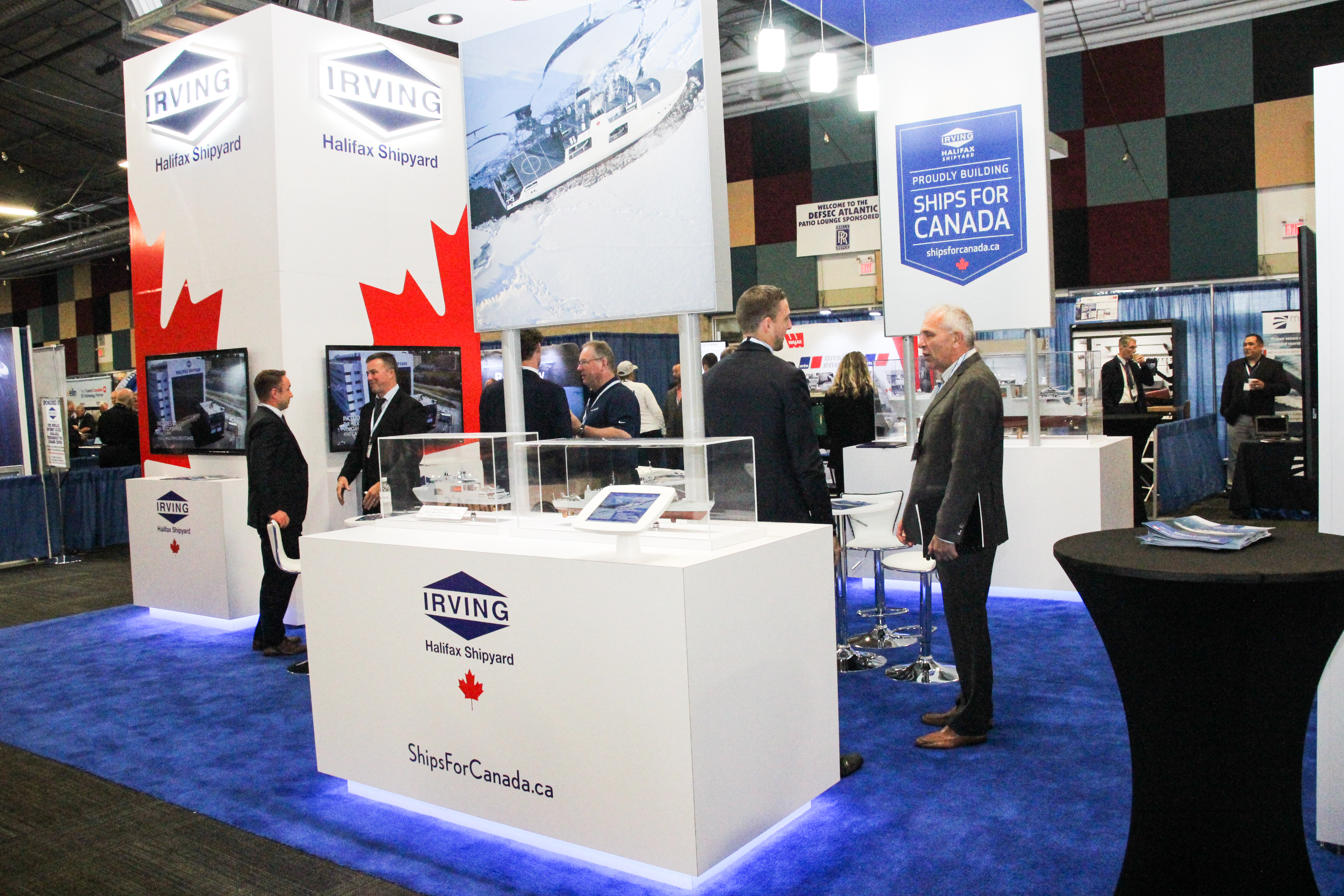 MV Asterix to participate during DEFSEC Atlantic 2019
By Ryan Melanson,
Trident Staff

One of Canada's largest defence trade shows is returning to the Halifax waterfront for 2019, and the Royal Canadian Navy's interim supply ship will be alongside and part of the action.
MV Asterix will be tied up at Pier 23 from October 1-3 during the Canadian Defence Security and Aerospace Exhibition (DEFSEC) Atlantic. The ship will be open for two full days of tours, and DEFSEC Executive Director Colin Stephenson said many of the private companies attending the event will be able to see their own products in use on the ship.
"Because the vessel is a new collaboration between industry and government to provide Naval services, we have a number of companies that have assets on board, and they are going to be interested in showing those off to potential clients. Having Asterix is a very exciting addition for this year."
The former civilian tanker has been converted to meet naval requirements by Federal Fleet Services, the firm that operates MV Asterix. Stephenson said it was pure luck that the ship is alongside in Halifax and not required to support the RCN during the DEFSEC dates, and he's grateful that Federal Fleet Services was willing to take part.
DEFSEC Atlantic welcomes large defence contractors like Irving Shipbuilding, Lockheed Martin, and Thales to their floor each year, along with small and medium-sized enterprises (SMEs), including a number from Atlantic Canada. Government representatives also take part to deliver presentations and meet with industry, and military members typically attend to learn about new innovations and get a look at the technologies they may be using in the future.
As a smaller trade show than the annual CANSEC event in Ottawa, but with many of the big players still present, DEFSEC prides itself on offering an environment more friendly to smaller, local firms, including members of the Atlantic Canada Aerospace and Defence Association.
"At DEFSEC, there's easier access to those large companies. They're less focused on selling to government and more focused on fulfilling their supply chain needs, which is where the SMEs come in," Stephenson said, adding that the Canadian Surface Combatant is sure to be a hot topic as companies and firms try to find a place for their products and services within the project.
A full series of presentations from both industry and government on the DEFSEC stage will also be announced soon, and Stephenson said despite the ongoing federal election campaign, government subject matter experts will still be on site and will be able to speak about ongoing defence initiatives. Topics already confirmed for presentations include the Innovation for Defence Excellence and Security (IDEaS) Initiative, the Future Aircrew Training (FAcT) Program, and the Defence procurement Sustainment Initiative.
Registration for military will once again be free this year, and CAF members can visit http://defsecatlantic.ca to sign up. Acceptable military identification on site will be the NDI10(Temporary ID Card), the NDI20 (Canadian Forces ID Card) or the NDI30 (Allied Force ID Card).