PO2 Lambert tops the fitness charts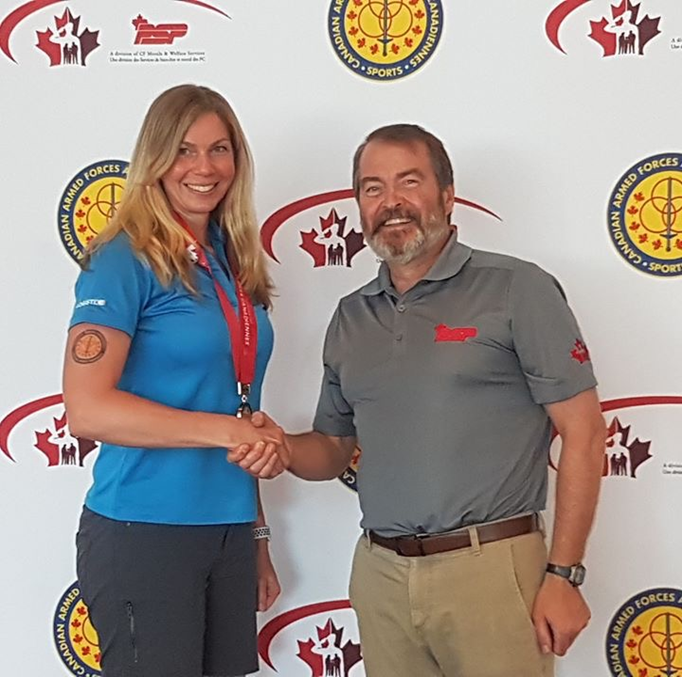 By LS Emily Bellman,
Stadacona Band of the Royal Canadian Navy
The phrases "Going Gold" and "Going Platinum" have been used in the music industry for years to describe record-breaking album sales. On top of being a fantastic musician with the Stadacona Band of the Royal Canadian Navy, PO2 Courtney Lambert has her own gold and platinum records going for her, and only over the course of a few days. On July 4, PO2 Lambert scored platinum on the FORCE Operational Fitness Evaluation with an almost perfect score of 399/400, placing her in the top 1% of all Canadian Armed Forces members since the start of the FORCE Evaluation back in 2013. Just two days later she won a gold medal in the CAF Triathlon National Championships in Gatineau, QC.
"I feel very lucky to have the resources and support in my workplace to be able to prepare for a competition like this," PO2 Lambert states. "I am so grateful for all the opportunities to participate in CAF national sports and completely surprised and ecstatic to have come away with a CAF gold medal!"
PO2 Lambert is a member of the Navy Tridents Triathlon Club, and her next race is with the MultiSport Canada triathlon series in Wasaga Beach at the end of August. For information on joining and competitions, contact club president Lt (N) Sam Kehler at Samuel.kehler@forces.gc.ca or search on Facebook for Navy Tridents Triathlon Club.