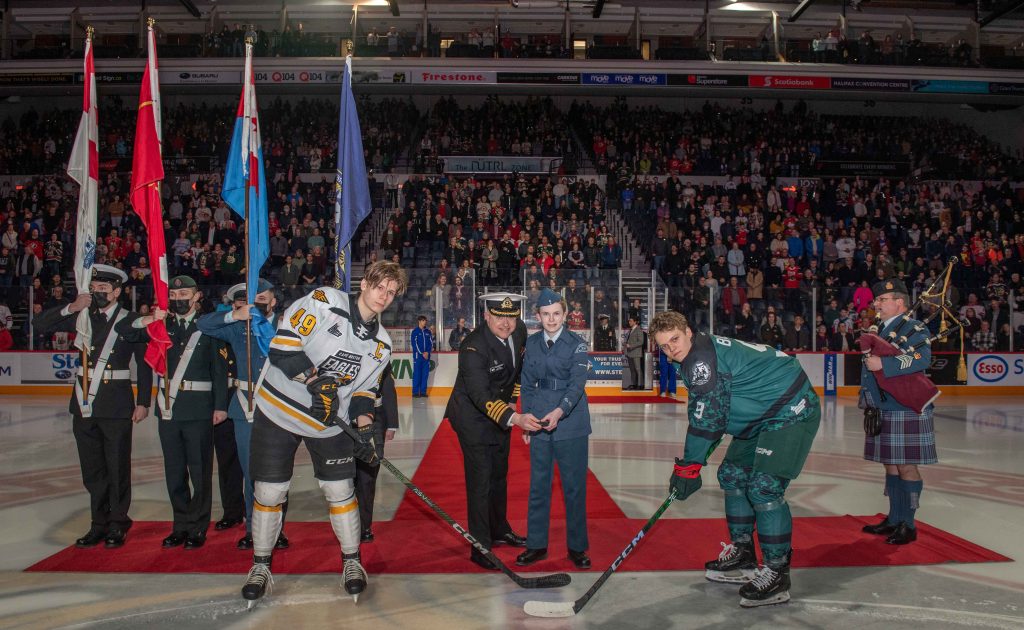 Mooseheads host DND Appreciation Night 
By CFB Halifax Public Affairs
On Saturday, March 4, the Halifax Mooseheads hockey club hosted a DND Appreciation Night at the Scotiabank Centre. Our Base Commander, Capt(N) ANDY Mackenzie and his son were honoured to take part in the opening ceremony alongside a Canadian Armed Forces flag party, piper, O Canada singer and members of the Mooseheads organization.  
The Mooseheads wore specially designed jerseys commemorating the 100th anniversary of Canada's Naval Reserve. Ten of the jerseys were raffled off during the game, with 10 others sold through an online auction. The jersey raffle and auction proceeds will be donated to Camp Hill Veterans' Memorial Building.   
To top it off, the Mooseheads defeated the Cape Breton Eagles 6 -1! Many thanks to the Mooseheads for continuing to recognize members of the Defence community through this special event, and BravoZulu to the ceremonial participants, PSP Halifax, raffle ticket sellers and all those who attended the game including Defence families.