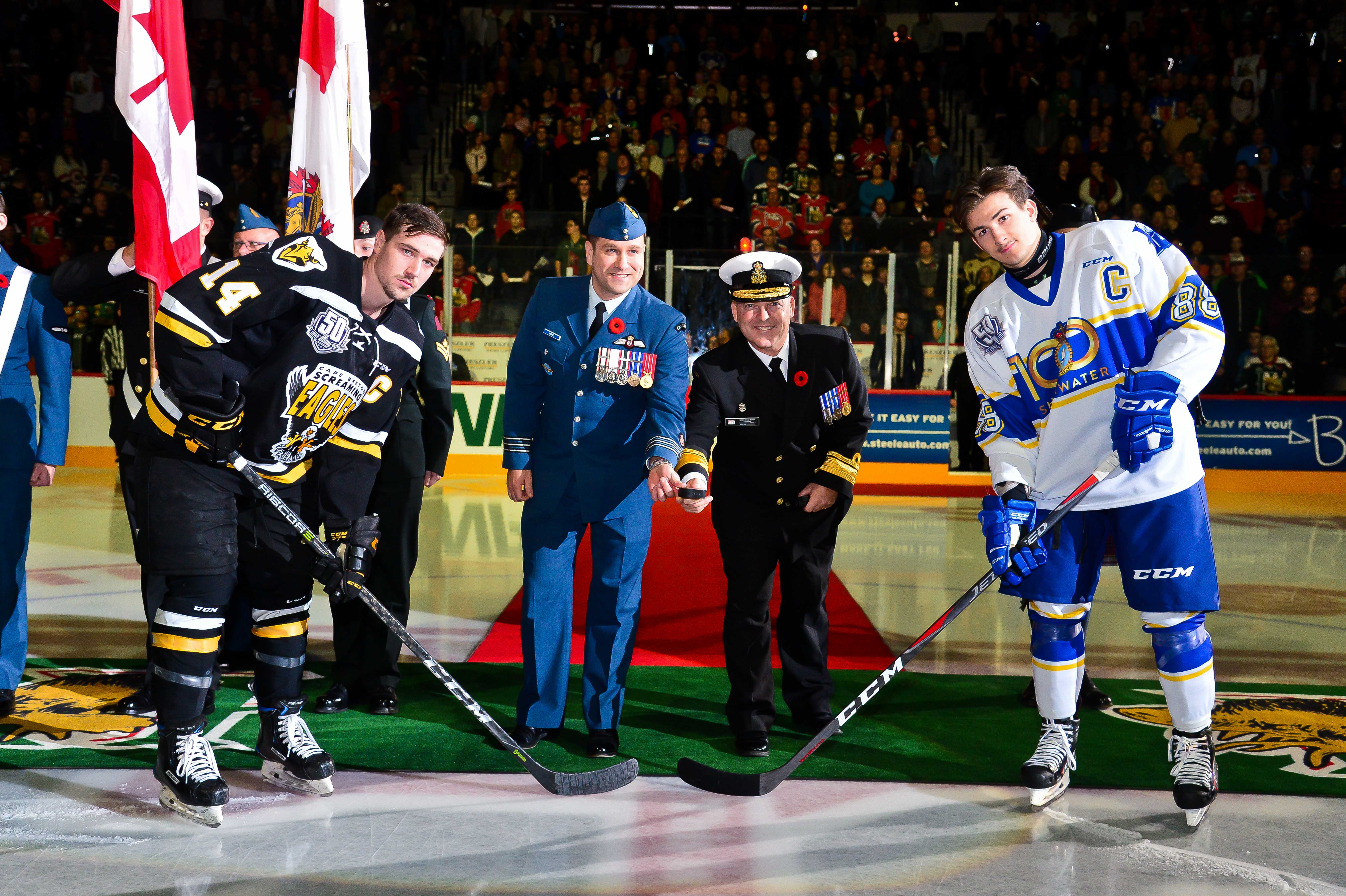 Halifax Mooseheads Annual DND Appreciation Hockey Game set to go
By CFB Halifax Public Affairs
The Halifax Mooseheads will be battling the Drummondville Voltigeurs during the annual DND Appreciation Hockey Night at the Scotiabank Centre, Friday Nov 8. The Halifax Mooseheads have a special connection with the Defence Team here in the Halifax area and this is their way to thank us for all we do in our service to Canada.
A commemorative HMCS Kootenay jersey will be worn by the Mooseheads to honour the many sailors and Kootenay family members who were forever impacted by the fatal engine room explosion and fire onboard the Restigouche-class destroyer 50 years ago. Some of the Kootenay survivors will be present at the game. The jerseys will be raffled off during the game, with several auctioned online at a later date. All funds raised will benefit Camp Hill Veterans' Memorial Garden.
On October 23, 1969, Kootenay was operating in European waters with a Canadian task group that was returning to Canada, transiting the English Channel. Kootenay pulled away from the rest of the ships to perform full speed sea trials of her engines, roughly 320 km off Plymouth, United Kingdom. During the trial, the starboard gearbox had reached a critical temperature level of approximately 650 °C and exploded. The explosion killed seven and injured 53 others and started a fire in the engine room; two others died later from injuries sustained during the resulting fire. This event is considered the Royal Canadian Navy's worst peacetime accident. The Kootenay explosion also marked the last time Canadian military personnel were buried overseas, as four of the sailors killed were buried in the United Kingdom. Following this event, policy was changed so that all Canadian military personnel are returned to Canada should they perish while on deployment.                                                                                                 
During the DND Appreciation Hockey Game, the Stadacona Band of the Royal Canadian Navy will perform the national anthem, a four-person flag party will be paraded onto the ice by a bagpiper from 12 Wing Shearwater Pipes and Drums, and RAdm Baines, Commander JTFA and MARLANT, will perform the official puck drop. Some members of the Defence team will participate in second intermission games.                                                                                                       
Defence Team members will have the opportunity to buy specially priced, deep discount tickets to the game. You can buy tickets at the Fleet Fitness, Sports and Recreation Centre (Dockyard) and the 12 Wing Shearwater Fitness, Sports and Recreation Centre. Come support your Halifax Mooseheads. See you at the game!