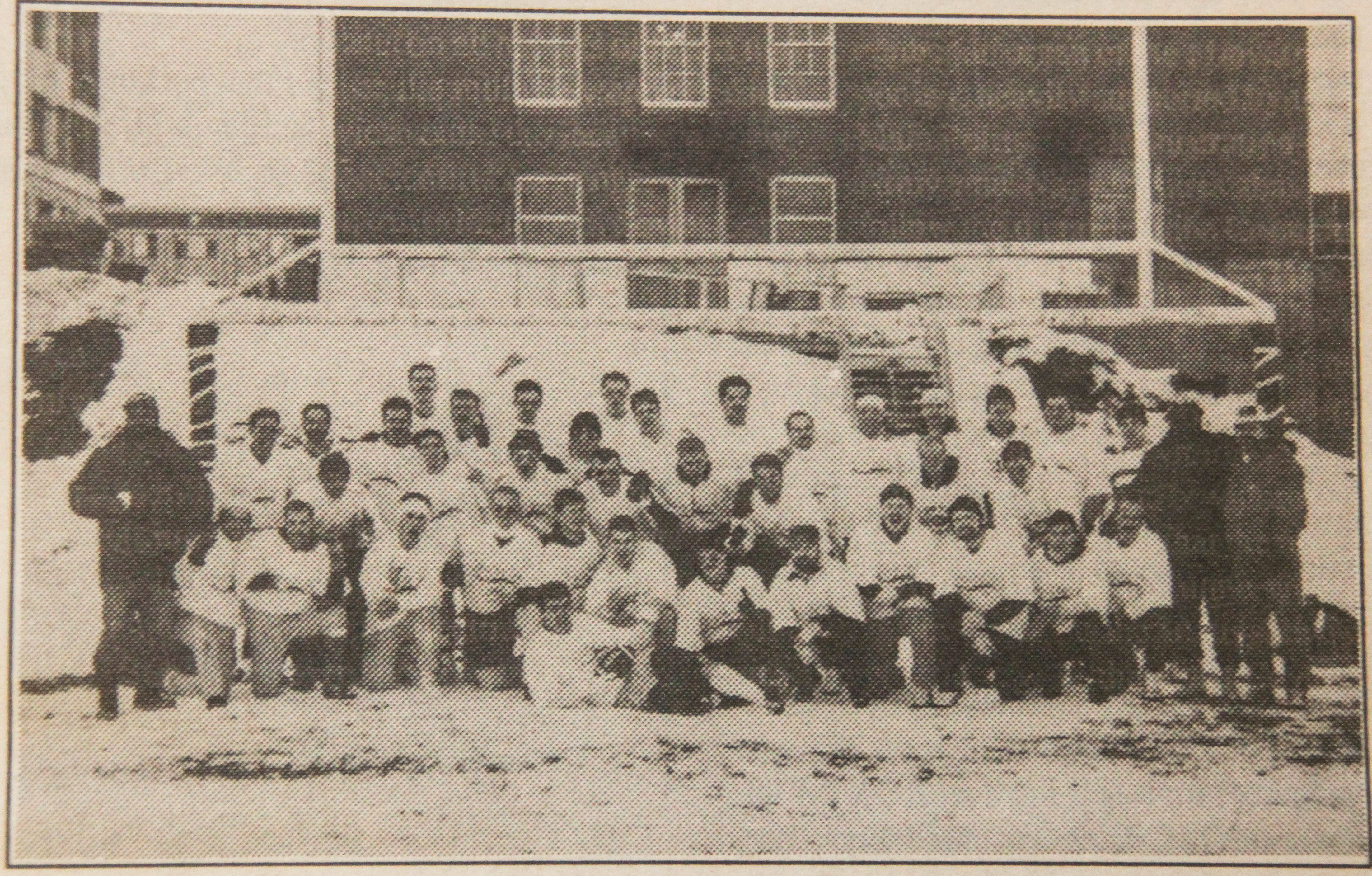 Slackers coaching team looks back on decades of Mini Grey Cup history
By Ryan Melanson,
Trident Staff
The annual Mini Grey Cup flag football game has been a tradition at CFB Halifax for nearly half a century, and hundreds of different players have suited up for either the Fleet Club Slackers or Wardroom Officers since the very first kickoff in 1969.
For the last three decades of play, however, the coaching staff backing up the Slackers from the sidelines has been remarkably consistent, perhaps explaining why the Wardroom team can count their victories since 1989 on one hand.
Coaches Dave Howe and Joey Tynes, along with supporting manager John "Bubby" Adams, were a part of nearly every matchup from the late 80s up until they began to step away from the role just a few years ago. Combine their decades of experience with that of current coaches Rob Jeannot and Sean Parker, who began playing the game in the late 80s and mid 90s, respectively, and you get a core group who have led sailors of all sizes, backgrounds and skill levels through long streaks of Mini Grey Cup victories.
The group takes a serious approach to coaching the game. Practices are twice a week and mandatory if you expect to take the field on gameday, the coaches work their athletes hard and run play after play to create a winning team with only a couple months of practice time each year.
But it wasn't always that way.
"They (The Slackers) used to lose to the Wardroom every time, for years. They had some good players, but they weren't a team," Howe said with a laugh as a group of the former coaches got together recently to share some memories ahead of this year's game on October 20. In fact, in the pages of Trident following the 1984 Mini Grey Cup, Lt(N) Paul Phillips wrote that "The Wardroom is on a 15 years winning streak and looking for some real competition."
The coach truly responsible for ending that winning streak and turning the tide for the Slackers isn't with us anymore, but his legacy and his love for the game is what has inspired the current group to keep things going. Clinton Adams, a former submariner turned Cape Scott employee, played in the very first Mini Grey Cup in 1969, and after releasing from the Navy in the 80s, began stepping in to help coach.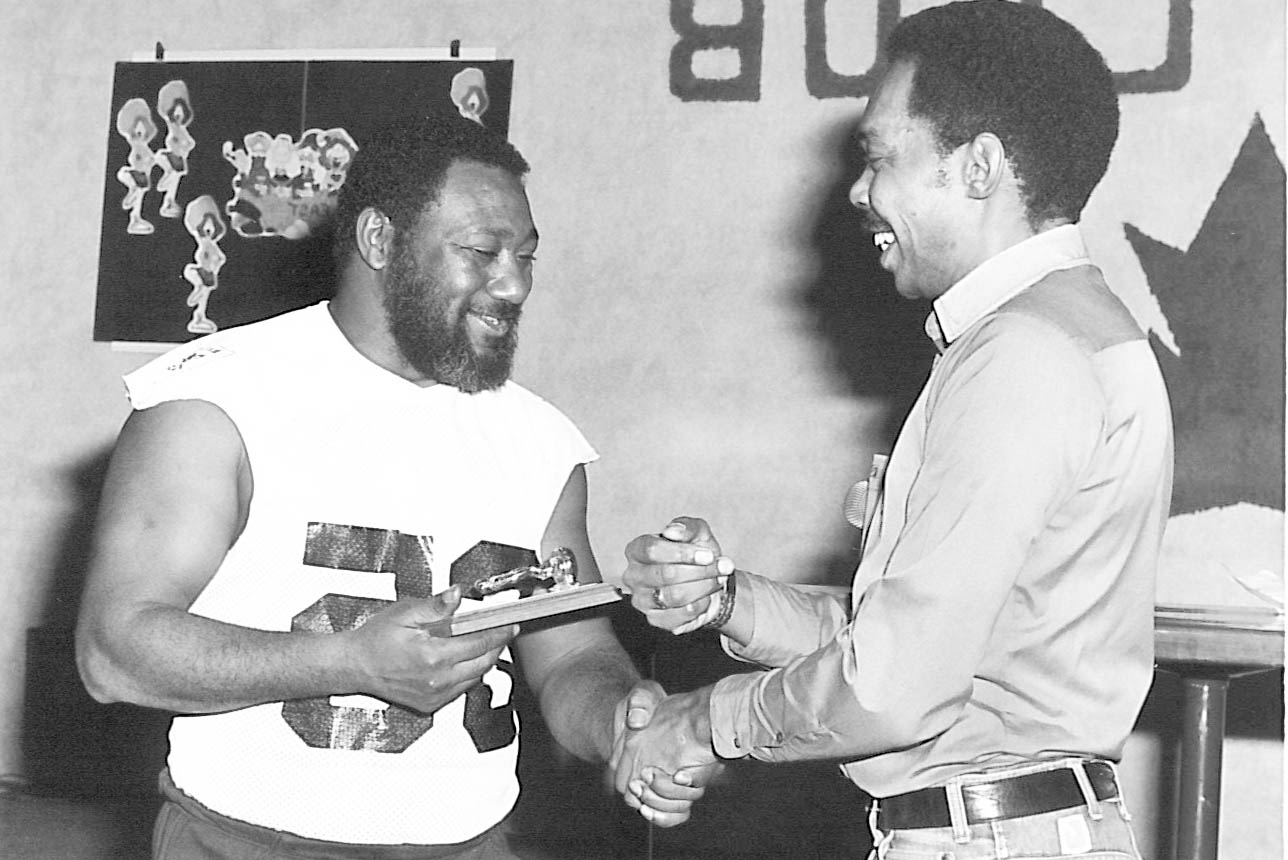 "When Clinton came in, and then when we (Howe and Tynes) came in a few years later, everything changed. Now, we were running plays, we were running defense, and everybody had to know what they were doing. And if you didn't show up to practice, you weren't going to play," Howe said.
Adams brought Howe and Tynes in for extra help, knowing they had high school and university football backgrounds that would make them assets, and while the two had no connection to the CAF aside from their friend Clinton, the fun of working with the Fleet Club and the excitement of winning year after year got them hooked.
"It really grew on me, and I ended up staying and being a part of it. I used to get my friends to come down for the game, it was always a great time," Tynes said.
"I still try to get down to the game every year even now, though I'm not coaching anymore."
Bubby Adams, Clinton's brother, got involved with the Slackers in a trainer and conditioning coach role soon after, remained a fixture with the team for years and continued with Howe and Tynes following Clinton's death in 2004.
Adams' legacy and contributions to the game as a player and coach will be recognized for years to come; the Mini Grey Cup MVP Trophy is named in his honour, and his old jersey, which hangs in the Fleet Club alongside other memorabilia from the game, is seen as a source of good luck on game days. The years of dedication he put into the Mini Grey Cup, as well as the annual Army-Navy football game, and the mentorship offered to so many players, has inspired coaches to keep the tradition going since his death.
"Personal pride has a lot to do with it, there's a lot of history there and we like to see the game continue to be played at a high level. Clint was a major father figure for a lot of us and I think we owe that to him," said Jeannot, who joined the Slackers in 1989 and continued playing until retiring from the Navy and switching to coaching duties in 2010.
Also significant about Clinton Adams' coaching role was his identity as an African Nova Scotian, and it's said that he was the first black person to coach a military sports team in Canada, as well as one of the Navy's first black submariners, serving on the Oberon-class boats HMCS Ojibwa, HMCS Okanagan and HMCS Onondaga. The addition of Tynes and Howe, making for an all-black coaching staff, was also significant, Bubby Adams said.
"It was historic to have three African Canadians coaching that team, that never happened before, and we did it for all those years."
But race was never a factor when it came to playing football or forming camaraderie among the players and coaches.
"We never had any problems," Howe said.
"For the guys that we were working with, it was all about getting a chance to play the game. And everyone knew us so well."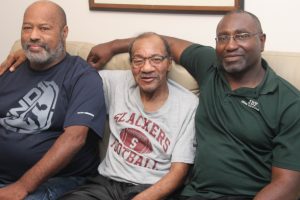 But while there's plenty of good memories, it's tough for those who have been involved for decades not to lament a lack of enthusiasm for the game compared to years past. The Mini Grey Cup is still enjoyed each year, but the big crowds and raucous post-game gatherings at the Fleet Club have tapered off, and without continued hard work from long-time coaches to keep the annual event going, it's hard to say what the future holds.
As the 50th anniversary of the game approaches in 2019, Parker said he's been mining the current group of players for those who might be keen to take up the mantle in the future.
"We need people who have the spark, who might not be the best player on the field but who show up at every practice, who are invested in the game, and who might become part of that core group to keep it going," he said.
This year's game is set for 1 p.m. on October 20 at Porteus Field, with Parker and Jeannot once again leading the Slackers, and the former coaches, some of whom are dealing with health issues, hope to be in attendance. A pre-game ceremony is also scheduled to honour former sailor and Slackers player Terry Kennedy, who died in September.