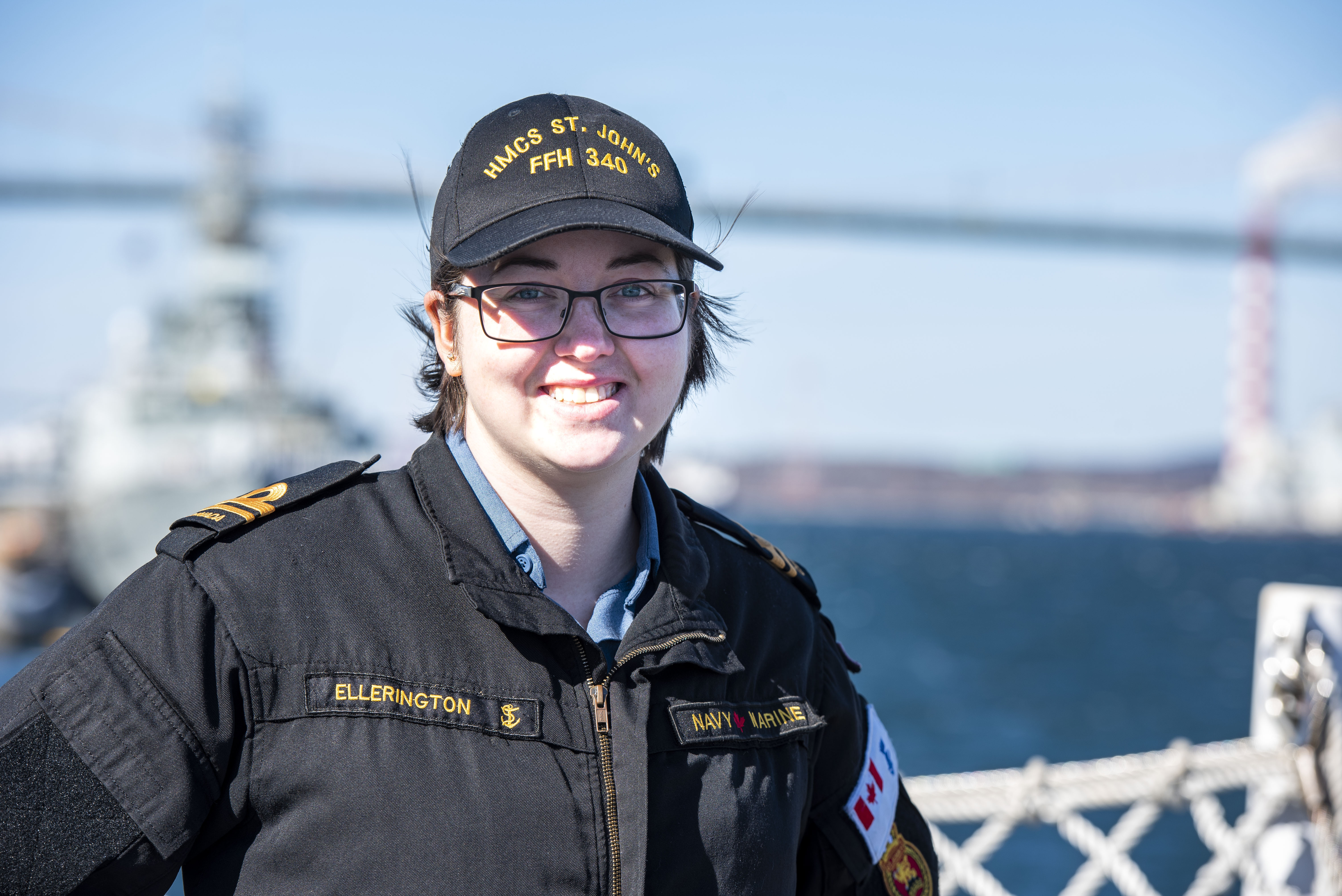 RCN Sailor Profile: SLt Michelle-Ashley Ellerington
Current role: BWK U/T (under training)
Hometown: Dartmouth, NS
Years of Service: 3
Home Unit: HMCS St. John's
Why did you join the Royal Canadian Navy?
I joined the Royal Canadian Navy because of my father. I grew up within a military family (my father was in the Navy for 26 years) and I have always known the lifestyle that military members have. Being a part of the RCN, even just the Canadian Armed Forces as a whole, is like being part of a large family. I knew at a young age that this was where I wanted to be and a family that I wanted to be a part of.
How important is your job to you and why?
My job is an important factor in my life because it is how I support myself. It is also where I constantly strive to push myself and grow my character.
What is the biggest challenge you've faced during your time as a member?
One of the biggest challenges I've faced during my time within the RCN has been learning to deal with seasickness. Unfortunately for some people, you are unsure if you will feel seasick until you actually are out on the water to experience it. Even still, some sea states are different than others and some may or may not affect you.
How did you overcome this challenge?
One of the ways I've been able to overcome this has been to find some very strong medications to help feel stable. There are multiple methods and treatments people use to help combat seasickness and the way that worked for me was seasickness pills. I remember being out on the water for two weeks and trying multiple things before finding what worked. Sometimes you just have to fight through it and find what works for you.
What is the best part about being in the Royal Canadian Navy?
The best part about being in the RCN, in my opinion, is the family attitude that comes along with it. You are constantly surrounded by others who know what you are going through and who are all there to support you. You never feel like you're alone. It is a community.
What is your most memorable experience
My most memorable experience within the Royal Canadian Navy has been from March-July 2017 when I was attach posted to HMCS Oriole, the navy's sailing vessel. I was one of the lucky few who was part of the crew for the Canada 150 sail, in which we sailed Oriole from Victoria, BC to Charlottetown, PEI. We travelled for 4 months and visited multiple countries including Mexico, Panama, Bermuda, Jamaica, Turks & Caicos and a few others. My favourite port visit was Costa Rica.
Why have you stayed in the Royal Canadian Navy?
I have stayed within the RCN because of the many different learning opportunities that I have been able to experience. I am constantly being intellectually challenged and pushed to learn more, not only for my trade but to develop as an individual.
What is the most unique thing about yourself, outside of the Navy?
The most unique thing about myself outside of the Navy is… that I have a home library. I immensely enjoy reading and can always be found with a book close by.
How would you describe the availability of opportunities for women in the Royal Canadian Navy? 
I would describe the availability of opportunities for women in the RCN to be unlimited. Women have the ability to work in any trade, advance their careers, and enjoy the many experiences that come along with deploying.
What advice would you give new female recruits?
The best advice I could give a new female recruit joining would be to just be yourself. Don't think that just because you're in the military you have to lose your femininity. Wear makeup, do your hair, and don't ever lose your voice. Don't let others tell you what you can and can't do, and don't ever give up.