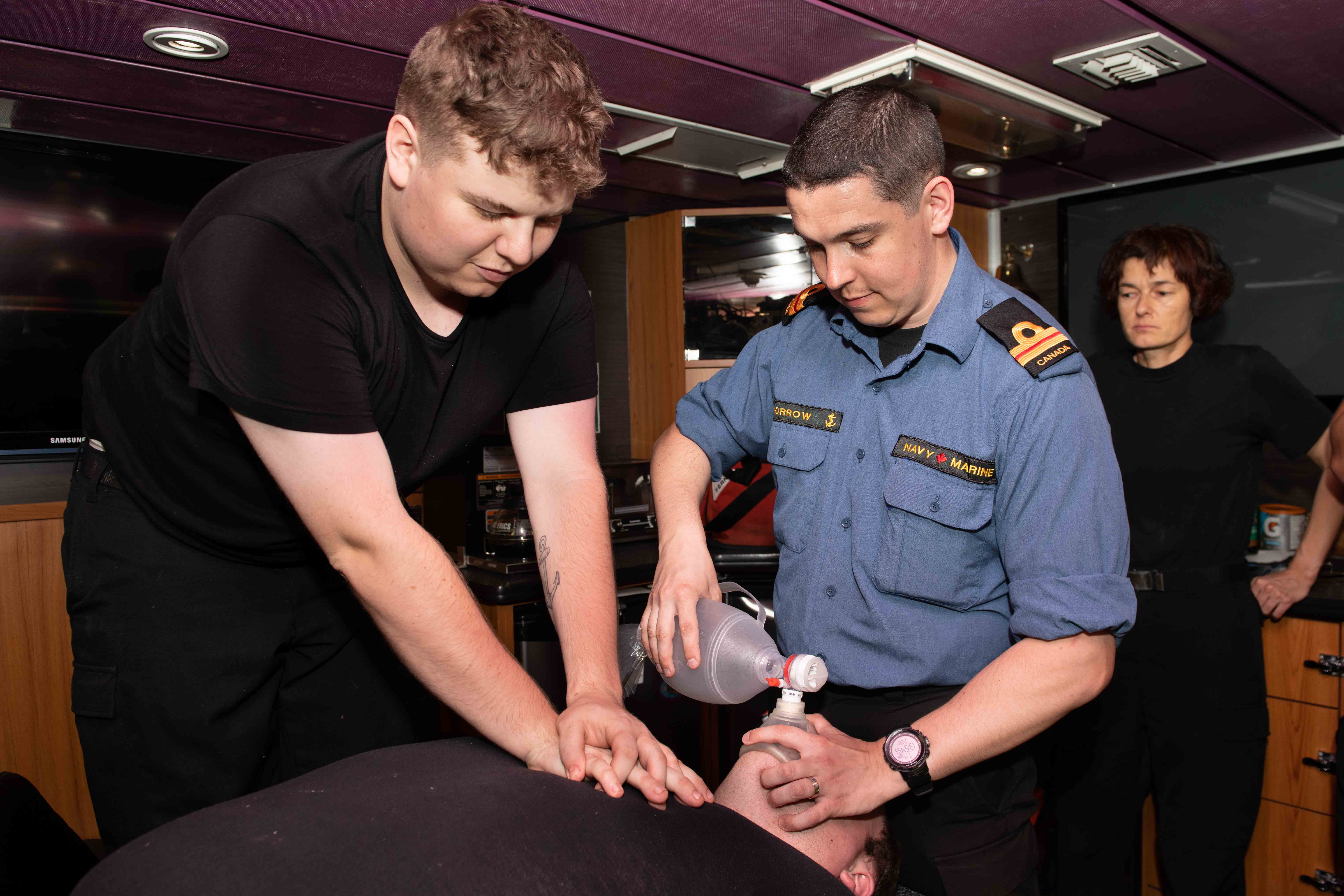 From St. John's to Benin: Medical Officer shares knowledge in West Africa
By Lt(N) Jeff Lura,
PAO, Op PROJECTION West Africa
On March 1, 2019, sailors from HMC ships Kingston and Shawinigan arrived at Foyer Don Bosco, a small school in Cotonou, Benin nested within West Africa's largest open-air market. Deployed on Op PROJECTION West Africa, most of them would spend the day painting, repairing furniture, and playing games with local school children, demonstrating Canada's commitment to being a friend and partner in the region.
Lt(N) Greg Morrow, however, had a different task to perform. He was there to ensure that, in a country with limited emergency medical services, the children laughing and playing around the campus stood the best chance possible in an emergency situation.
Lt(N) Morrow hails from St. John's, Newfoundland and completed his medical training in 2018. He joined the CAF shortly thereafter. Mere months into his career, he was selected to join HMCS Kingston and deploy to West Africa.
"Medical officers don't get to sail very often," he explained, "so I jumped at the opportunity. That said, I knew had my work cut out for figuring out life in a ship."
Despite a steep learning curve, by the time the ships arrived in Africa a month later, Lt(N) Morrow had adapted to navy life, and was eager to put his expertise to use and support those in need.
In Cotonou, Lt(N) Morrow was asked to provide basic first aid training to a group of enthusiastic teachers. His lessons were made all the more important by the fact that ambulances and hospitals are not widespread in Benin; in many cases, the teachers would be the only care available to injured students.
"It was a challenge," said Lt(N) Morrow after the training.
"We take for granted that medical care and supplies are available everywhere in Canada, but that's not the case here. I had to really keep it simple, since these villages lack basic services and emergency response."
And so, with the help of a translator, Lt(N) Morrow demonstrated how to deal with cuts, scrapes, fractures, and spinal injuries in a way that would be useful to the teachers after his departure. By all accounts, his instruction was well-received.
"It was perfect," recalled teacher Pascal Akakbo after the training.
"We're confronted with problems and injuries here all the time, so a better understanding of how to respond will do so much good. We will use (this newfound knowledge) very often."
When he's not spreading his expertise to the far corners of the globe, Lt(N) Morrow spends his time at sea mentoring the ship's casualty clearing teams, providing care to the crew, and generally expanding his knowledge of the Royal Canadian Navy. For those considering life as a CAF medical officer, he has a few words of wisdom:
"My military career has been amazing so far, and I'd recommend it to any of my colleagues. In addition to the medical challenges and professional development opportunities, I've fired a .50 calibre machine gun, driven a small boat, undergone a traditional "crossing the line" ceremony, and so much more. You just don't get to experience things like this in civilian practice."
On his return from West Africa, Lt(N) Morrow will serve as a General Duty Medical Officer at Canadian Forces Health Services (Atlantic), providing care to personnel at CFB Halifax and the surrounding area. The Canadian Armed Forces are currently hiring medical officers, and more information can be found at https://www.canada.ca/en/department-national-defence/services/caf-jobs.html.
Caption 1
Lt(N) Greg Morrow supervises while local teachers practice first aid at Foyer Don Bosco school in Cotonou, Benin during Operation PROJECTION West Africa on March 1, 2019.
CPL ANGELA GORE
Caption 2
Lt(N) Greg Morrow chats with Canada's Ambassador to Benin, Edmond Wega, at Foyer Don Bosco school in Cotonou, Benin after providing first aid training during Operation PROJECTION West Africa on March 1, 2019.
CPL ANGELA GORE
Caption 3
Lt(N) Greg Morrow provides casualty clearing training onboard HMCS Kingston while at sea during Operation PROJECTION West Africa on February 28, 2019.
CPL ANGELA GORE