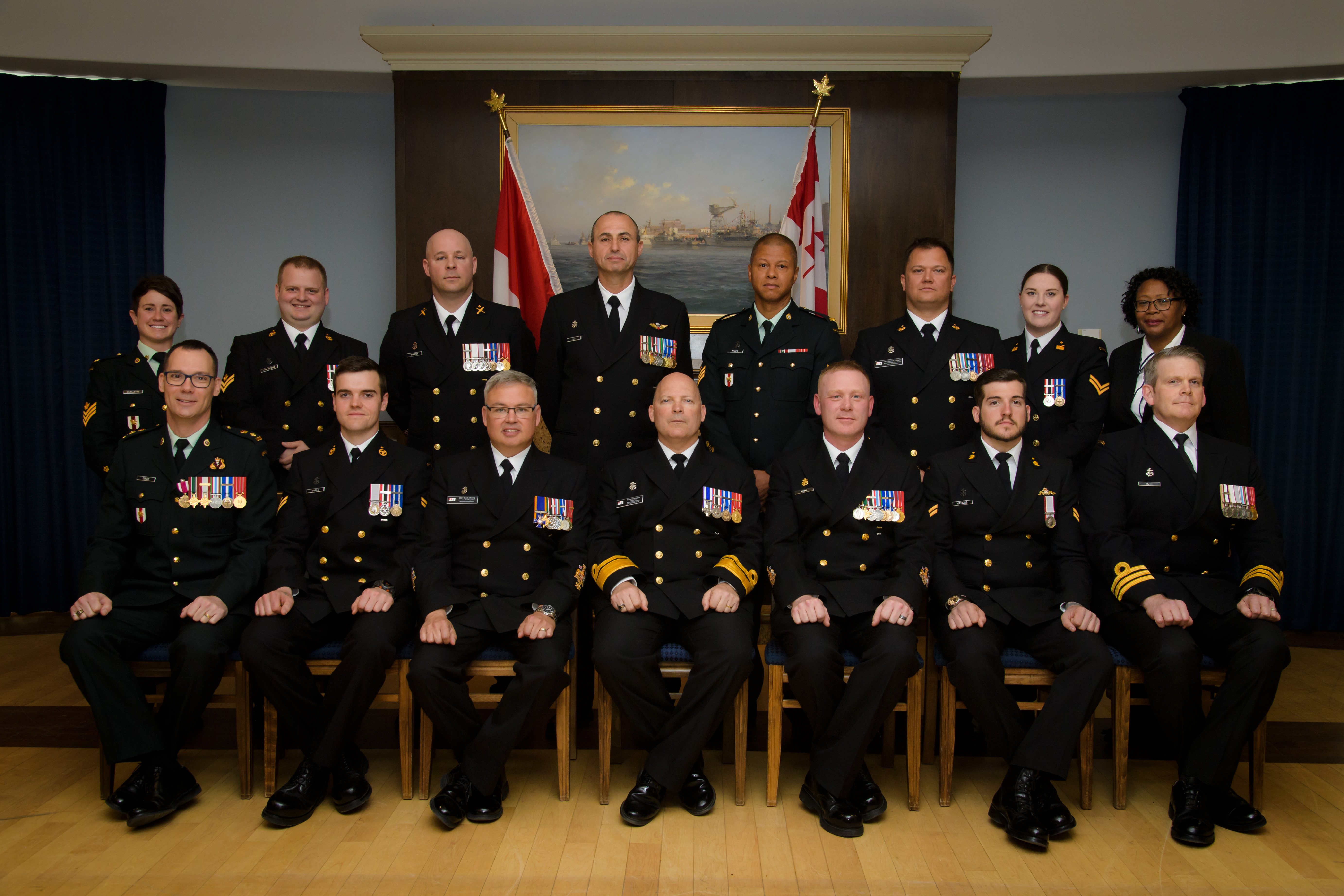 US medal among presentations at MARLANT/JTFA Honours and Awards ceremony
By Trident Staff
LCol David Coker served as the CO of Canadian Role 2 Medical Treatment Facility during Operation INHERENT RESOLVE from April – October 2017, supporting the American-led mission against the Islamic State in Iraq and Syria. Our counterparts to the south recently awarded LCol Coker for his tireless work and professional excellence during that mission, making him a recipient of the United States Meritorious Service Medal.
The medal was presented to LCol Coker by RAdm Craig Baines, Commander MARLANT and JTFA, at the most recent Honours and Awards Presentation Ceremony on May 9, on behalf of Major General Robert White of the US Army.
LCol Coker was the only member to receive an American medal on the occasion, but a number of others were present to receive various commendations or certificates of achievement. The ceremonies are held quarterly at Juno Tower to give senior leadership a chance to recognize and congratulate exceptional members of the Formation in a formal setting, with their family, friends and colleagues present.
The Commander Royal Canadian Navy Commendation, presented on behalf of VAdm Ron Lloyd, Commander RCN, went to five individuals.
Cdr Jeffrey Hutt for his work as the Commanding Officer of HMCS Charlottetown during Op REASSURANCE in 2017.
Sgt Lisa Ouellette for delivering first aid and calling first responders at the scene of a motor vehicle accident while on leave in New Brunswick in December 2017.
CPO2 Sherman Lillington for his time as the Coxn of HMCS Shawinigan from July 2017 to July 2018, during deployments to Operations PROJECTION, NANOOK, and LIMPID.
MS Nicolas Earle for his troubleshooting work as the Integrated Platform Machinery System Technician aboard HMCS Ville de Quebec during Op REASSURANCE from July 2018 to January 2019.
LS Jeffrey Haskins, for his extraordinary professionalism and devotion to duty as a Port Inspection Diver, leading to his selection as the Canadian Fleet Atlantic 2018 Sailor of the Year.
A single Commander Canadian Joint Operations Command Commendation was presented, with LCdr Costa Aza receiving the Commendation for his courageous work preventing a violent confrontation while deployed as a Military Liaison Officer to the UN mission in South Sudan in December 2017.
The Commander Maritime Forces Atlantic Certificates of Achievement went to four individuals.
Sgt Richard Ross, for his dedication and resourcefulness as the Dental Technician aboard MV Asterix since June 2017.
CPO2 Stephan Handerek, for his work as Ammunition Manager during the initialization of Naval Replenishment Unit Asterix from April 2017 to August 2018.
MS Joshua Van Beers, for his long hours of work replacing a Propulsion Diesel Engine cylinder head while deployed with HMCS St. John's to Op REASSURANCE from January to July 2018.
LS Emily Wolfe, for dealing with heavy workloads as the Junior Financial Services Administrator in HMCS St. John's, also while deployed on Op REASSURANCE from January to July 2018.
There was also a single Department of National Defence Long Service Award presented, with Ms. Wendy Colley-Williams receiving the award to mark her 35 years of service to the Government of Canada.