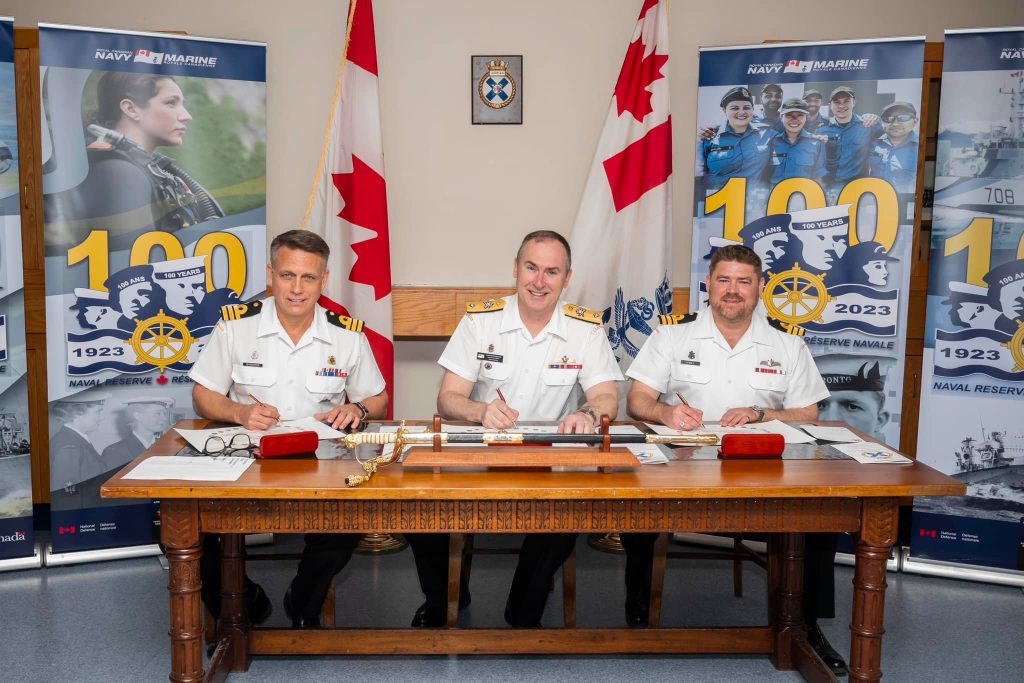 Longtime HMCS Scotian member steps in as new CO
By Trident Staff
Halifax's Naval Reserve Division welcomed its new Commanding Officer on May 3, with Commander Kyle Penney assuming the job as outgoing CO Commander Wayne Shaddock wrapped up his time in command.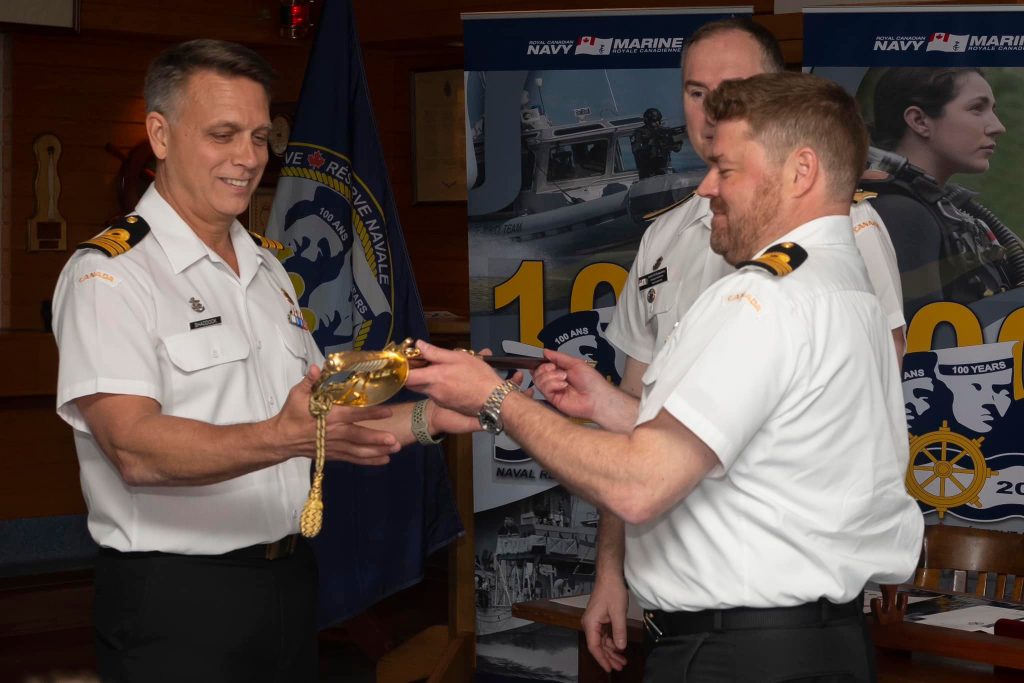 Cdr Shaddock led HMCS Scotian through part of the COVID-19 pandemic, major anniversary celebrations, and a recruiting push, and said he was extremely proud of Scotian's team for their work during that time.
"These people are the backbone of the Naval Reserve," he added, shouting out junior members who filled in seamlessly for senior positions at times, and a leadership team that was always willing to go above and beyond to get the job done.

"You guys and gals have knocked it out of the park and I truly want to thank you, and we wouldn't be where we are today without your dedication," he said to members of the crew.
Cmdre Patrick Montgomery, Commander of the Naval Reserve, travelled to Halifax for the change of command ceremony, which was pared down from the usual full unit parade due to the wildfire situation in the Halifax area.

"I appreciate the fact that we were able to make this happen under such stressful circumstances," he said, emphasizing the importance of the moment, and thanking Cdr Shaddock for helping facilitate Scotian's successes over the last two years as CO. 
In welcoming Cdr Penney to his new role, Cmdre Montgomery expressed his confidence that the new CO is up to the task. Cdr Penney joined the Naval Reserve in 1991 at HMCS Chippawa in Winnipeg, and has been with HMCS Scotian since 2000 – he's held a number of positions in Reserve units and in the fleet, including a string of seagoing postings from 1995-2007. He also currently works as a public servant with DND, as a Safety and Environment Manager at FMF Cape Scott.
"The Navy takes a lot of care and intention to make sure their commanding officers are chosen at the right time and at the right place and that they're prepared to do the job," Cmdre Montgomery said.
"We trust your experience, we trust your humility and we trust your empathy to keep the team motivated, that's why you're here."
After more than 20 years as a member of the Scotian "family", the new CO said he was honoured to be leading the unit. While thanking his predecessor, colleagues, family and others who helped him reach this point in his career, Cdr Penney also focused on the future and the reservists who will be under his command. He added that Scotian will put emphasis on providing advice, coaching and mentorship and professional development throughout the ship's company.

"We are responsible for training the leaders of tomorrow and ensuring we all have fun while putting in the hard work," he said.
"My father, someone I look up to as a leader, taught me that one of the important aspects of leadership is to value people. We will lead by personal example and create a safe, respectful, inclusive and professional work environment that recognizes and respects the important contributions made by every member of Scotian."