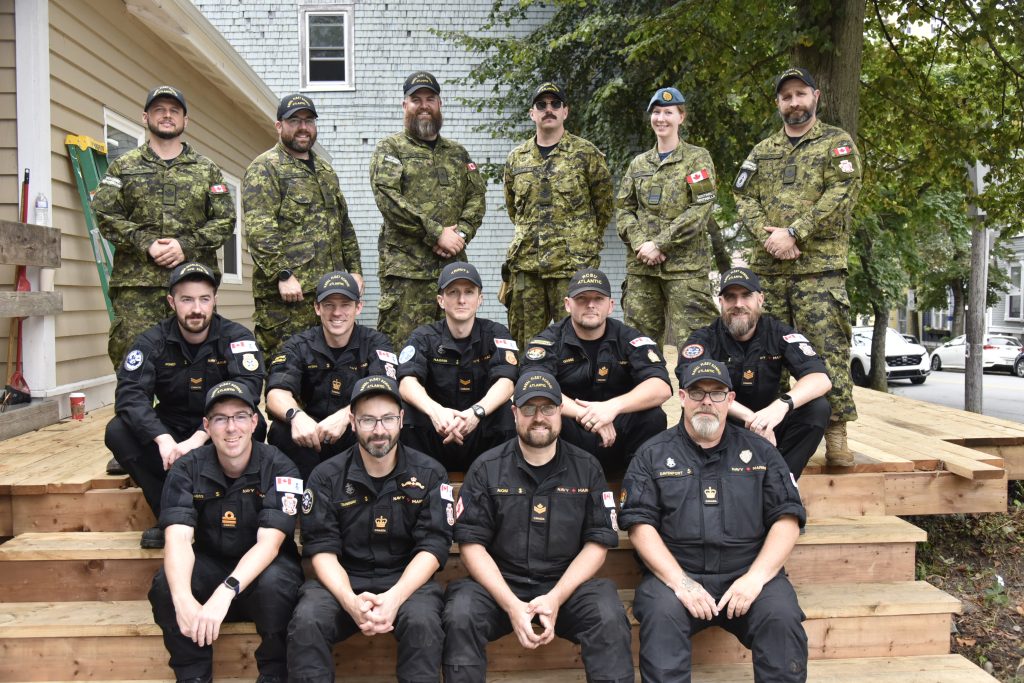 National Defence Workplace Charitable Campaign spotlight
Local Defence Team Members Participate in a Day of Caring at Spencer House
By Leah Coughlin,
CFB Halifax Public Affairs
On September 13, 2023, local Defence Team members joined forces for a Day of Caring activity in support of Spencer House's Age Friendly Community Outdoor Project.
Days of Caring are United Way Halifax initiatives that pair community volunteers with charitable organizations who are seeking assistance. Each year as part of the Halifax region National Defence Workplace Charitable Campaign, United Way Halifax matches Defence Team volunteers with hands-on projects throughout the local community.
For this Day of Caring activity, United Way Halifax matched local Defence Team members with Spencer House, a non-profit, community drop-in centre for seniors located in the heart of Halifax. Spencer House provides seniors across the Halifax region with programs and services that enable them to live independently, contribute to their communities, and maintain an active and healthy lifestyle.
"Many people underestimate the importance of having a network of friends, participating in meaningful activities, and feeling a sense of belonging as we age," says Allison Davis, Executive Director of Spencer House. "Seniors that are happier, are healthier and tend to live longer."
With an aging population in Nova Scotia, there is an increased need for Spencer House's programs and services and the need for accessible surroundings. Spencer House's Age Friendly Community Outdoor Project aims to create an inclusive outdoor space for all members of the community to enjoy.
Local Defence Team members were inspired by Spencer House's Age Friendly Community Outdoor Project and were eager to help with the initial preparations for this project. On September 13, a team of 15 members gathered at Spencer House to help prepare the facility for upcoming construction. Their tasks included raking leaves, gardening, landscaping, and painting. They accomplished a lot while they were there and had community members cheering them on along the way, all of which made for a successful day of action, teamwork, and awareness building.
"A Day of Caring to me means putting the idea of charitable work into action and showing care and love to others in a meaningful way," says Captain Eliza Woolley, a local military member who participated in the Spencer House Day of Caring activity. "Being able to physically impact the lives of others, or bring a smile to their faces is something everyone should strive for – especially those who wear the uniform."
Many thanks to United Way Halifax and the staff at Spencer House for organizing this Day of Caring opportunity and Bravo Zulu to the many local Defence Team members who volunteered their time to support a good cause! Local Defence Team members can get involved in future Day of Caring initiatives with Spencer House or other United Way Halifax-supported charitable organizations by contacting NDWCCHalifax@forces.gc.ca.